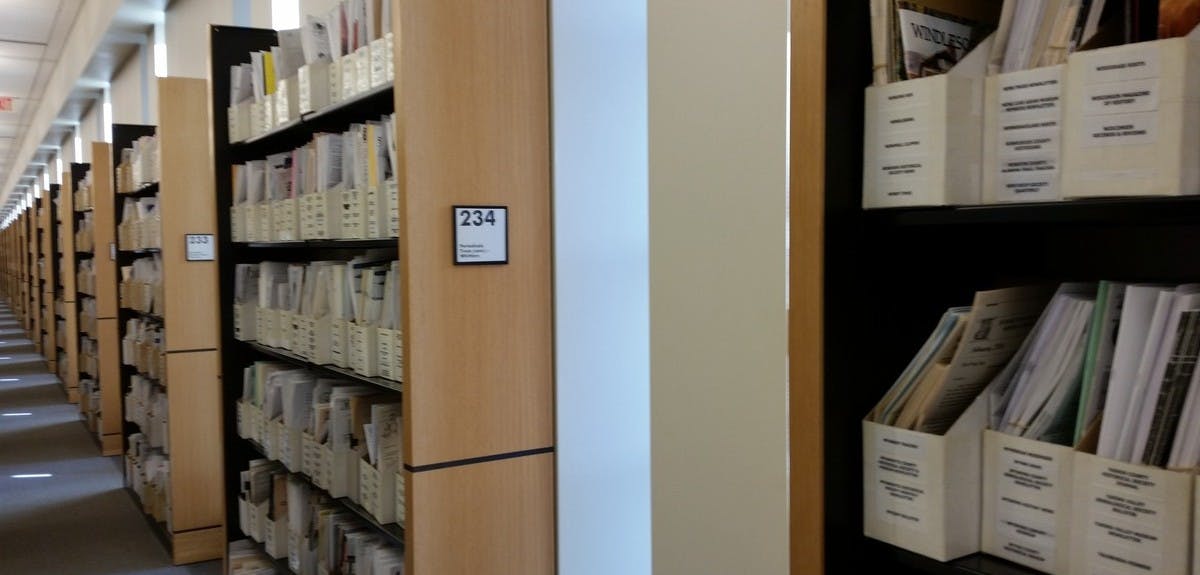 Tips & tricks for searching PERSI like a pro
How successful have you been searching genealogy periodicals?
The Periodical Source Index (PERSI), created by the Allen County Public Library, is an ambitious initiative to obtain and index all genealogy and local history periodicals in America and beyond. As with most indexes, the one drawback is that you need to find hard copies of the articles - which is actually pretty easy - but not as expedient as we are used to in this digital age.
Now, Findmypast is leading a coalition of organizations dedicated to transforming PERSI into more than just an index. We're working to bring digital images of key periodicals online so you can view them from the web.
PERSI is an entirely separate database on Findmypast, and there are some must-know tips and tricks for searching and navigating.
Read on to equip yourself with the know-how you need to make some great finds.
Where is PERSI located on Findmypast?
It's important to understand that when you visit the search world records page on Findmypast, search queries on this page will not fetch results for newspapers or periodicals (including PERSI).
To search PERSI only, you need to select the "newspapers and periodicals" section of the drop-down search menu on our homepage: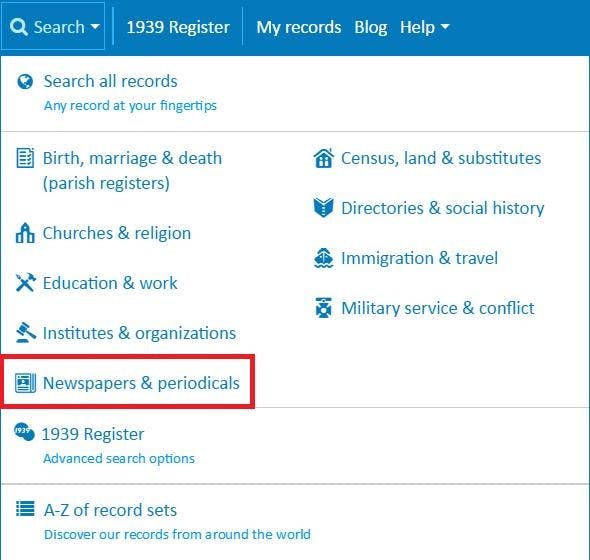 On the next screen, select "PERiodical Source Index" (PERSI) to find the PERSI search screen: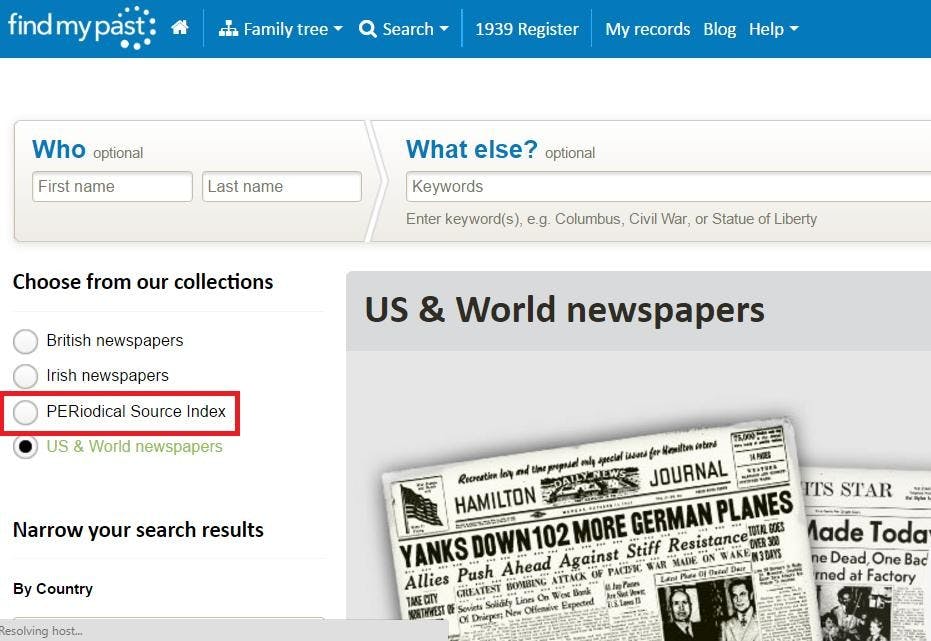 Before you attempt any searches, it's best to read on for some important pointers.
PERSI is a subject-based index. This means that when you search PERSI, you are not searching the text of every article or every periodical in the index, you're searching terms assigned to each article by the folks who create the index.
Essentially, someone reads the article being indexed and decides what subjects and keywords to assign the article. Subjects are broad, like "military" "Civil War" "Union" or terms like that. Keywords are more specific to the exact topic of the article.
This is extremely important to keep in mind when crafting your searches. You're unlikely to find much by searching for a specific ancestors name - unless, of course, there was a full article dedicated to that person, in which case they would qualify as a subject or keyword.
It's best to start your searching by entering a location or keyword in the "where" or "what else?" categories: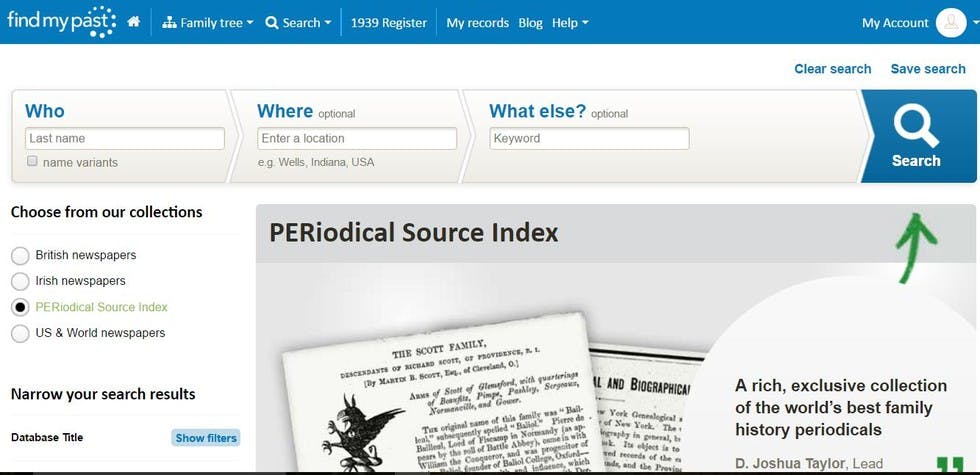 But you don't necessarily have to begin like that - you can use the filters to refine your results after your search, or to begin your search differently. We'll show you how.
Using the powerful filters
The PERSI search is accompanied by some really useful filters, which can be found under the "narrow your search results" heading: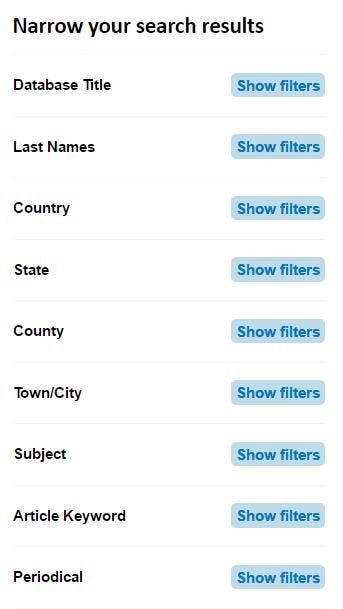 When you click on "show filters" button you'll get some great information on what is available for each different term in the database. Let's take a look at a location filter first: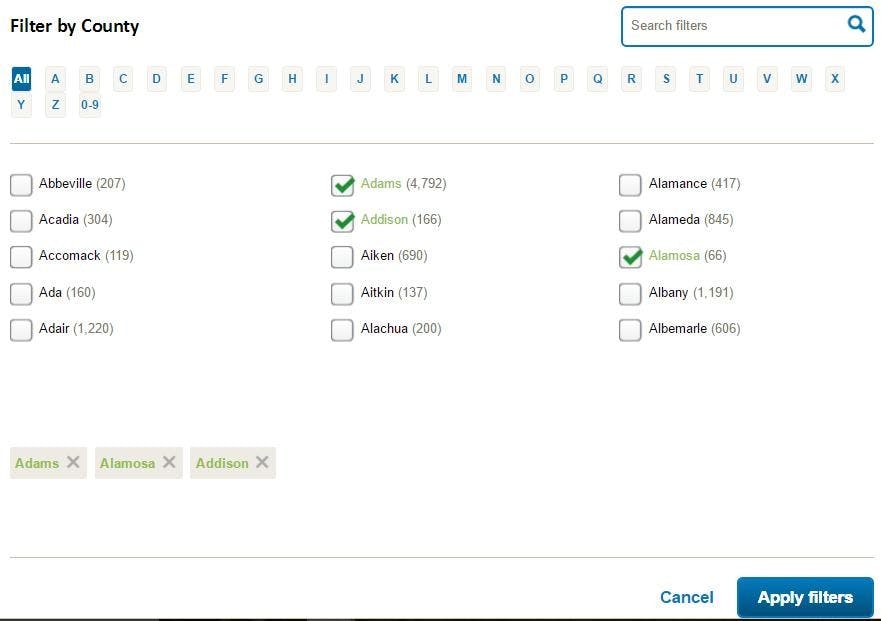 Here you'll see an alphabetical list of all the different terms in this category - in this case counties in America. You'll also notice a very handy number next to each one - this indicates how many articles are categorized as related to this county. You can search for a specific county in the upper right hand box.

You can also select and apply multiple filters at once, which can be helpful if you want to extend the geographical area you're examining to more than one county.
Use the filters to browse what is available for each category - you can search for publications in the publication filter, subjects in the subject filter, and see how many articles are available for a given country, state, county or town.
You can also browse the keyword filter as well. Try choosing a geographic location or subject, and then look at the keywords filter to see what keywords can be found within the larger category of location or subject filters.
Note: Not all articles are assigned keywords. If the subjects of the article accurately describe it, there will be no keywords assigned.
Once you have searched for keywords, or used a combination of filters to develop a manageable amount of results, it's time to begin looking at articles!
Navigating digital issues
In the results list, you'll see the title of the article, the periodical it's in, and what year it's from.
Click on the camera icon to view the image of the journal, or the page icon to view the article's entry in the index: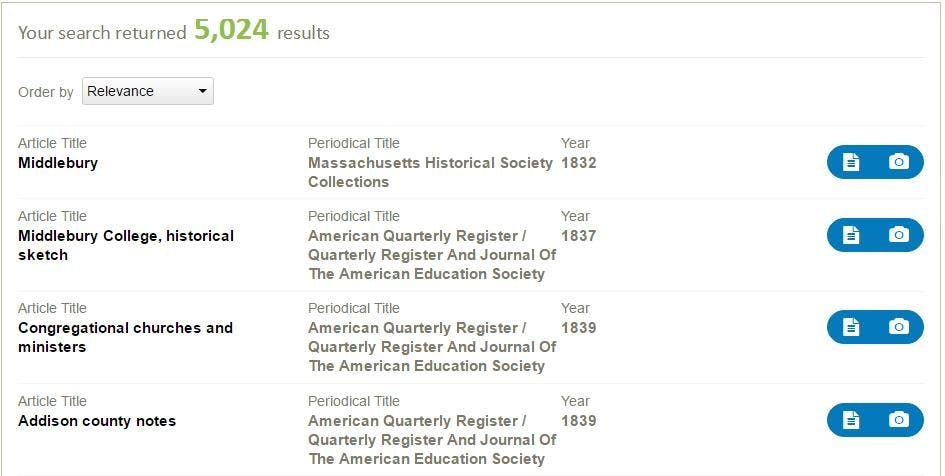 Once you click on the camera icon, you will be taken to the periodical issue in which the article resides.
Because of the way PERSI is built, you will not be taken to the exact page of the article. You'll often see a cover page of the publication: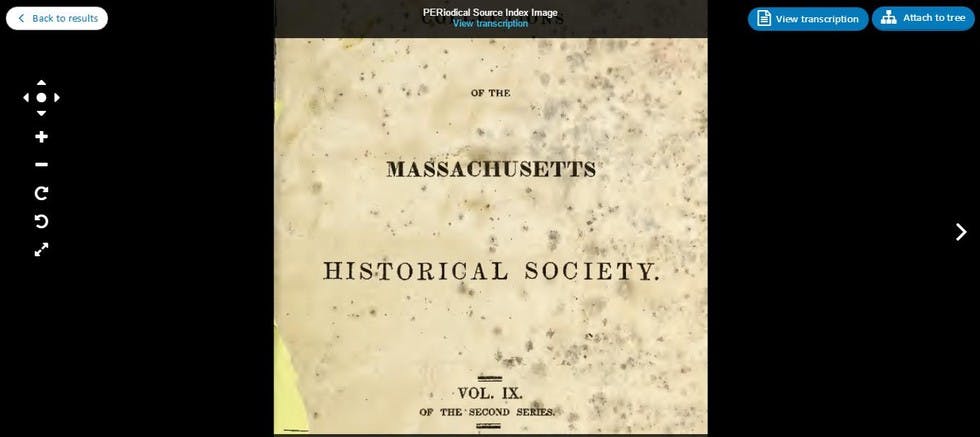 From here, you'll need to proceed to the issue's table of contents to find the article you're looking for. We clicked on an article about Middlebury, and we can see from the table of contents that it's found on page 123 of the publication: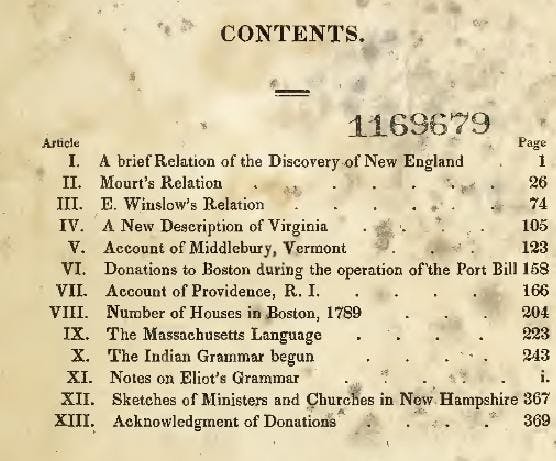 So how do we get there? You certainly don't want to navigate by clicking "next page" 120 times, so here's a handy way to skip around the issue.
At the top of your web browser, you'll see the web address for the image you're looking at. Within it, look for a chain of text that reads something like "f0003". Here it is highlighted in red below: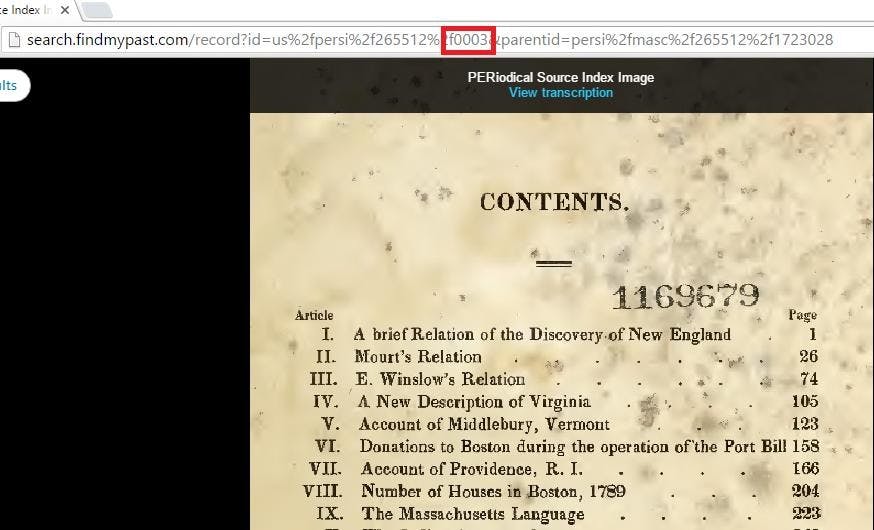 This snippet of text shows the page number of the digital document you're on. These don't correspond exactly to the numbers of the pages as they appear in the original issues, but they're pretty close. By simply changing f0003 to f0123 and hitting enter, we can skip navigating hundreds of pages and land right on the article we want.
Don't skip over the transcription
While the PERSI images are great, not all publications in PERSI have had their pages scanned yet - but that shouldn't stop you! PERSI exists as an index to make it easier to find hard copies of these articles without waiting for them to be digitized.
When you visit the transcription of an article, you'll find tons of useful information that will help you track the article down - including an easy way to find the article in a library near you.
Stay tuned for upcoming video tutorials and webinars showing these tips and more. In the mean time, happy searching!