Your quickfire guide to Ireland's parish records
2-3 minute read
By The Findmypast team
2 April 2020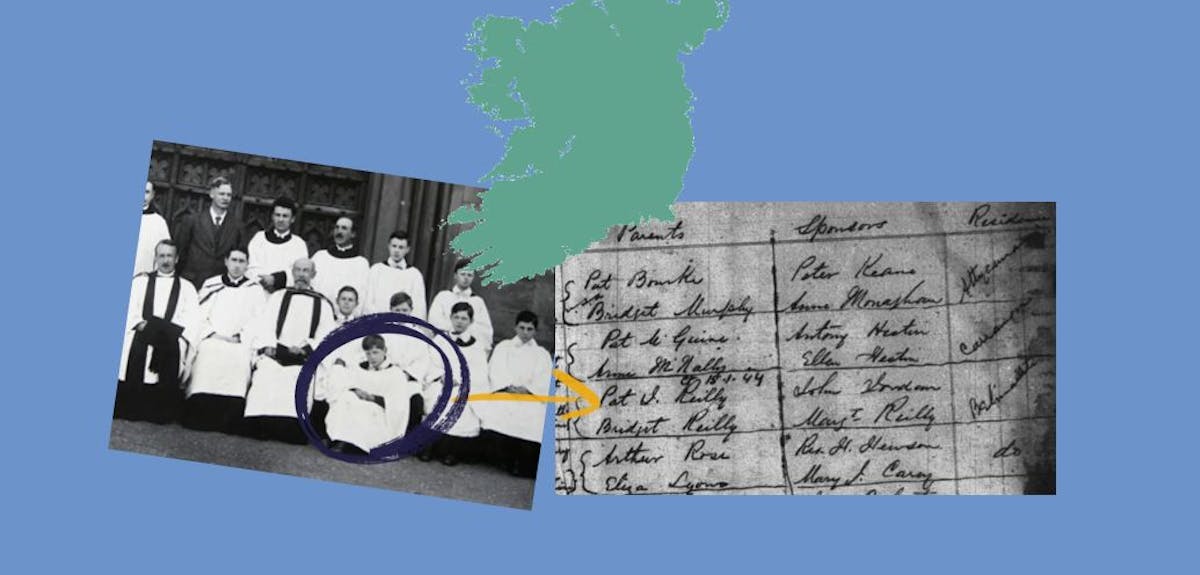 Discover your Irish ancestors' most important life events in millions of original church records.
Findmypast is home to the largest online collection of Irish family records, with millions accessible with just a click or a tap. Central to this is our collection are Irish parish records, the details of daily life kept – in most cases – meticulously by priests until the introduction of compulsory civil registration in Ireland in 1864.
The collection consists of over 10 million Catholic parish records, along with extensive of Church of Ireland resources. Together, they provide a unique window to the past for the 70 million people worldwide who claim Irish heritage.
Why are Irish parish records are so important?
One of the casualties of the Irish Civil War (June 1922-May 1923) was the Public Record Office in Dublin. A fire, caused by explosives and pictured below, ravaged the building, destroying vast swathes of Irish family records.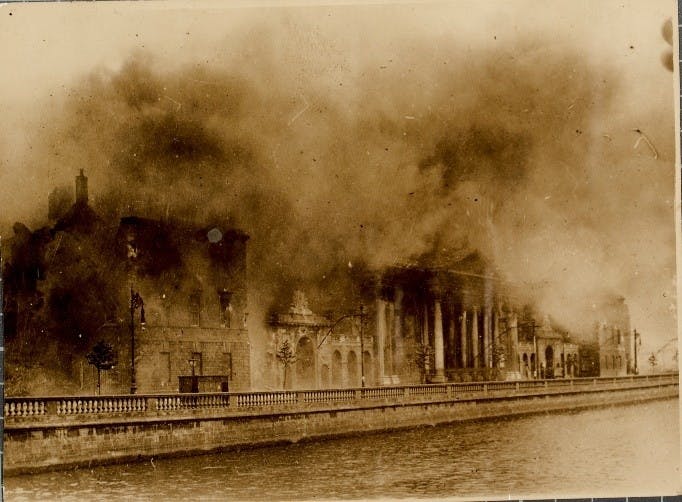 This makes the information kept by local parishes across Ireland vital for family history researchers looking into their Irish heritage.
Our Irish Catholic parish registers include over 10 million records and 40 million names. The records span 200 years of Irish history (1670-1900) and offer incredible coverage of 97% of the country, with all 32 counties represented.
They include original records of baptisms, marriages, and burials that have been indexed for the first time and made searchable online. You can search the records by name, year and place. They can reveal a wide range of information that goes beyond most collections. As well as the personal details of individuals and their parents and spouses, Irish Catholic parish registers also give an insight into Ireland's tumultuous history, showing things like the devastating impact of the Great Famine, which saw baptism rates halve within 15 years.
Details will differ slightly depending on whether the record is a baptism, marriage or burial, but a wealth of genealogical information awaits you in each record. For instance, in the baptism records, you can hope to find:
Names
Birth and baptism dates
Residences
Parents' names
These details are perfect (and in many cases, essential) for growing your Irish family tree.
Our Church of Ireland parish record search forms were filled out by applicants to the Public Record Office (PRO) in Ireland. They requested the PRO to search historical records to approve or deny the applications of individuals applying for the Old Age Pension, which was introduced in 1909.
Since civil birth records only became mandatory in Ireland in 1864, the only way most claimants' could prove their eligibility for the State pension would be via their baptismal documents held in their local parish archives. The parish record search forms were part of the paperwork completed by PRO staff who retrieved the original records.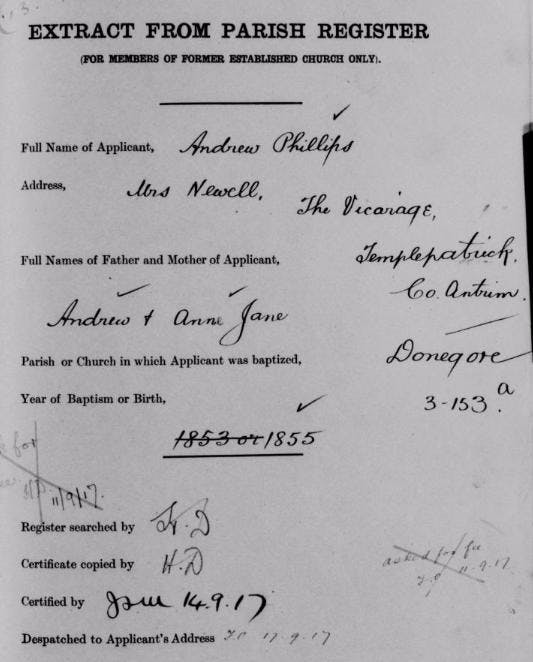 These parish record search forms are on Findmypast as transcripts and original record images, and contain a number of fields filled in by the person applying for the search to be carried out by the PRO, including:
Names
Birth years
Parents' names
The parish and county the records were sourced
The fact that a number of these search forms were completed after the fire of 1922 means that they can provide information on records that no longer exist. PRO staff searched what was left of their archives using the details provided by applicants. As such, they often also include the names and addresses of solicitors and professional genealogists dealing with probate claims.
More Irish parish records
As well as our extensive collections of Catholic and Church of Ireland parish records, you'll find other unique collections on Findmypast. Could any of these family records be key to unlocking your Irish past?
More on this topic:
Share this article
About the author