A history of struggle and strife: here's what we discovered about Patrick Stewart's family tree
6-7 minute read
By Daisy Goddard
20 January 2023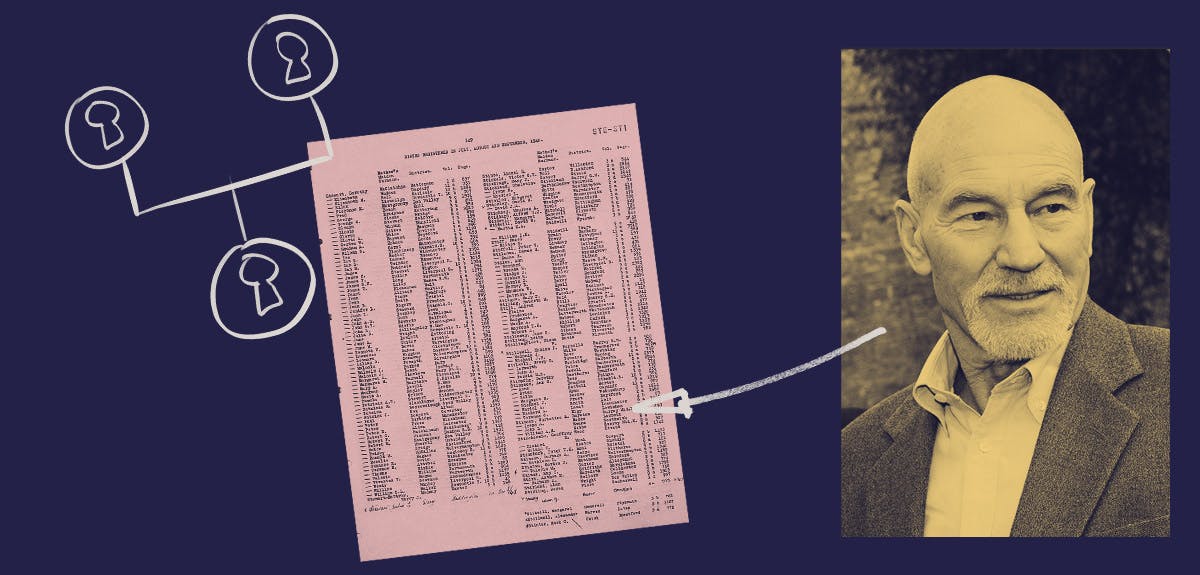 We've delved into Sir Patrick Stewart's ancestry and made some interesting discoveries, that take us back to the West Yorkshire mines in the mid-19th century and beyond.
Patrick Stewart is a British stage and screen actor who has been a member of the Royal Shakespeare Company since 1966. He is best known for depicting Captain Jean-Luc Picard in Star Trek: Next Generation, and for his role as Professor Charles Xavier in the X-Men films.
Before taking on such iconic roles, Stewart had humble beginnings. He was born in Mirfield, in the West Riding of Yorkshire, on 13 July 1940 to mother Gladys (nee Barrowclough) and father Alfred Stewart.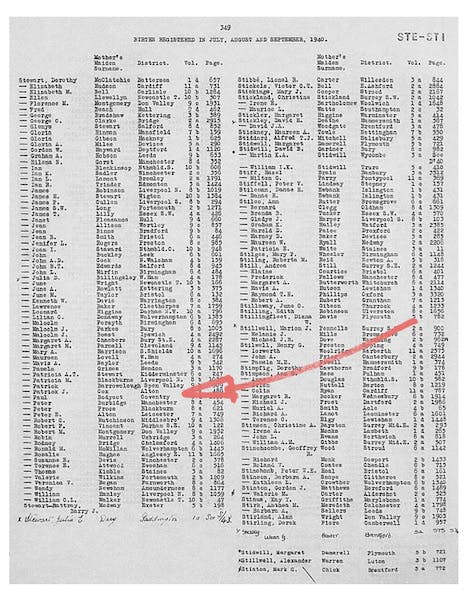 Patrick grew up the youngest of three boys. His parents also had Geoffrey (born 1933) and Trevor (born 1935).
After leaving school aged around 15, Patrick Stewart worked for a time as a reporter for the Mirfield & District Reporter. He chose acting over journalism however, and subsequently received a grant to attend the prestigious Bristol Old Vic Theatre School.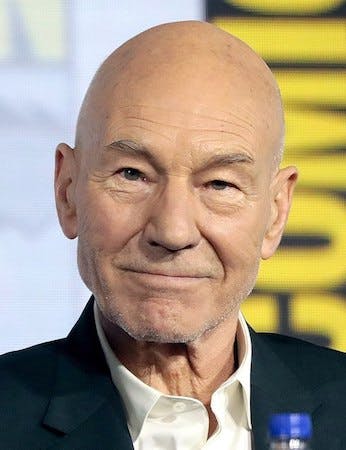 Since his stage debut in 1959, Stewart has received critical acclaim for his theatre career. With roles in major series like Tinker, Tailor, Soldier, Spy and Dune, he is also no stranger to the small screen.
Although you're no doubt familiar with Patrick Stewart's iconic roles, how much do you know about his background? Our research has uncovered tales of hard work and perseverance in Stewart's family history.
Patrick's Yorkshire roots
With roots that span back over a century, Patrick Stewart is a Yorkshireman through and through. We need only to look at his mother Gladys' family.
Gladys Barrowclough was born on 14 October 1921 in Mirfield – the same town that Patrick and his brothers were born in.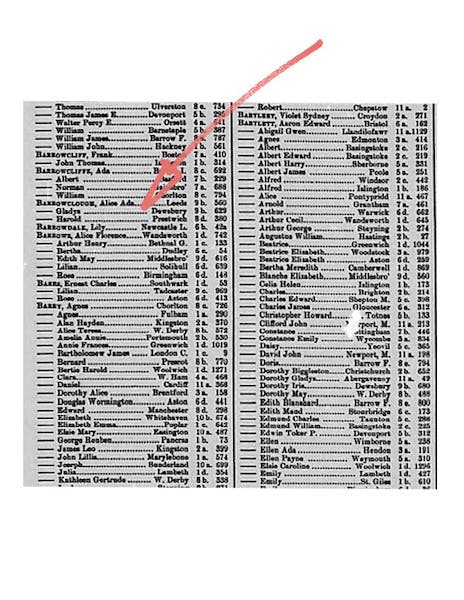 Gladys' parents (Patrick's maternal grandparents) were Freedom Barrowclough, born 1876, and Mary Anne Hirst, born 1874. Both were Yorkshire natives; Freedom was born in Mirfield, while Mary hailed from the nearby village of Skelmanthorpe. 
Thanks to the rich detail contained within the 1921 Census, we can get a clear idea of how Gladys lived as a young woman. She was 19 in 1921 and living on Camm Lane in Mirfield with her father Freedom, her mother Mary and her younger sister Alice.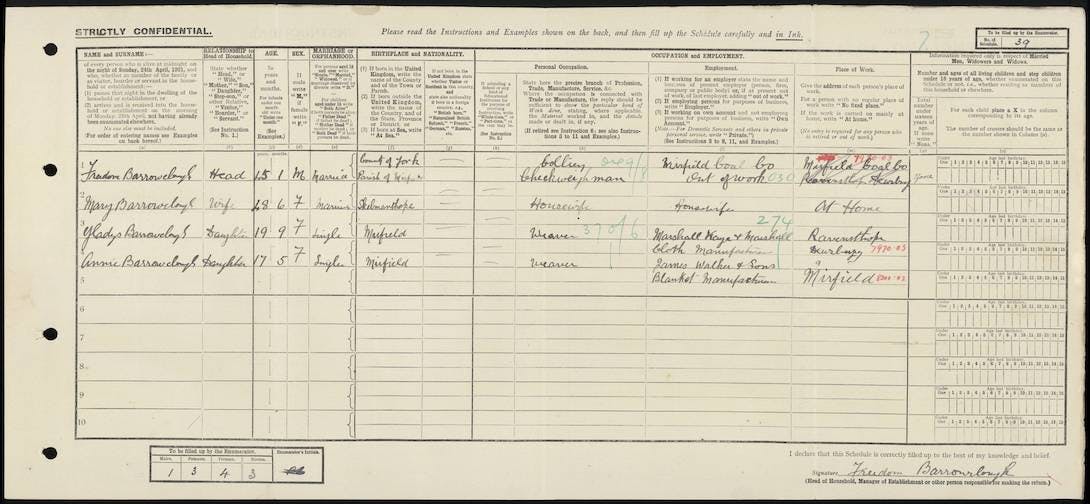 Her father is listed as a colliery check weight man working for the Mirfield Coal Company. This was an important job in the mines, as he was responsible for weighing the coal that had been mined. The amount mined often determined the amount each worker was paid.
At the time of the 1921 Census, Freedom Barrowclough lists himself as 'out of work'. It is no surprise, then, that his daughters (aged 17 and 19) are both in full employment. This would have been necessary to help the family get by.
Both Barrowclough girls were working as weavers in 1921.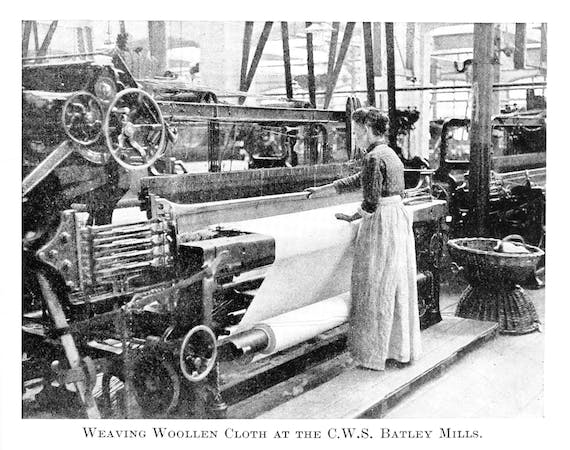 While Gladys worked for Marshall Kaye & Marshall cloth manufacturers, Annie worked for local blanket manufacturers James Walker & Son. A bit of digging in our newspaper collection offers insight into the company that Patrick's mother worked for.
This local newspaper article from 1954 reports on Marshall, Kaye and Marshall's experiments with synthetic fibre.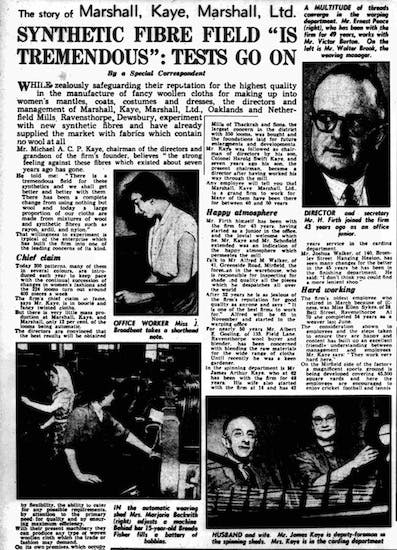 The manufacturer had a good reputation - it was reportedly known for the 'highest quality in the manufacture of fancy woollen cloths'.
While his mother's family are easy to pin down in Mirfield, Yorkshire, the family history of Patrick's father Alfred is somewhat more elusive.
As our records indicate, Alfred George Stewart was born in Southwark, London, on 25 March 1905. His parents were Emily Clara Larkins and William Albert Stewart. Both born in London themselves, the couple made married in 1882 in Shoreditch. You can view their marriage record here.
Alfred's early life is less clear, as we were unable to locate him or his family in the 1921 Census.
As explored in a 2012 episode of Who Do You Think You Are?, Stewart's father was a complicated figure. A decorated army officer, Alfred suffered from PTSD (then known as shell shock) and was violent toward his wife Gladys.
Alfred was away fighting with the King's Own Yorkshire Light Infantry for the first five years of his son Patrick's life (1940-1945). Having initially become a soldier in 1925, he was also absent for the early years of his brother Geoffrey. Although Geoffrey was born to Gladys and Alfred out of wedlock, the pair later married in 1933.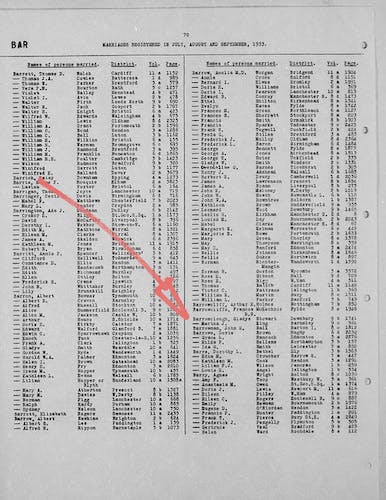 On both his maternal and paternal sides, Patrick Stewart's family tree is rich in interesting stories.
Working class heritage on his mother's side
With an acting career that stretches over seven decades, Patrick Stewart is no stranger to hard work. Delving into his maternal ancestry reveals that hard work may well run in his genes.
We don't need to look any further than Jonas Barrowclough, Gladys' paternal grandfather and Patrick's great-grandfather. As indicated by our birth records, Jonas was born in Mirfield on Christmas Day 1845.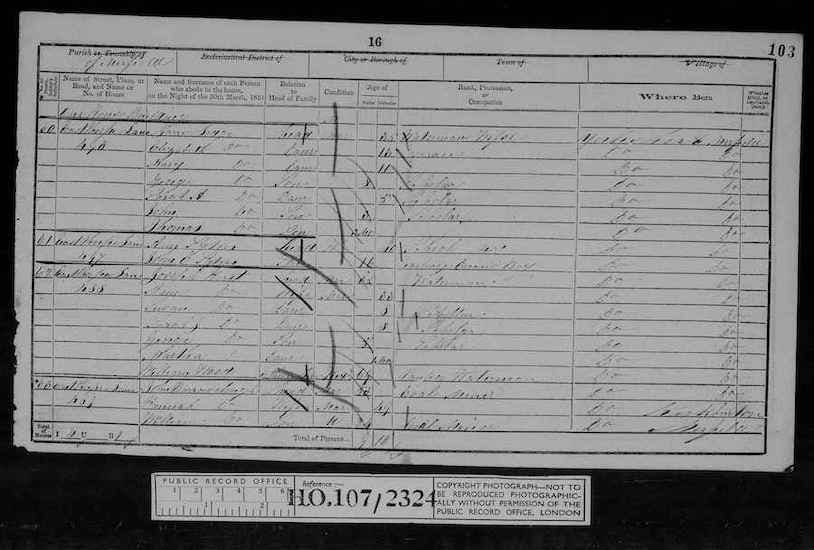 Jonas' father John Barrowclough - Patrick's 2x great-grandfather - worked as a coal miner near Dewsbury; the Dewsbury mine is indicated on the map below.
But John wasn't the only miner in his family. His sons William (born 1827), Joseph (born 1829), John (born 1834) and Amos (born 1840) were already working as miners in 1851.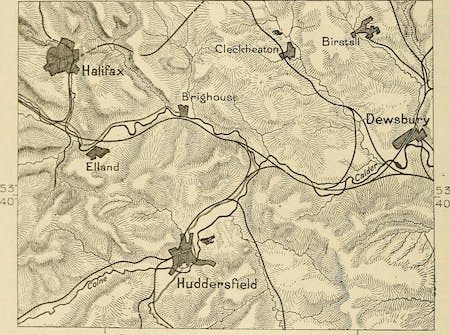 The youngest Barrowclough boy employed in the mines, Amos, was just 11 years old. At this time, Patrick's direct ancestor Jonas was in school, aged 5.
If we jump forward 30 years to look at the 1881 Census, we find Jonas Barrowclough aged 35 with a family of his own. Having married Elizabeth Mountain in 1868, he lived at Town Gate in Mirfield.
By 1881, the couple had four children between the ages of 4 and 14 – two daughters named Hannah and Miriam, and two sons named Edwin and Freedom.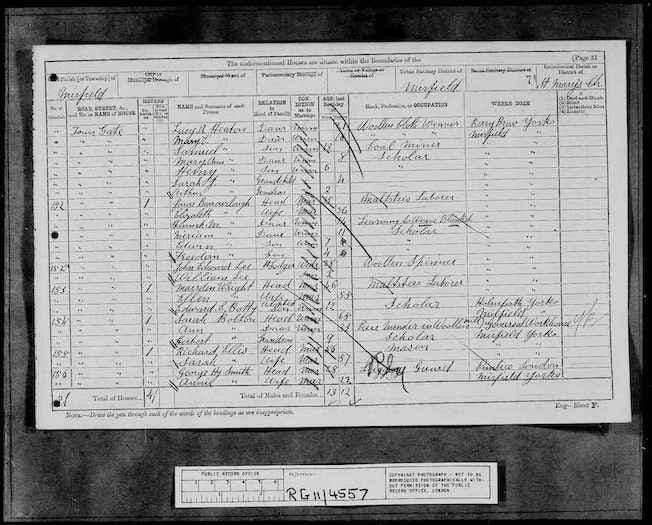 Like his mining father and brothers, Jonas was engaged in hard graft. He was a maltster's labourer, responsible for extracting malt from barley.
In addition to their children, Jonas and Elizabeth lived with a lodger, the widowed John Edward Lee and his two-year-old son.
This working-class Yorkshire family did what was necessary to make ends meet. While the three youngest children were in school, 14-year-old Hannah Barrowclough was listed as 'learning to weave blankets' to support her family.
From the Dewsbury mines to the Royal Shakespeare Company
Although Patrick Stewart now resides in the United States, his family has firm roots planted in the West Riding town of Mirfield. From mining coal in nearby Dewsbury to weaving blankets and cloth for local manufacturers, his ancestors' lives and work were embedded in the social fabric of West Yorkshire.
Stewart's thespian career may seem like a far cry from the manual labour of his forebears. But his lengthy career in the industry indicates that he has inherited the dedication of his maternal ancestors Jonas and Freedom Barrowclough.
More on this topic:
Share this article
About the author