Miners, labourers and marine carpenters: discover Huw Edwards' working-class Welsh roots
4-5 minute read
By Daisy Goddard
18 November 2022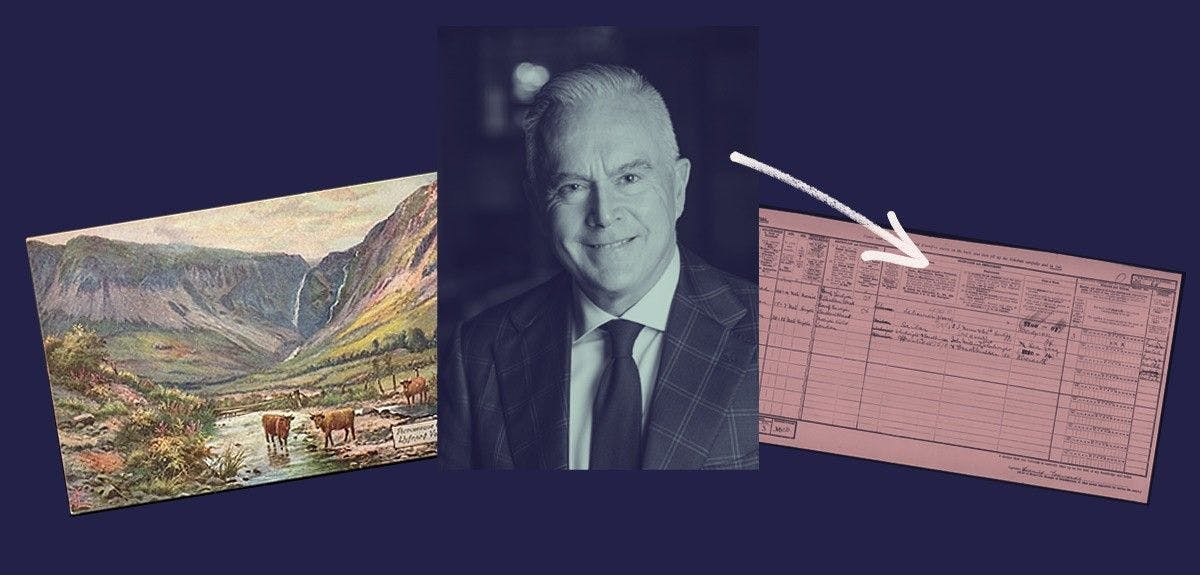 A closer look at Huw Edwards' family tree has revealed a rich history of personal struggle, ranging from political activism to service in the Second World War.
Huw Edwards has worked for the BBC ever since he was awarded his first position as a news trainee in 1984. Known for the BBC News at 10, he's since become one of the UK's most recognisable newsreaders.  
He has covered many historic events, including the 2011 Royal Wedding, several general elections, the funeral of Prince Philip, and most recently the death of Queen Elizabeth II. 
Huw Edwards was born in Glamorgan, Wales, in 1961, and grew up with a sister, Meinir. Education was an important part of their upbringing. Huw's mother Aerona Protheroe was a teacher, and his father made his name as an academic at University College Swansea.  
Huw's father Hywel Teifi Edwards was renowned for his study and advocacy of the Welsh language. He was a Welsh nationalist and stood as the Plaid Cymru candidate in Llanelli in 1983, and Carmarthen in 1987. 
Although you no doubt recognise this iconic BBC newsreader, how much do you actually know about him? Our research into his family history has revealed a compelling story of hardship and perseverance.  
Huw's Cardiganshire roots
With his prominent journalistic career, Huw has clearly followed in his father's academic footsteps.
But Hywel Teifi's story is one of determination and passion, given his ancestral roots among the labouring class. A career in academia is a far cry from the carpenter's workshops of rural Cardiganshire. 
Hywel Teifi Edwards was born in Aberath, Cardiganshire in 1934, to mother Olwen Myfanwy Davies and father John Daniel Edwards.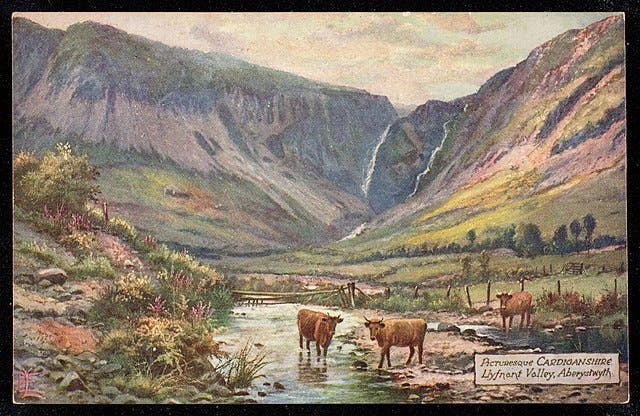 Our research found John Daniel Edwards, Huw's paternal grandfather, in the 1921 Census. At that time, he was 15 years old, and is listed as speaking both English and Welsh. Interestingly, he was born in Paddington, London, in 1905. 
In 1921, he lived in Upper Llanddewi Aberarth, Cardiganshire, with his father Daniel Edwards and his 18-year-old brother Fafgdd Toweth. Much like his grandson Huw's, John's story is one of hard work and perseverance.
As both his father and brother were born in South Wales, it's unclear why John Daniel was born in London. His family travelling for work is the most likely explanation, though it appears their time in England was brief. Huw's paternal side is Welsh through-and-through. 
John Daniel's mother, and Huw's great-grandmother, Esther Ellen Michael, died on 22 January 1922, aged just 44. Curiously, she is not listed in the 1921 Census. She may have resided elsewhere while unwell, or her death may have taken place earlier than the records report. 

In 1921, the 15-year-old John Daniel was working as an apprentice wheelwright and coachbuilder for local company John Williams & Sons. He clearly mastered this trade; he is listed as a merchandise carpenter marine in the 1939 Register. 

John Daniel's father, Daniel (Huw's great-grandfather), had worked as a general labourer. He was employed in Aberyanon in 1921. At this time, John Daniel's brother Faffgd Toweth was a sailor in Cardiff.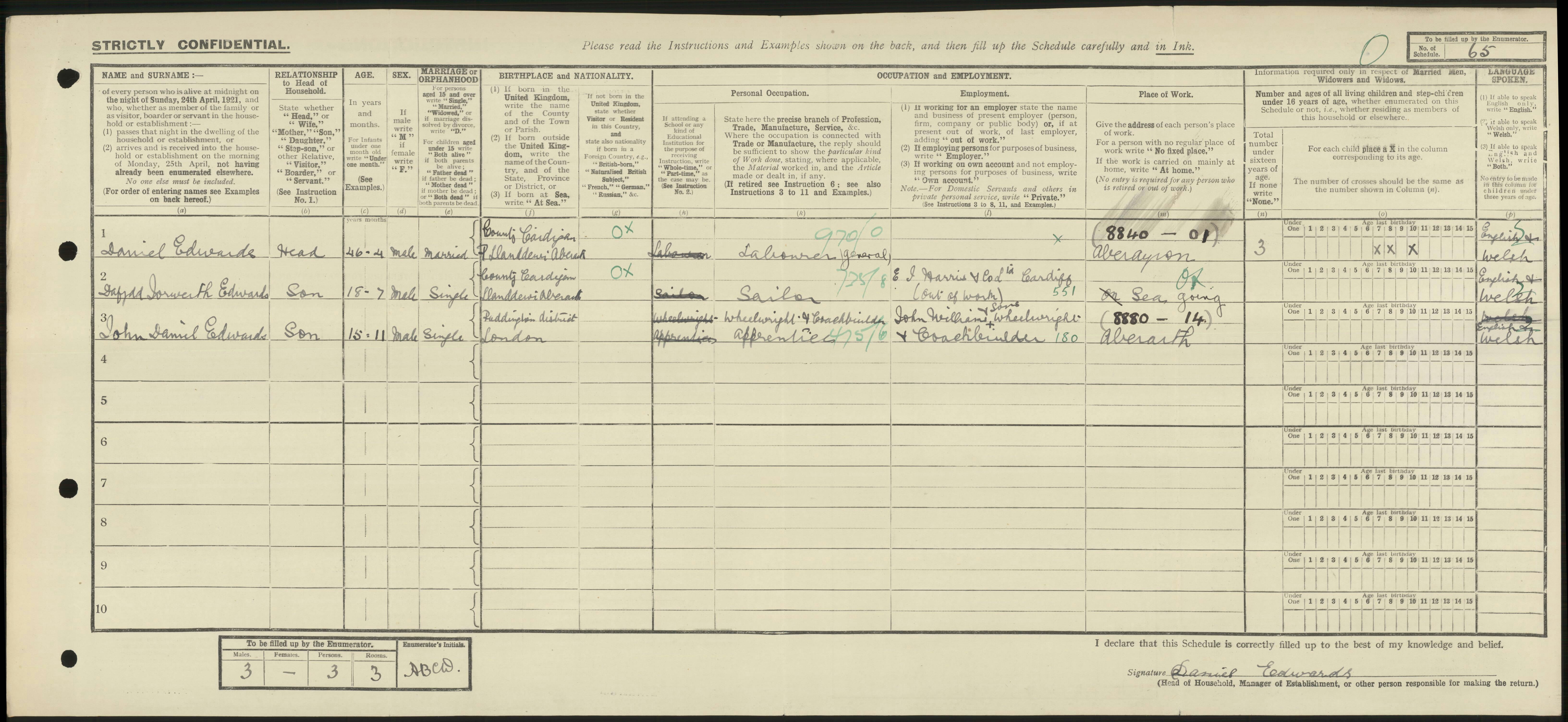 The 1901 Census reveals that Daniel's father David was a farmer in Nantcwnlle, Cardiganshire.  
He was born in 1847 and died in 1927. He is still listed as a farmer in the 1921 census, aged 72. This reveals a hardiness that may very well run through generations of the Edwards family. 
Tragedy in Huw Edwards' family tree
On his maternal side, Huw has roots in the historic Welsh county of Glamorgan.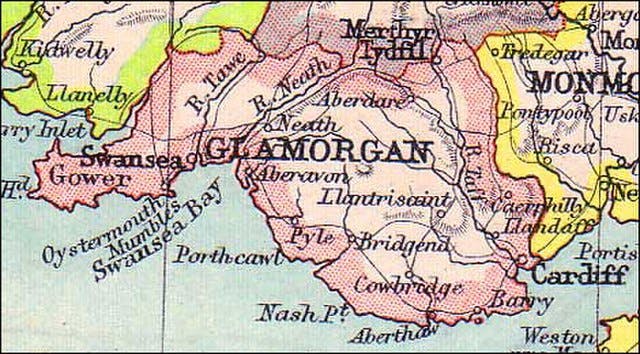 Huw's mother, Aerona P Protheroe, was born in Brigend, Glamorgan, in 1937. Her mother and Huw's grandmother, Elizabeth Davies, was born in Cardiganshire in 1909. Elizabeth lived to the impressive age of 96. 
Aerona's father and Huw's maternal grandfather Leoline Price Protheroe was far less fortunate. He died while working in Glenavon colliery in October 1937, aged just 28.  
As an article in the Western Mail reveals, his death was ruled accidental by an inquest in Pontycymmer. 

His wife Elizabeth had given birth to Huw's mother Aerona in February of the same year. She was four months pregnant with their second child when he died. Aerona's brother, named David Leoline after his father, was born in February 1938 - just five months after Leoline's death. 
A large and colourful family  
It wasn't all tragedy on Huw's maternal side. Huw's grandfather Leoline came from a large family, with six siblings. The records give us a glimpse into their busy and varied lives.  
Leoline's brother (Huw's great-uncle Stanley) served in the Second World War with the Royal Welsh Fusilliers. He died in Croydon Hospital in 1940, likely from war-related injuries.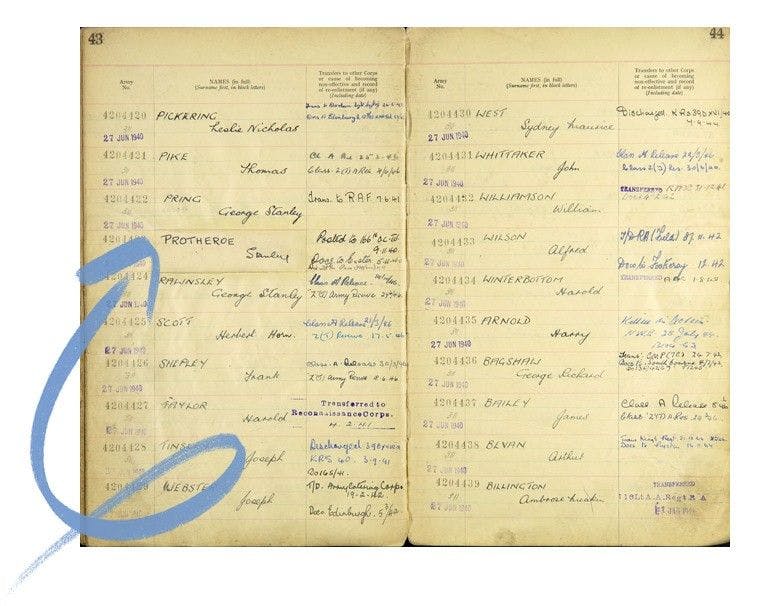 Before the war, however, it seems that Leoline and his siblings got up to all kinds of mischief.  
Donald Protheroe, Leoline's brother and four years his junior, ran into minor trouble with the law. In 1931, when he was aged 18, he was reportedly summoned to court for creating a disturbance and using bad language.  
As this article in the Glamorgan Advertiser reports, he gave arresting officers a false name. His younger brother Ivan testified in his defence at the trial, denying Donald's involvement in the fight that broke out.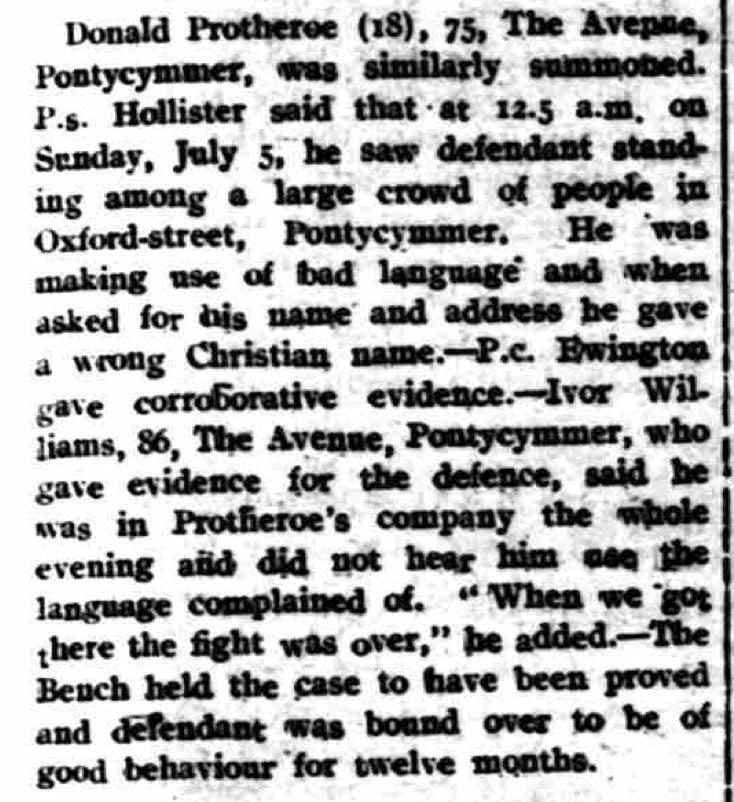 Huw's maternal grandfather Leoline Price Protheroe was one of seven children. His paternal grandfather John Daniel Edwards was one of five. Our research paints a picture of the hustle and bustle that comes with such large families. 
From labouring and farming to hosting the 10 O'Clock News 
On both his maternal and paternal sides, Huw's family is distinctly working class. Though the presenter now lives in Dulwich, London, he has roots that run deep in Cardiganshire and Glamorgan. 
While their ancestors made a living as miners and labourers, Huw and his father have had white collar careers by virtue of their education. Both attended their local grammar schools.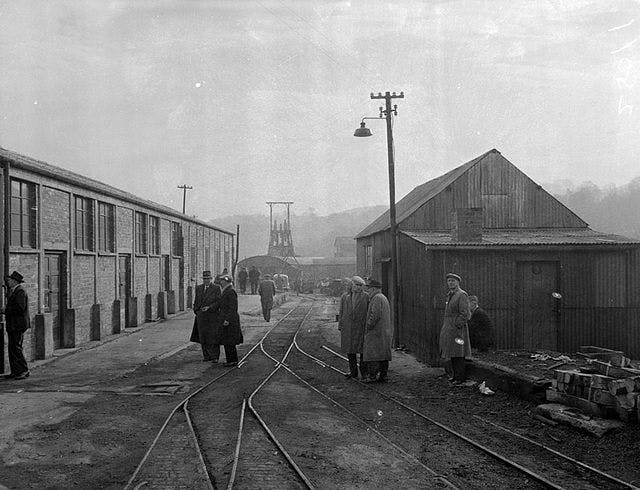 Throughout Huw's family's history, we find stories of hardship and perseverance. Huw's maternal grandmother raised her two children after the premature death of her husband Leoline. Similarly, Daniel Edwards and his four siblings were raised by their father after their mother's death in 1922. 
To read more about the discoveries made by our team of experts, head over to the Findmypast History Hub. From Liz Truss to the cast of the Crown, we've conducted research into a wide range of well-known names.  
More on this topic:
Share this article
About the author