How I traced my colonial ancestor from the US back to England
4-5 minute read
By The Findmypast team
7 September 2020
Using occupation and travel records, genealogist Kate Eakman gives you step-by-step advice on tracing your immigrant ancestors' family roots.
Taking your family tree backward from the United States to England during colonial times can be tricky. There aren't those lovely, modern passenger lists to use to determine the identity of the family left behind, places of birth, and family or friends who have already immigrated. But, if you are fortunate, and know one or two key pieces of information about that colonial ancestor, Findmypast has some great records that can help you to make that leap across the pond.
Search family records
Enter a few details to see your relatives' records at your fingertips.
Let's imagine your ancestor was John Randall, an Englishman by birth who ended up in Anne Arundel County, Maryland by the 1790s. From census records, you know that he was born no later than 1765, but he could have been born ten or twenty or more years earlier than that since he only appeared in the "white males 45 years of age and older" columns.
You also know that John was a joiner or a specialized carpenter who made the wooden parts of a building such as stairs, door frames and doors, and window frames. But you are stuck on the banks of the Chesapeake Bay, unable to find John Randall in England. A search for John Randall with various spellings of his name results in thousands of possible matches for men born in England between 1725 and 1765.
Fortunately for you, there are a series of specialized record sets on Findmypast that can help you trace John Randall. They are all related to his occupation and can be used to trace any ancestor who lived and worked in a specialized trade in England between 1442 and 1933.
From medieval times, the most common way for a young man to learn a trade was to become an apprentice. His parents would pay a fee to a master craftsman to take in the young man for at least seven years and teach him the skills of the trade. Careful records were kept of the name of the apprentice, the name of the master, and the trade which the boy was to learn and those contracts still exist today. Findmypast has several of these record sets available:
In the case of John Randall, you realize that the haberdashers (in England this meant dealers in small items used for sewing such as buttons, thread, needles, etc.) and the ironmongers (one who made iron hardware, such as handles, hinges, and locks) were not the places to look for him, but the Country Apprentices and the London Apprenticeships Abstracts are both possible places where a man who was a joiner might be found.
Your search yielded two entries for the same person: Master John Randall, a carpenter from Sherrington or Sherington in Gloucestershire, took in two apprentices - one in 1761 and one in 1764.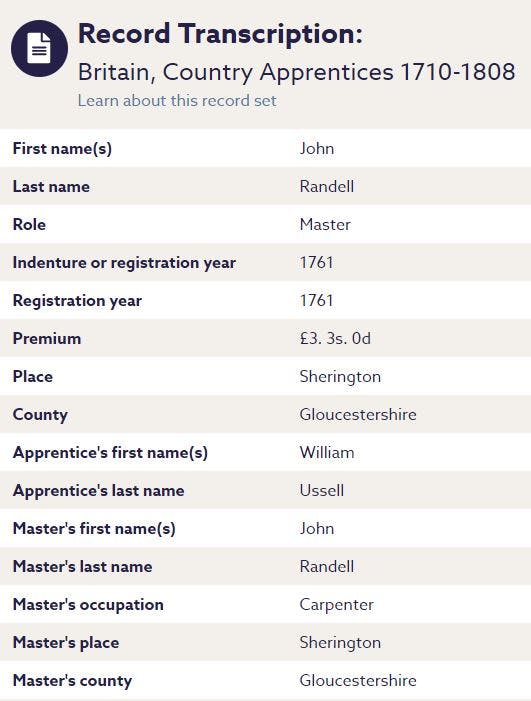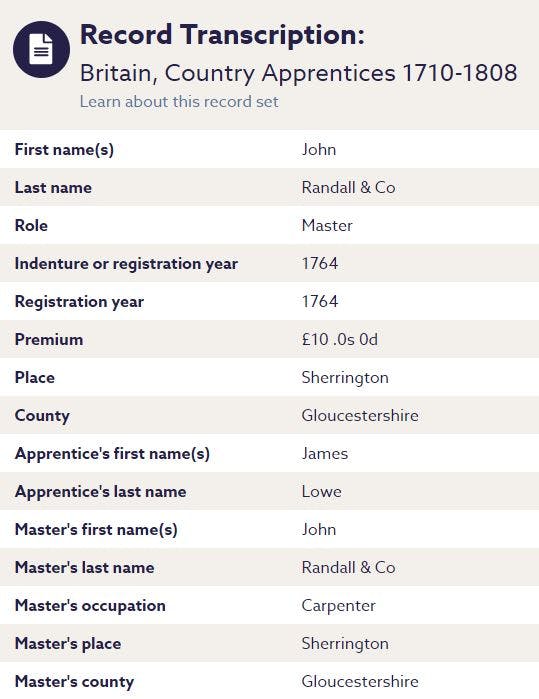 While it is certainly possible that Master John Randall of Gloucestershire could be the ancestor you seek, we still need to find some evidence that this man emigrated between 1764 and 1790.
Finding the emigration record
This is where another record collection comes in handy. Findmypast's Early Emigration from Britain 1636-1815 can, depending on the date of travel, contain some very specific information. Your next step is to search that resource for John Randall of Gloucester, traveling between 1771 (when James Lowe's 1764 apprenticeship would have ended) and 1790 (when you already found John living in Anne Arundel County, Maryland). Your search resulted in four possible options, three who traveled to Philadelphia and one who traveled to Maryland:

The three men who left in 1774 for Philadelphia were a sawyer from Kent, a husbandman from Salisbury, and a laborer from Salisbury, none of which matched the ancestral John Randall, a joiner. But the first man on the list was 40-year-old John Randall, a carpenter and joiner from Gloucestershire. He embarked on the ship Sibella from London on March 21, 1774, and landed in Maryland.
You can also see a copy of the actual passenger list which provided you with the information that John was traveling with his wife, 30-year-old Ann Randall. Their final destination was Maryland where they intended to settle. This matches the age of the woman who appeared in the U.S. census records you had already found and provides a possible name for your ancestor's wife.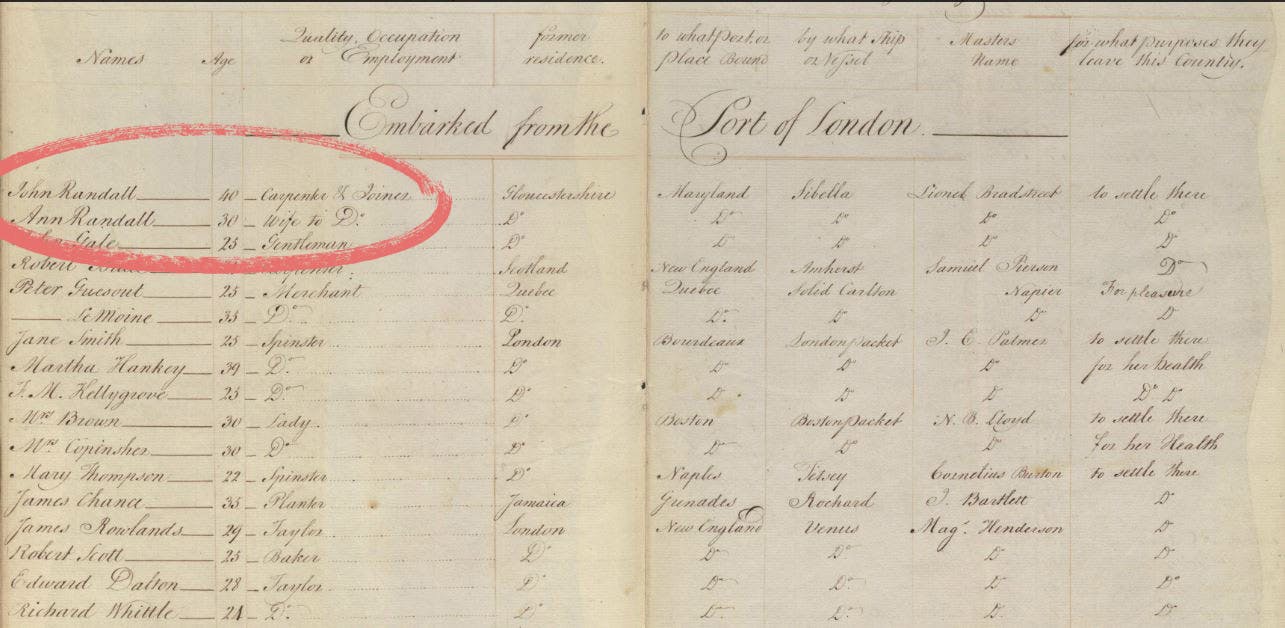 While there is still more research necessary before you can definitively say that the John Randall you found in Gloucestershire is your ancestor, by utilizing these unique record sets available on Findmypast, you have managed to find what appears to be the ancestor you were seeking. And, once you have verified that the two men are the same person (John's Maryland will naming his wife, Ann, would be a great start, or a deed naming the two of them buying or selling a piece of real estate, would be another way to confirm the connection) you have a very specific part of England to begin your search for John Randall and his family in Gloucestershire.
Kate Eakman is a Senior Researcher for Legacy Tree Genealogists, a worldwide genealogy research firm with extensive expertise in breaking through genealogy 'brick walls'. To learn more about Legacy Tree services and its research team, visit legacytree.com.