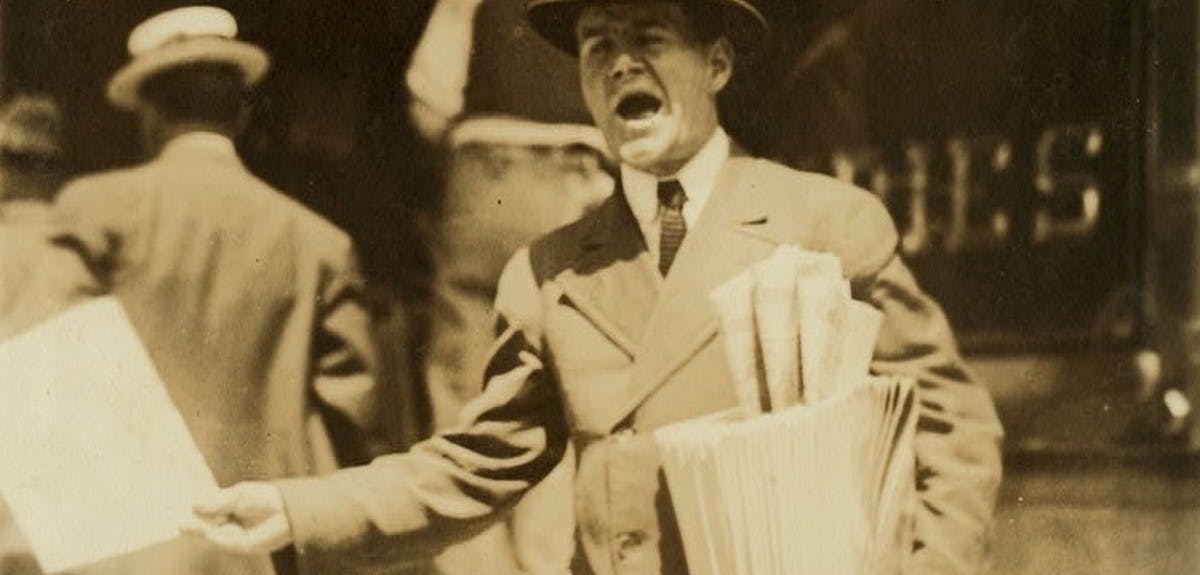 Quick-start guide to searching newspapers on Findmypast
You can use newspapers to track down locations of elusive official records, but you can also make amazing discoveries about the lives of your ancestors that you couldn't find in any other resource.
If you have never searched our newspaper database before, read this quick-start guide and dive in!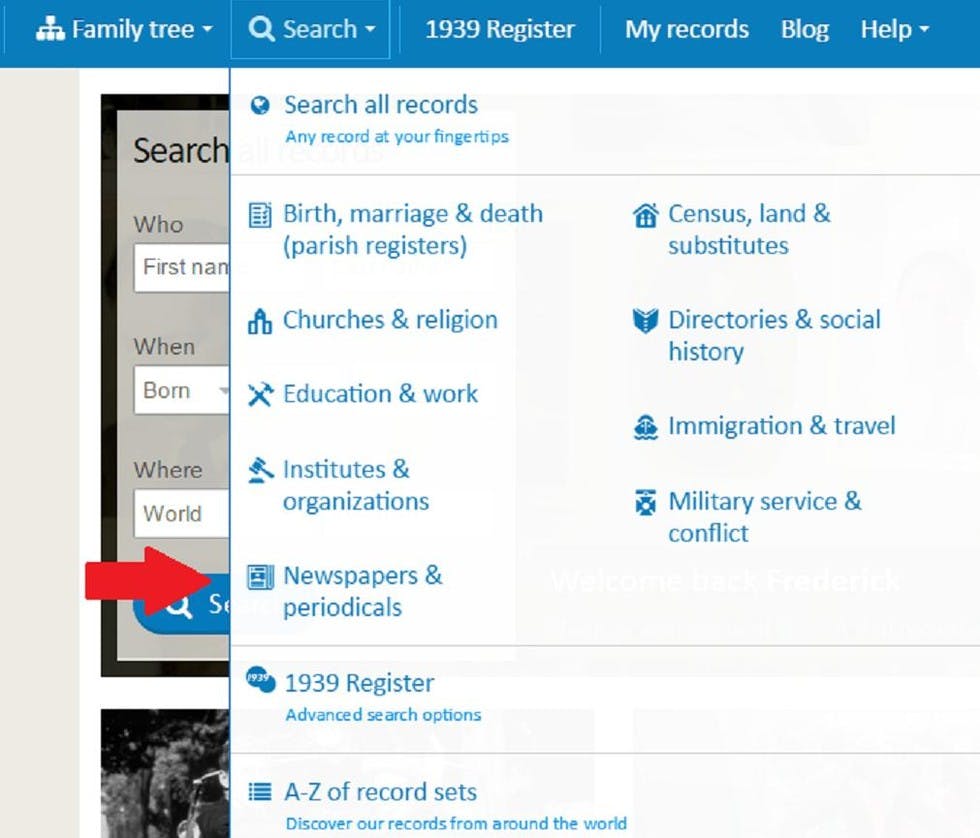 You will find our newspaper database on the main search menu.
Keep in mind, when you "search all records" that search does not include our newspaper database - it's a totally separate entity, so you'll need to search it individually.
Once you're on the home search screen you'll see several options you have to refine your search.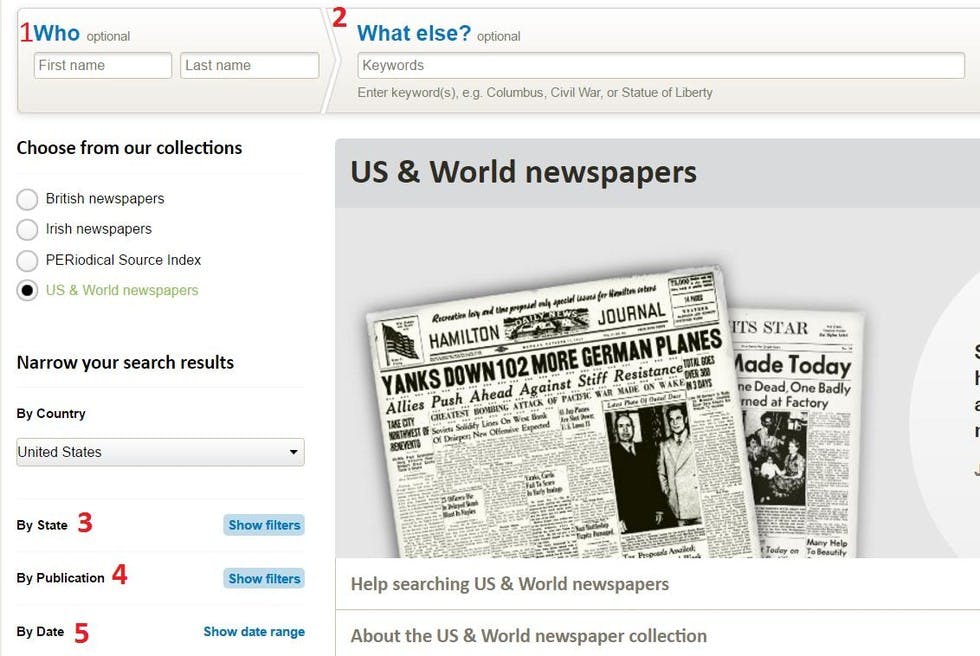 Let's take a quick look at each.

When you click the "show filters" button on the previous picture, you will see this screen appear. Here, you are able to see all publications included in our collection.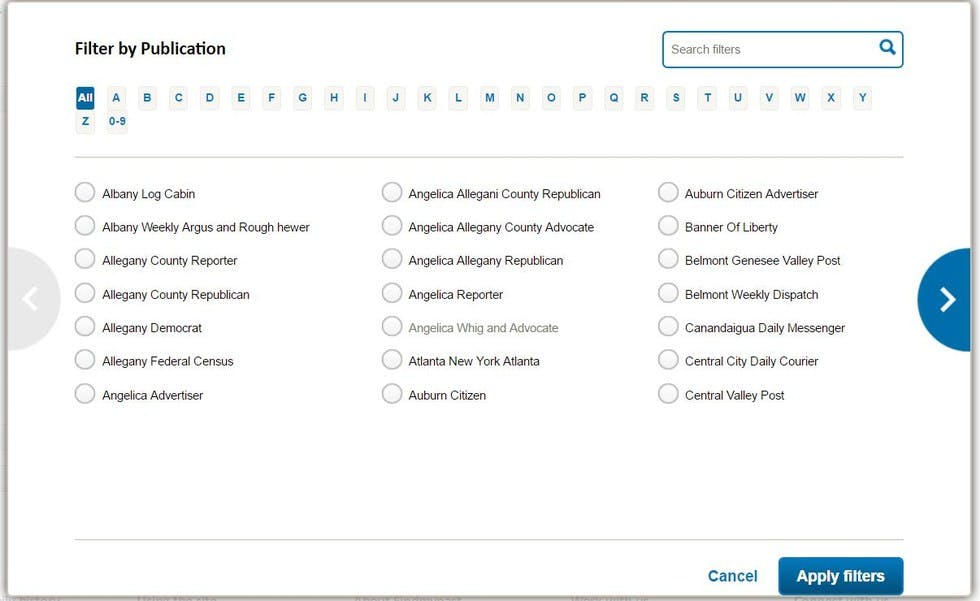 If you're looking for something specific, you can search in the upper right corner. You can also browse alphabetically. This is a really powerful tool because it allows you to zero in on the publication that covers your ancestors geographic area.

For newspaper searches, you need to get specific - some states might have so many publications that the search returns are unmanageable. For this situation, we recommend drilling down to a specific publication.
You should always filter geographically (whether by publication or state). You also need to filter temporally too: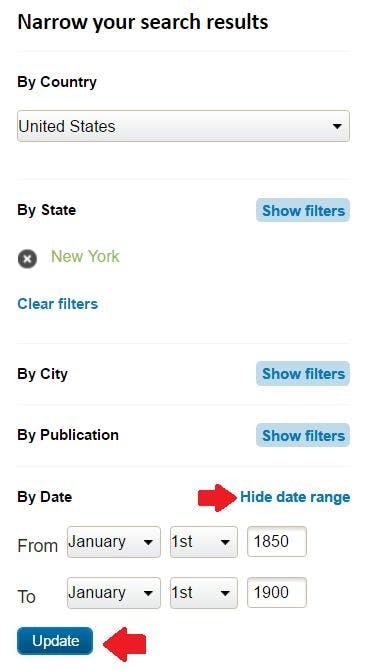 On Findmypast, you can search newspapers by entering a specific date and selecting +/- a certain number of years.
You can also specify a specific date range by clicking the "show date range" link.
Essential tip: after you select your filters, you need to click "update" in order to save them. If you search before hitting "update" your filters will not save!

Now that you know the basics of manipulating our newspaper search engine, we have some advice for you:
1. Always filter by time & location
Because there are so many newspapers in our database, you don't want to begin with too broad of a search. We recommend going in with a detailed idea of who you're researching, where they lived and when they lived.
Sometimes in genealogy it makes sense to start really broad and narrow down from there, but in this case you can begin with a time period and state right off the bat. If you want to go broad, choose a nice long time period and filter by entire state - you can (and probably will need to) narrow down further from there.
2. After applying filters, search last name only
One area you can start broad is the name. Once you have your state and time period set, go for a last name only search first. Even if you're looking for someone specific, this is a good way to see the scope of your returns - if they're surprisingly sparse, you may have made some kind of error.
If too many returns come back, then you can easily narrow down. And remember, you never know if an ancestor went by a different first name, middle name or nickname. You also may discover an event that included your ancestor, but didn't list them by name - for instance, a birth announcement may have their parents names but may not specify the new baby's first name.
Make sure you don't ignore the "What Else?" category. If you're searching for a specific piece of information, this is a very useful field to use. For instance, if you're looking for an obituary, you can include terms that would be commonly found in an obituary - death, deceased, funeral, etc.
Remember, you don't have to include a name in the search. A fun and revealing way to use newspapers is to not search for your ancestors - instead, search for keywords like their neighborhood, organizations they belonged to, occupations, or anything else that can help you understand their world.
When searching newspapers, the only limit is your imagination.

4. Don't forget neighboring states
If your ancestors lived anywhere near a state border, you definitely want to include those in your searching. Many newspapers covered events and served readers across state lines.
For instance, newspapers in Pennsylvania and Ohio will be highly relevant to researching a family from western New York. But if you only use the New York state filter, you may miss out on some crucial finds.
5. Finding the hometown paper
The ultimate thing you want to look for is the specific paper that covered your ancestors hometown. As we mentioned in our guide to reading 18th and 19th century newspapers, local news wasn't usually covered before about 1840 - but after this period, small town papers began to intensely focus on this subject.
When filtering by publication, it's worth typing in the name of your ancestor's hometown in the search box - you may be delighted to see that their hometown paper was obviously named and available in our archives.
If that doesn't work, you may need to do some outside research to see what publications covered the town of interest at a given time. Small town newspapers failed frequently, so it is quite possible multiple publications covered your ancestors over the course of time.
You can also use keywords to figure out what newspapers covered your ancestor's region. Include keywords like the name of the town, county or other location-based words - if you see a paper where these phrases are prevalent, there's a good chance that publication focused on where your ancestors were.

If you would like some more help searching newspapers on Findmypast, don't miss our free newspapers webinar this Friday at 11:00am EST.
And for those of you skilled enough to trace your heritage back to the Britain or Ireland, we also have world-class collections of British and Irish newspapers as well.