5 Quick Tips to Get the Most Out of Education Records
3-4 minute read
By The Findmypast team
7 October 2016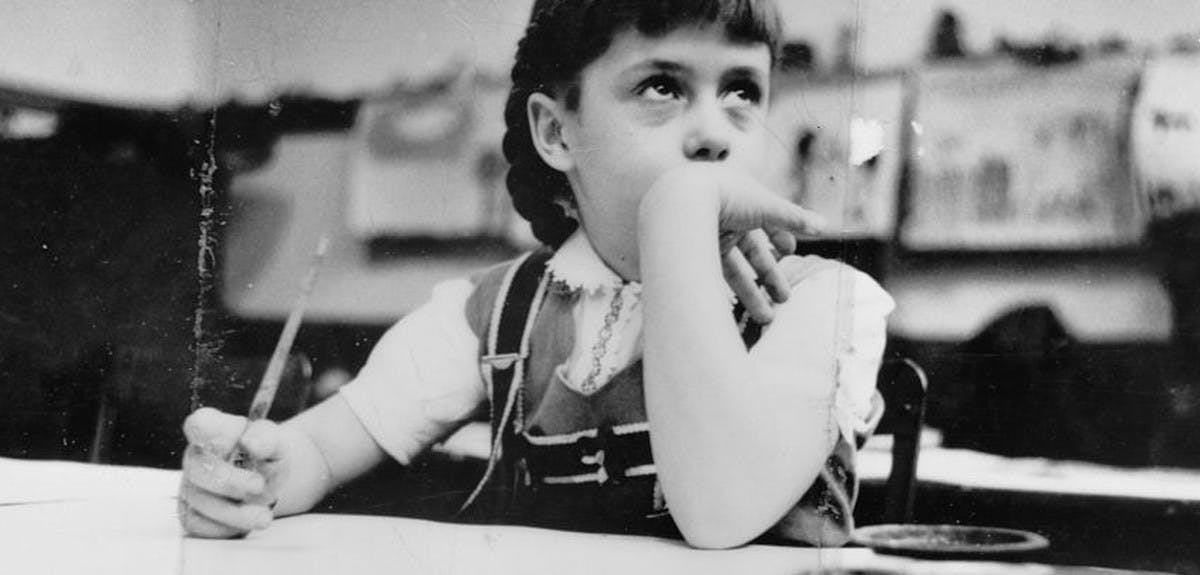 Education records are a great way to get a glimpse of your ancestors in their early lives. School records can reveal important vital facts about your family from parent's names and occupations to birth dates, and sometimes even death dates, but school records can also reveal more personal details about your ancestors and can reveal if your ancestor was a troublemaker or a valedictorian. School records are often overlooked but can be an important resource for overcoming brick walls, if you know what to look for and how to look for it.
When searching for your ancestor in the records keep an eye out for the record type. You might see "admissions" listed in search results or "log" listed under Book Type. Both types of records will give you different information about your ancestor. Logs are generally daily or weekly logs kept by the teacher for his/her own purposes and these logs contain a variety of classroom-related details from children who may have misbehaved to guests in the classroom, lesson plans, or even the reason for many absences, such as illness. These records are great for getting to know what life was like for your ancestors when they were younger. Register books can include the admissions records or attendance records. The admissions records will likely be the best for learning more of the key facts about your ancestor including your ancestor's parents names and their occupations, your ancestor's date of birth, address, and sometimes you can even find their death in this record if they did not return to school.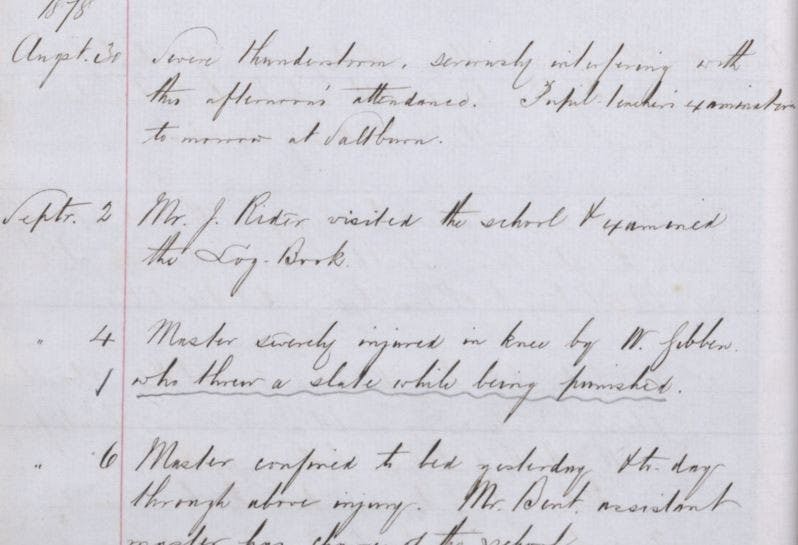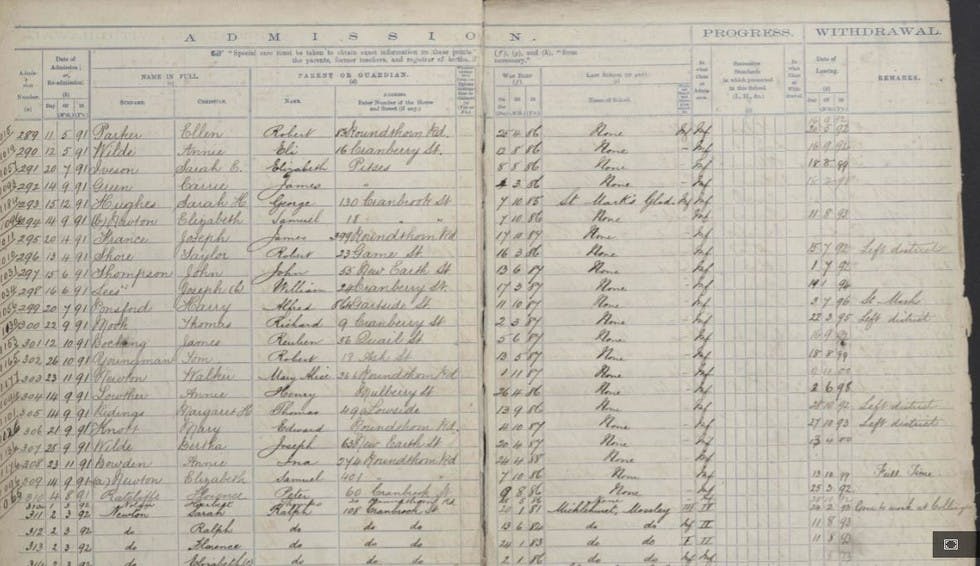 If you're looking for your ancestor during their childhood years, there is a chance that they were going by a nickname or their middle name in school. Using the wildcard search can help you return more results. For Findmypast our wildcard functions are an asterisk (*) and a question mark (?). If you don't know if your ancestor went by Gene or Eugene in the record, for example, try searching *gene to return results in all names that end in "gene." You can also do the same for endings of names if you're unsure about the spelling of a surname or if your ancestor's name is frequently misspelled.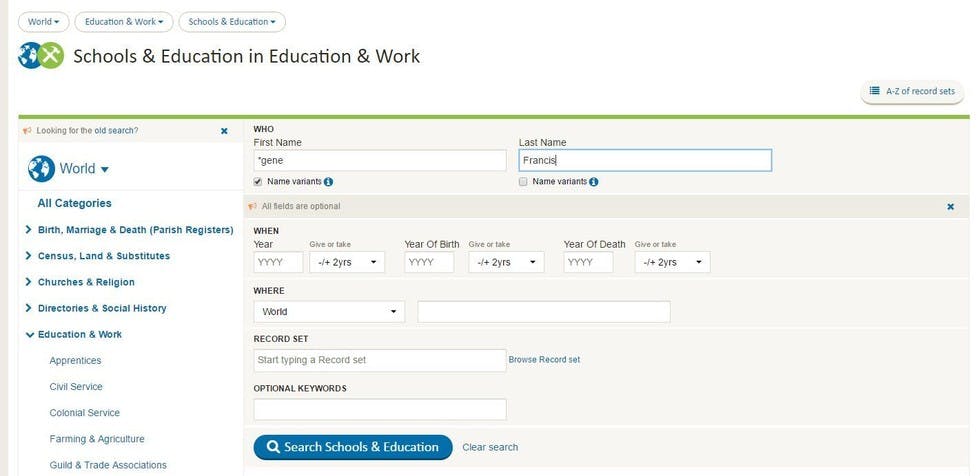 If you're looking at school records only for students, you could be missing out. If your ancestor worked as a teacher, administrator, was on the board of a school, or had any occupation related to education then there is a possibility his/her name and details about them are included in the records as well. Look for school meeting minutes and other administrative related documents in the records to find more about your ancestor.
Not all education records or registration records will include this field, but if the record you're looking at does, pay particularly close to this field as it can reveal key life events for your ancestor. It can reveal if your ancestor moved, which might help you if you've hit a brick wall and lost your ancestor in the records. This field can also indicate what your ancestor graduated and went on to do professionally. It isn't uncommon for an occupation to be listed in this field.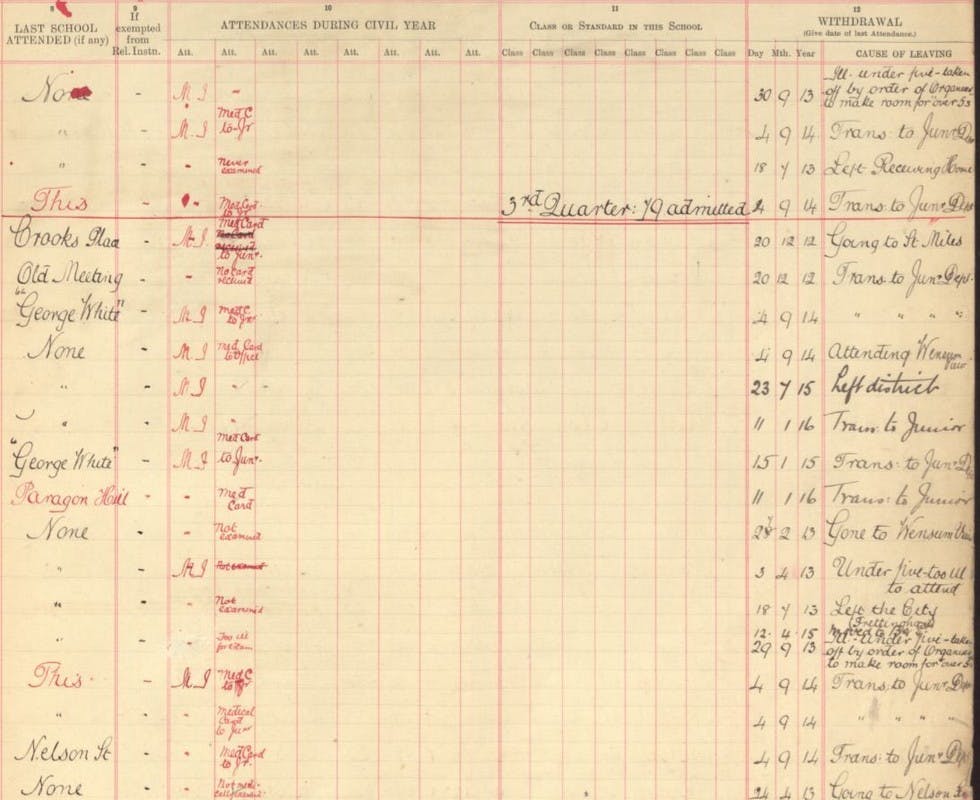 If the records you're looking at have images of the original document, as always, be sure to look at the original image, there is often much more information on the original document than is transcribed and you could be missing out. Don't only rely on the transcription because transcriptions don't often include the comments or the "remarks/reasons for leaving" field, nor would the transcription include your ancestor's address, etc.

Have you found your ancestors in our school records yet?
More on this topic:
Share this article
About the author