Findmypast Friday April 7th 2017
4-5 minute read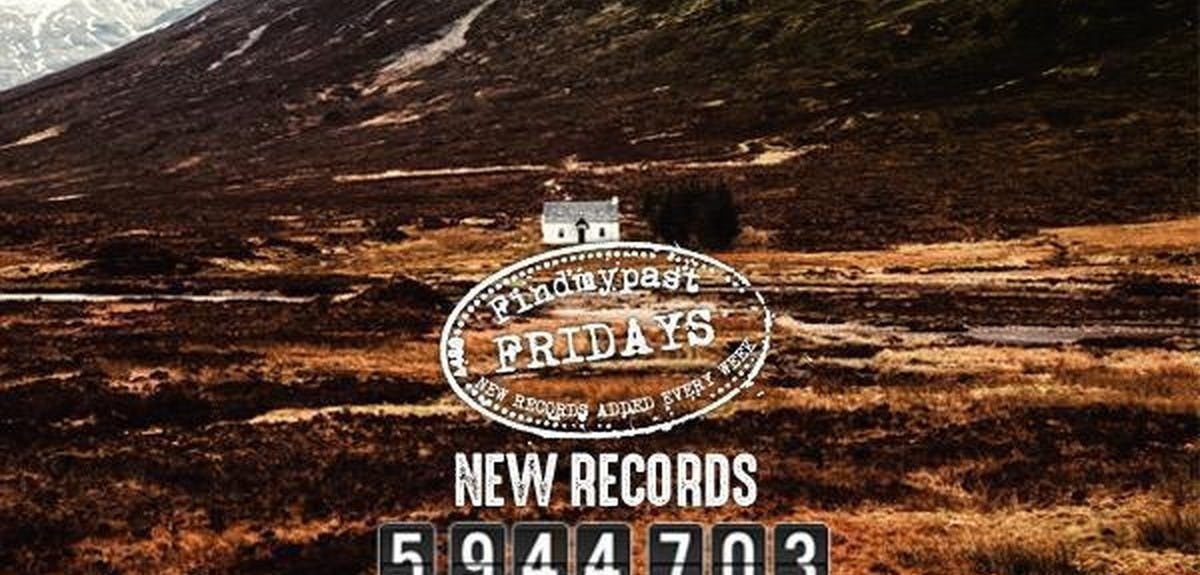 There are over 5.9 million new records available to search this Findmypast Friday including new Scottish additions to the Catholic Heritage Archive and brand new parish records from the English county of Wiltshire.
Wiltshire parish baptisms index 1538-1917
Explore over 2.1 million records including a number of rare early parish records to discover if your ancestor was born in the British county of Wiltshire in South West England. Some records date back to 1530 though most generally begin in 1538 and, until the introduction of civil registration in 1837, were the most reliable documented source of records for life events. Whilst the registers are for Church of England parishes, most other denominations also used the Anglican parishes for registration purposes, with the exception of Quaker and Jewish records. Transcriptions were created by both Findmypast and Wiltshire Family History Society.
Each record contains a transcription created from either an original parish registers or bishop's transcript. The information varies, but most will include a combination of your ancestor's birth date, baptism date, parish and parents' names.
Wiltshire parish banns index 1538-1933
Were your Wiltshire ancestors married via the ancient legal tradition of Banns? Search over 126,000 records to find out where and when their intention to marry was announced, their residence and the name of their intended spouse.
Banns are proclamations of a couple's intention to marry. The proclamation is made in the resident parish of the couple three months prior to their intended marriage date. If the couple lives in separate parishes, the banns will be announced in each parish. The proclamation is made three times on three separate Sundays. This practice was introduced in order to prevent clandestine marriages and to give the local congregation time to put forward any reasons against the marriage taking place. The fact that a banns record exists does not confirm that the marriage took place.
Wiltshire parish marriages index 1538-1933
Discover your English ancestry by uncovering details of your ancestor's marriage with over 944,000 records. This collection contains marriage records gathered from two sources. One set of records, which only provide transcripts, was created from the original parish registers and bishop's transcripts held by the Wiltshire Record Office. The other set of records also includes images of original Phillimore's marriage registers.
Each record will reveal your ancestors birth year, marital status, residence, marriage date, whether they were married by banns or license, fathers name, spouse's details and the names of any witnesses.
Wiltshire parish burials index 1538-1991
Explore more than 1.4 million records to find out where your Wiltshire ancestors were laid to rest and where they spent their final years. Burial records are a critical resource for your family tree. They help to bring to a close your ancestor's story while providing clues about your ancestor's final years, particularly where your ancestor was living.
Each record includes a transcript of an original parish register or bishop's transcript that will reveal the year of your ancestors birth, the date of their death, the date of their burial and the location.
Scotland Roman Catholic Parish Congregational Records
Delve through more than 268,000 assorted congregational records including registers of confirmations and communion recipients, as well as parish lists, seat rentals, and lists of people who converted to Catholicism.
With each result, you will find a transcript and an image of the original sacramental register. The amount of information you discover in each record will depend on the parish's standard of record keeping, the age of the document, and the document's physical condition.
Scotland Roman Catholic Parish Baptisms
Discover your Catholic Scottish ancestors. These latest additions to the Catholic Heritage Archive cover all eight Scottish dioceses and encompasses over 300 years of record keeping.
With each result, you will find a transcript and an image of the original sacramental register. The amount of information you will discover may vary from record to record although most will include a combination of your ancestor's birth date, baptism date, denomination, home parish and parent's names.
Scotland Roman Catholic Parish Marriages
Did your Catholic ancestor get married in Scotland? Search more than 197,000 records taken from original Roman Catholic sacramental registers and discover the location of your ancestor's wedding, the date, as well as the names of the couple's fathers and of those who witnessed the occasion.
The results will comprise both an image of the original matrimonial registers and a transcript of the key facts. The amount of detail in each transcript will vary depending on the age of the document (later records tend to include more details) and the condition of the record (some records may have been damaged over the centuries). Marriages are an excellent way of identifying previously undiscovered branches of your family tree and.
Scotland Roman Catholic Parish Burials
Learn more about your Catholic Scottish heritage with new Roman Catholic burial registers. The records will contain the location of your ancestor's final resting place, the date of your ancestor's burial, and, in many cases, your ancestor's cause of death.
Each record provides an image of the sacramental register from The Scottish Catholic Archives and a transcript of the vital details. Images may reveal additional details such as your ancestor's cause of death, marital status, the name of the person who ordered their internment (usually next of kin) and any additional comments.
Britain, Wills Of Famous Persons 1552-1849
Explore a fascinating collection of wills left by famous Britons throughout history. Read wills left by a variety of notable figures ranging from members of the British Royal Family, writers and artists to politicians, soldiers, and civil servants.
This collection of wills is from The National Archives (TNA) and comprises Series PROB 1 – Prerogative Court of Canterbury: Wills of Selected Famous Persons. The documents included in this series often include additional material other than the last will and testament. Additional documents may include affidavits proving authenticity, personal letters, and personal diaries. Please note that some images are of copies – they are noted as such because they were either annotated as copies or because the signatures of the witnesses and testator are in the same hand as the rest of the document. For those annotated as copies, the originals were in the care of the Court before the copies were created.
More on this topic:
Share this article
About the author