Findmypast Friday June 23rd
2-3 minute read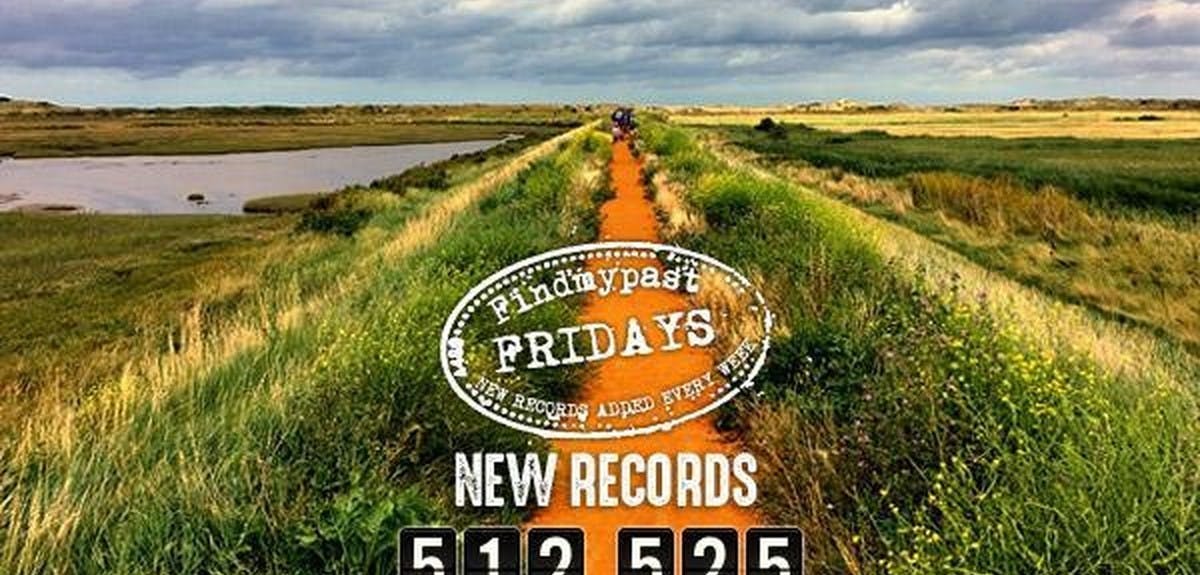 There are over 512,000 records available to search this Findmypast Friday, including:
Norfolk Marriage Bonds 1557-1915 Browse
Browse 444 volumes of marriage bonds from four ecclesiastical courts in their entirety. This collection contains over 147,000 records kept by the courts of the Archdeaconry of Norfolk, the Archdeaconry of Norwich, the Dean & Chapter of Norwich and the Diocese of Norwich Consistory Court. A marriage bond demonstrates an intention to be married by license.
Most marriage bonds follow the same set format. However, later records, particularly those produced after the 19th century, do tend to add more detail such as age and marital status. The details found in each record may vary depending on the court, the age of the record, and the physical condition of the register although most will include the couples name, residences, date of bond and the groom's signature.
Norfolk Poor Law Union Records 1796-1900 Image Browse
Consisting of over 55 volumes of Poor Law records covering 20 unions across the county, our Norfolk Poor Law Union records allow you to discover names, family relationships, residences, event dates, children's ages, and birth and death dates. The collection contains a wide variety of different record types including births & baptisms, relief lists, admission & discharge books, rate books, report books, minute books and more.
Poor law records pertain to those created and held by a parish vestry (local government's administrative body) or union in the course of caring for the poor in a given parish. The records detail how funds were collected, shared, and protected for the aid of the parish's destitute and struggling, as well as details relating to the poor and to those paying the poor rate, which would help in the aid of the parish's poor. This system had a long history in England, with the first poor law coming into effect in 1601.
Norfolk Non-Conformist Records 1613-1901 Image Browse
Browse through more than 7,000 records to find out whether your ancestor was a member of a non-conformist church in Norfolk. The collection consist of 11 registers covering various denominations including Methodist, Quaker, and Baptist in the parishes of Attleborough, Aylsham, Kenninghall, Norwich, Tasburgh, Walsingham, and Wymondham.
This collection comprises registers of baptisms, marriages, and burials, as well as membership lists and meeting minutes. The detail found in each register will differ depending on the church and when the register was created.
Virginia, Winchester, Evening Star Obituaries 1899-1909
Explore over 5,000 obituaries printed in the Winchester Evening Star and uncover a variety of fascinating biographical details relating to your ancestor such as their occupation, parents' names, surviving relatives' names, and specific time and cause of death.
The Evening Star ran from 1899 to 1914 and was a daily paper (excluding Sundays). The paper started as The Star in 1896 and was succeeded by the Winchester Evening Star, which ran from 1914 to 1980. The paper currently runs today as The Winchester Star. While the paper is printed in Winchester, Virginia, it covers the Shenandoah Valley area.
Scotland, Post Office Directories
Over 180,000 new records have been added to our collection of Scottish Post Office Directories. The new additions cover Aberdeenshire, Ayrshire, Bute, Midlothian, Forfarshire, Lanarkshire, Renfrewshire, Perth and Inverness-shire.
The post directories in this collection may focus on a particular town or district or you can find national postal directories. The majority of post directories comprise a description of the place, along with lists of people by occupation. For example, you will find lists of magistrates, Councillors, sheriffs, police officers, and merchants.
Scotland Monumental Inscriptions Index
Over 32,000 new additions covering burial grounds in Berwickshire and East Lothian have been added to the Scotland Monumental Inscriptions Index.
These records will allow you to discover your ancestor's maiden name, birth year, death year, the location of their burial.
More on this topic:
Share this article
About the author