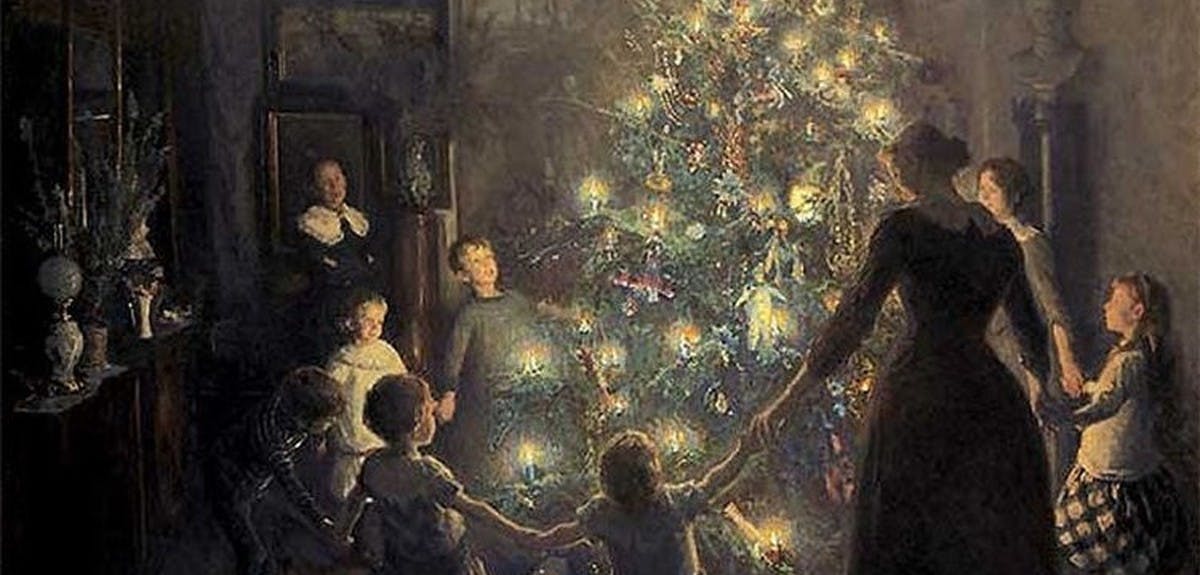 How the Queen of England brought this essential Christmas tradition to America

Believe it or not, the Christmas tree would have been an odd sight for your ancestors to see any time before the mid-19th century. But in 1850, when Americans saw the British Royal Family and their Christmas tree in a popular women's magazine, Christmas trees became all the rage (and have been ever since).

The tradition finds its main roots in Germany, and with a few exceptions, German-Americans (and only those from a particular region) were the only ones in the U.S. who kept Christmas trees.

That is, until this image of Queen Victoria, Prince Albert and the Royal Family became the first widely circulated image of a Christmas tree in 1850. It is widely credited as the image that popularized the Christmas tree in the United States: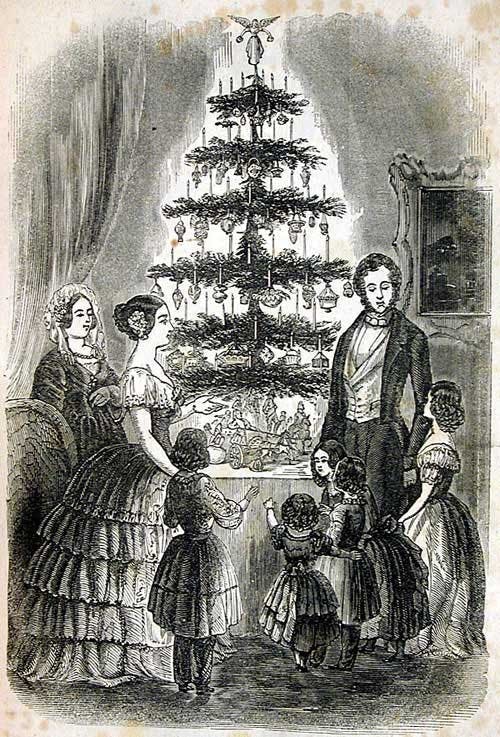 Godey's Lady's Book and the Christmas Tree
This image comes from Godey's Lady's Book, the most popular monthly journal in America in the 19th century. As of 1860, there were 150,000 subscriptions to Godey's, and the publication was especially influential to American women. Reaching a wide audience, editor Sarah Josepha Hale became the dominant influencer of American culture in her time, and had a lasting impact on many tried-and-true American traditions. For instance, she also conducted a successful campaign to establish Thanksgiving as a national holiday.

"In all of America there was no more important medium than Godey's in spreading the Christmas tree"

Originally the image of the Royal Family and their Christmas tree was published in 1848 in the
London News, with a few key differences. Can you spot them?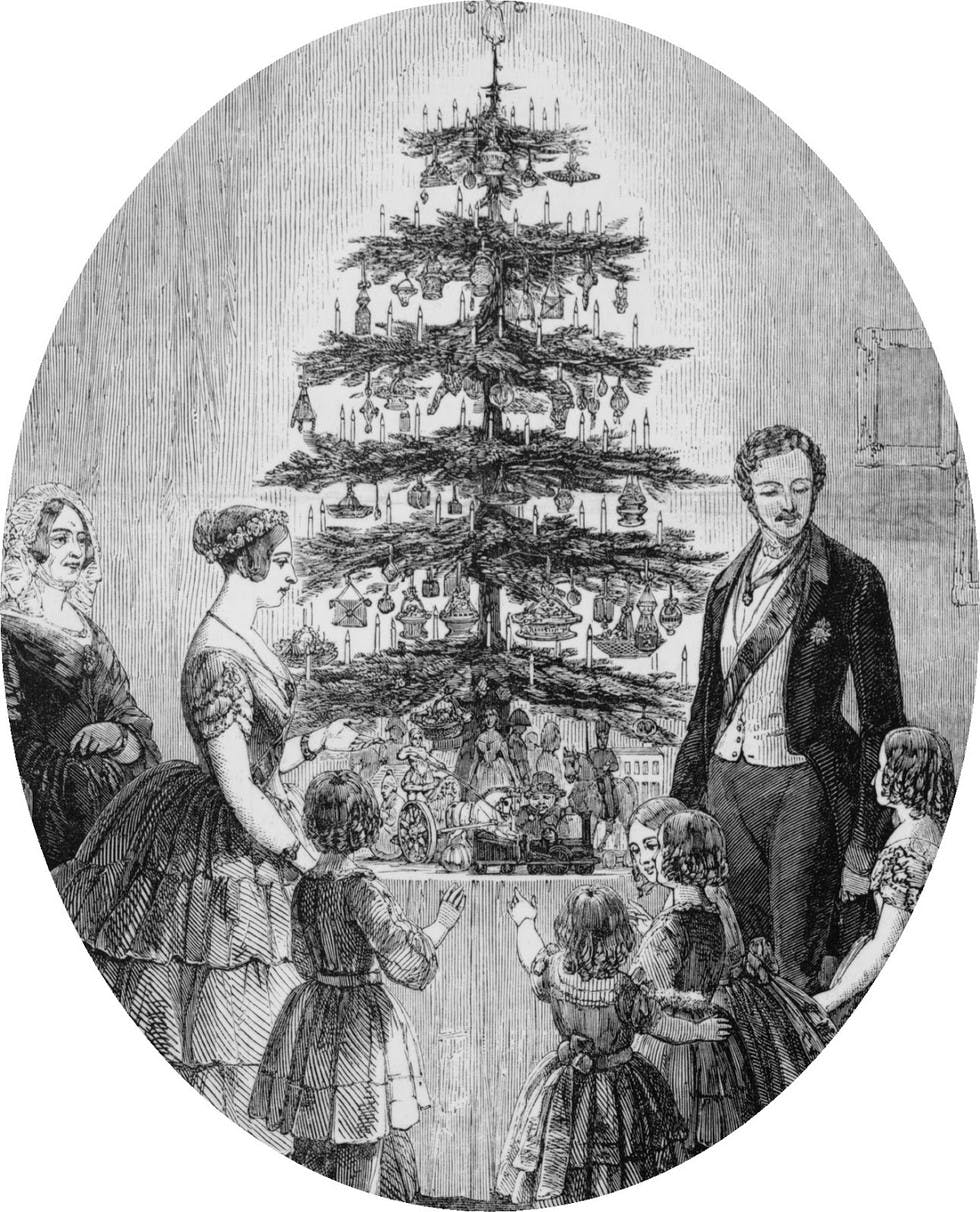 The version published in
Godey's removed Victoria's tiara and Albert's mustache so that the scene would resonate more with American audiences. Despite alterations to their appearance, the Royal Family was very recognizable to American women and the fact that they were pictured taking up the tradition meant thousands of Americans would desire to follow in their trend-setting footsteps.

Explore Historic British Newspapers
Cultural historian Alfred Shoemaker wrote of this image's appearance -
"in all of America there was no more important medium in spreading the Christmas tree in the decade of 1850-60 than Godey's Lady's Book."

Why did the Royal Family decide to have a Christmas tree?
Christmas trees weren't widely popular in England either before the image circulated. In Germany, the Christmas tree was a tradition the Protestant-dominated upper Rhine region, but not in Catholic lower Rhine region. Prince Albert, having grown up near Coburg, fondly remembered the this tradition from his childhood in his writing.
But Victoria and Albert weren't the first Royal Family to have a Christmas tree - back in 1800, George III's German wife Charlotte of Mecklenberg-Strelitz introduced a Christmas tree to her family. In fact, Victoria's childhood was full of Christmas trees, but the tradition never spread much beyond the Royal Family until the the 1840's.

How were Christmas trees decorated then?
In her journal, Victoria wrote that the Christmas trees were "hung with lights and sugar ornaments," but was this typical?

Early Germans in America decorated Christmas trees with candles and hanging treats - such as apples, nuts or cookies - and continued to do so into the 19th century. Most other Americans made home-made ornaments and sometimes brightly died popcorn on a string.

In 1882, Edward Johnson - an associate of Thomas Edison - was the first to electrically light a Christmas tree

In the 1880's, variety store titan F.W. Woolworth discovered Christmas baubles, native to Lauscha Germany. He began importing them to America and they soon sold by the million to those eager to jazz up their Christmas trees.

Christmas soon became a classic American tradition, and the Christmas tree its major icon, but it's amazing to think that it wasn't so many generations ago that the Queen of England started it all.
If you have traced your ancestors back that far, it's amazing to think that they viewed Christmas trees as oddities or or very new, fashionable decorations. Or maybe your German ancestors kept Christmas trees long before Godey's popularized them. And if you don't know, there's never a better time than the present to delve into your past!
Explore your past with a 2-week free trial