How social history can help you find female ancestors
6-7 minute read
By Guest Author
3 March 2021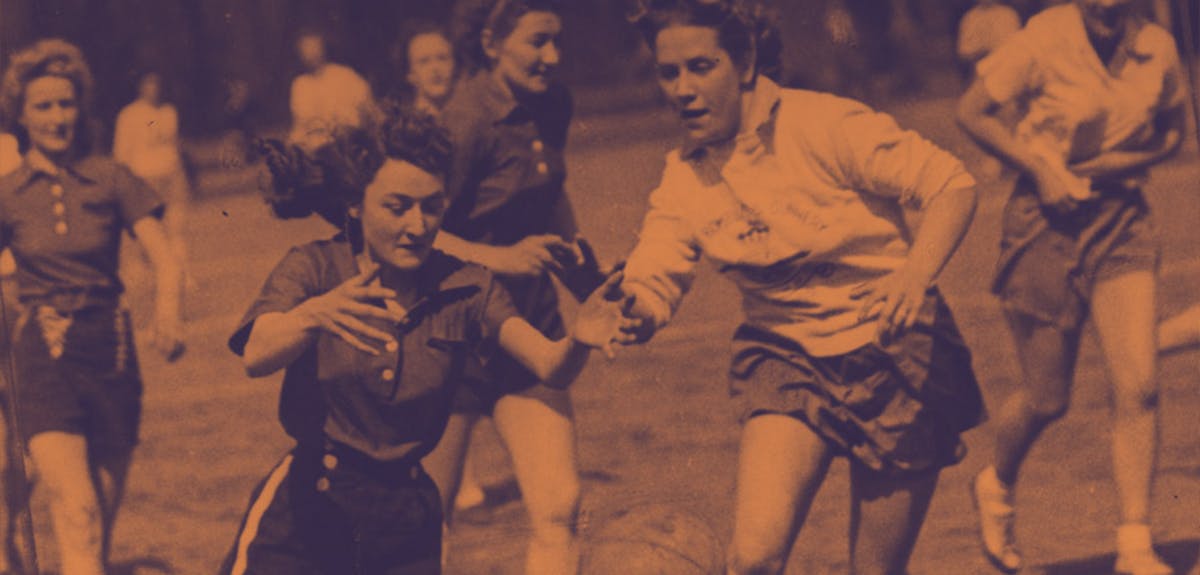 Researching the women in your family tree often presents significant challenges. Lisa Lisson explains how social history records can help.
Female ancestors frequently did not create many formal records for us - their descendants - to find. Add to that a name change occurring at marriage. And in the case of multiple marriages, that female ancestor may have more than one name change.
No wonder we struggle to identify or keep track of that great-great-grandmother. When searching for our female ancestors, sometimes it's less about finding that one record naming her husband or parents and more about learning how to find and put clues about her life together to draw the correct conclusion.
Find female ancestors now
Unearth their struggles and triumphs, love stories and heartbreaks.
When you start searching for your female ancestor, always remember the fact she was living a full life. She was a person with likes and dislikes. She had causes she was passionate about. She had friends. We may not see the evidence in traditional genealogy records, but your female ancestor was absolutely participating in her community.
As genealogy researchers, we must get to know that female ancestor at community level. We must understand what was important to her in her everyday life.
What is social history and why should you pay attention to it?
Social history tells the stories of our ancestors' lives. In the case of elusive female ancestors, social history provides a unique insight into their lives. The economy,  weather, illnesses (yes, even pandemics), and daily life impacted the decisions our ancestors made. If we understand how circumstances impacted a female ancestor's decisions, then as researchers we can begin to recognize and predict where to find her.
As you begin to get to know your ancestor, consider:
What customs did she observe?
Are there holiday traditions, meals and customs passed down through the family from your female ancestors? These could lead to clues about her country of origin.
How were major life events such as births, marriages and death observed?
Were godparents named for a baby at a christening? If so, that is a clue to an ancestor's religion. Did the female ancestors tend to marry in the middle of winter? That could be a clue to a farming family.
What faith did she practice? What faith organisations might she have been in?
Knowing a family's faith provides clues to religious organizations she may have been a member.
What social or political causes were important to your female ancestor and/or the women in the community?
Was temperance a concern for the women of that community? Seek out the area's Women's Christian Temperance Union records and mentions in the local newspapers.
Where did that female ancestor shop?
Women did not have the many options for shopping that we have today, but she likely had a shop or two where she got the basics the family was unable to grow or create for themselves.  Seek evidence of your ancestor in merchant account books and seamstress account books found in special collections.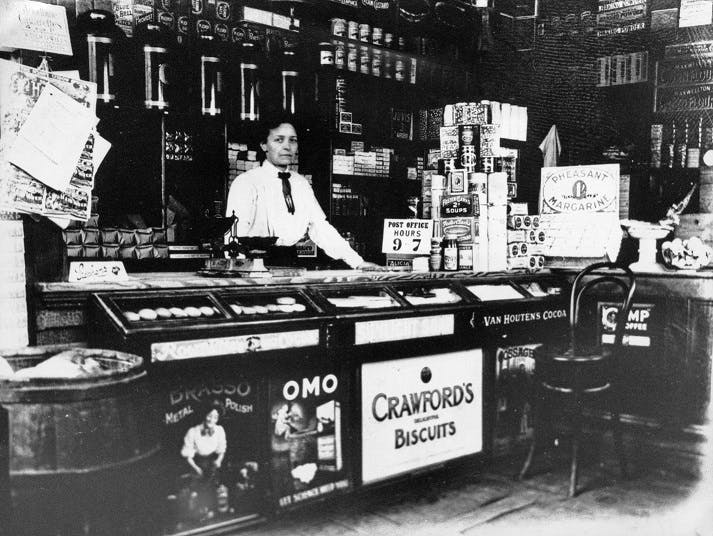 Understanding a female ancestor at this level provides us with a glimpse into her world including family and friends with the same views and experiences.
On a broader scale, consider what was happening at the regional or national level that might have impacted your ancestor's life and the decisions they made.
Was there an economic depression occurring resulting in the family moving or the females of the household seeking ways to bring in an income?
If so, your ancestor might have participated in the Women's Exchange Movement (U. S.).
Was there a severe drought or famine resulting in families leaving the area?
If so, did neighbours or several families migrate to the same location? Track your ancestors through their friends.
Was there an epidemic resulting in the loss of many lives?
Chronic illness or an epidemic may have caused ancestors to move to a more conducive climate for health.
Where to look for influences in your female ancestor's life
Where do we learn about our ancestor's daily life and what was important to her? How do we determine what clubs or organizations your ancestors may have participated in? Four types of records will be helpful in getting your research started.
Exploring newspapers is critical to your research into a female ancestor.  Local, regional, and national news affecting your ancestors will be reported. However, when it comes to your female ancestor, do not neglect smaller local newspapers. The small print is rich with news and issues important to the community.
Club and society news often lists detail about specific events and members. Make note of all individuals mentioned in an article. Among club and society members could be other relatives and in-laws.
Women were often the volunteers in their church, organizing everything from support for missionaries to potlucks. These events were often written up in the local newspaper. It was not unusual for extended family to attend the same church. Make note of all individuals mentioned in a church activity article. Those individuals could be important to your current or future family research.
Was your ancestor a suffragette? Search for newspaper articles on the local chapter's activities. They had a message they wanted to get out, and suffragette news is easily found in the newspapers. Who is mentioned? Your ancestor or perhaps a known relative or neighbor? Again, make note of all individuals mentioned. 
The below newspaper report includes the name of every suffragette who signed a letter requesting inclusion at a conference.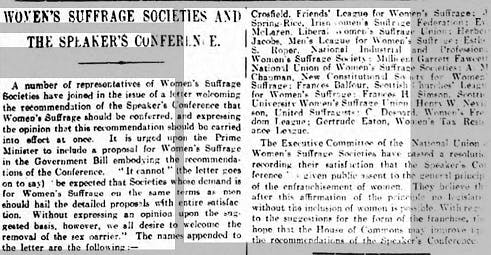 The short article below highlights the Women's Department of Larne Methodist Church (County Antrim).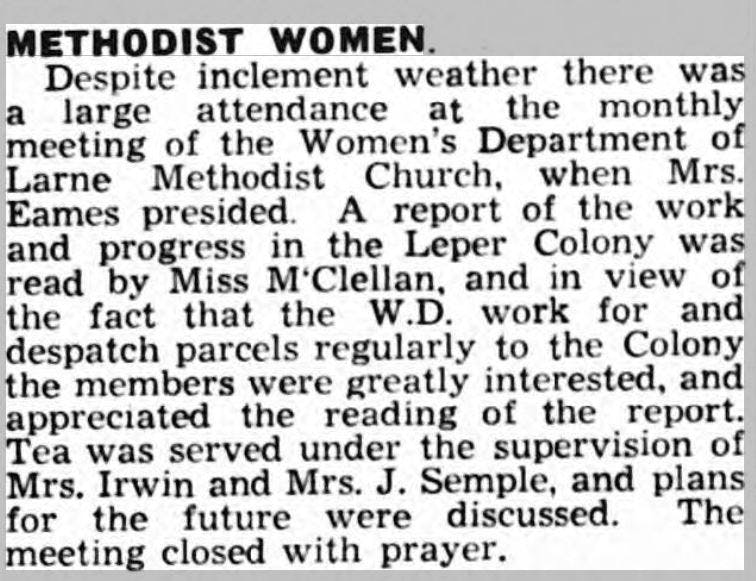 Several of its members are mentioned placing these women in a specific time and location as well as affiliating them with the Larne Methodist Church. 
City directories provide a plethora of information on a community and our ancestors. Beyond individual listings of the residents, many city directories include organizations - both male and female -  in their listings. Knowing what women's clubs and societies were available to your ancestor gives you a place to start your research.
As a bonus, club officers and club members are sometimes listed, too.
Family history clues can be found right on your family's bookshelves. What foods were passed down through the generations and now appear on your table? What are the traditional holiday foods? These foods could be clues to the country or region your ancestor was from.
I inherited my 2X great Aunt Maggie's scrapbooks. In the pages were pasted cards, newspaper articles and family recipes. I wanted to find out who these people were. Thanks Aunt Maggie!!

— Jessica Benjamin| Storied Genealogy (@JessicaABG) December 9, 2019
Community cookbooks provide valuable insight into your female ancestor's life and contain many hidden clues for your genealogy research. Did her church group or other club group create a cookbook to sell as a fund raisers for their charity work? 
An organization's cookbook gives insight into your ancestor's friends and family. The cookbook is essentially a roster of its members. While not everyone participated in donating recipes to a community cookbook, most would have. After all, not having a recipe submitted could reflect on her cooking skills!  Mothers, sisters, and neighbors may be found among their pages.
Finding community cookbooks is not as difficult as you might think. Below are the results when you search PERSI for cookbooks on Findmypast.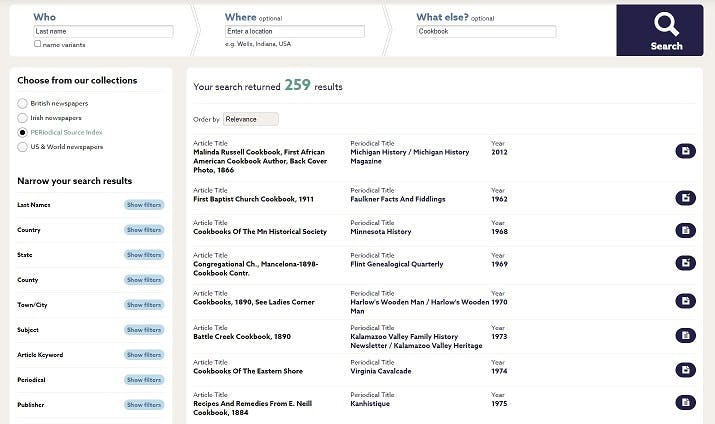 Old cookbooks can also be found on Google Books and at your local library.
Many of our female ancestors had strong opinions on civic and social reform.  While newspapers are an excellent place to learn more about their causes, reach out to local and regional museums in the location where your ancestor lived.  After all, museums serve as educational facilities and repositories.
Check for current and past exhibits focusing on the women in the area. Reach out to the curator for other possible resources not currently on display.  During your conversation, be sure to ask about other local resources they recommend. This is a great way to find unusual resources unique to that specific area.
When trying to find your female ancestor, remember...
If something was important to your ancestor, it is important to you and your research.
If your ancestor was part of a church and/or its women's groups, then those groups are important to your research and you must learn about them.
If your ancestor was a suffragette, then suffrage is important to your research.
Lastly, do not rush the research into the social history surrounding your elusive female ancestor. Take time to understand the culture and the circumstances where she lived. Get to know her and understand her.  Your family research will be richer and more successful.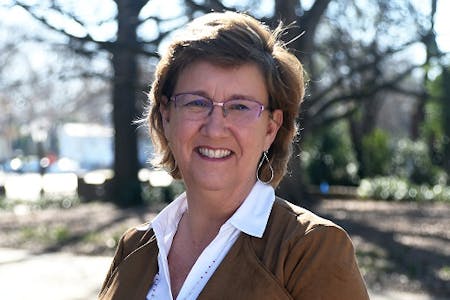 As a genealogy researcher and creator of the Are You My Cousin? blog, Lisa Lisson takes the overwhelm out of genealogy research and keeps researchers moving forward finding their ancestors. Whether researching ancestors alongside clients or writing how-to articles and books, Lisa uses her 12 years of research experience to help others build a solid research plan, find the needed genealogy records, and get the most out of those resources. When not working with clients or writing genealogy articles, Lisa can be found pursuing her passion for running, traveling with her husband, or simply enjoying time with her two adult children.