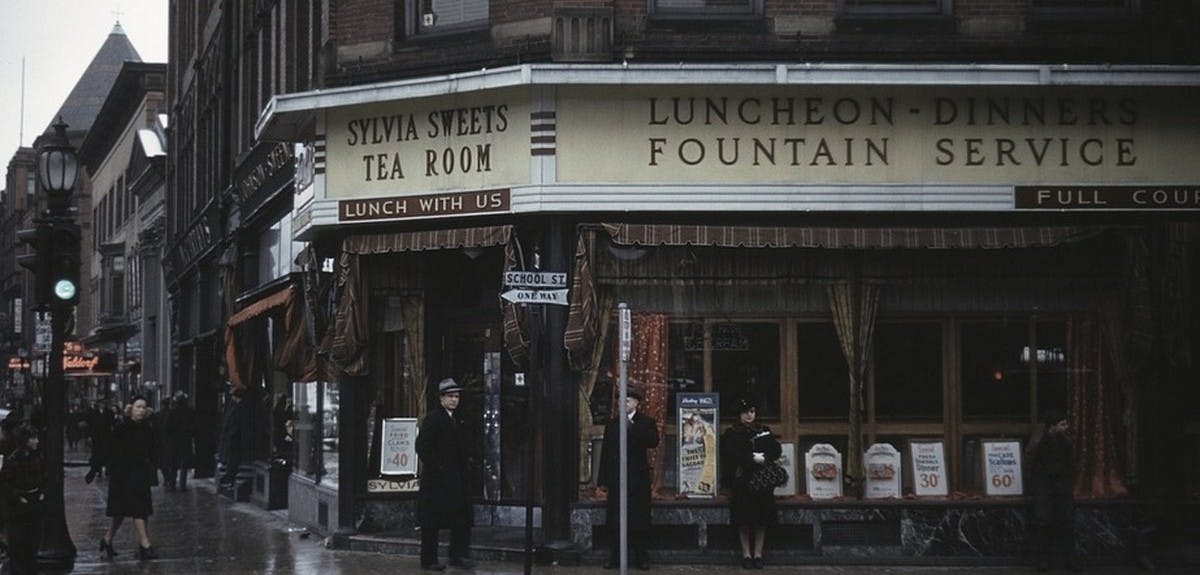 How learning local history will help your genealogy research
If you really want to become an expert in your own family's history, you absolutely need to study the places they lived.
Studying local history will give you a great understanding of the kind of life your ancestor lived - you'll learn about the community they lived in, what their role may have been, and you'll experience the same monumental events that had them talking for years.
The beauty of learning local history is it serves a dual purpose - not only will you learn the amazing stories that texture your family history and make it much richer, but you can use your newfound knowledge to hunt down additional records.
Local histories note changing county or town boundaries and will give vital clues to where records can be found. By learning more about the community and your ancestor's role in it, you'll also uncover new troves of records that you otherwise may have overlooked.
And believe it or not, there's something out there on almost every town and county in the United States, no matter how remote or small.
There are two kinds of resources that are essential for local history research - periodicals and monographs.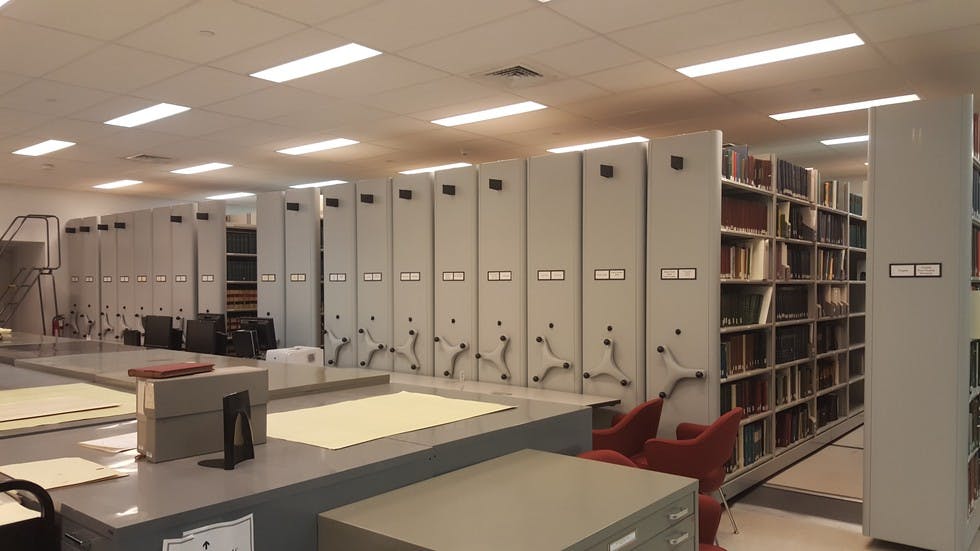 Genealogy periodicals are absolutely amazing. You can find anything from rare record extracts to compiled family histories to essays on social and local history.
The Periodical Source Index (PERSI) is the largest index of genealogy and local history periodicals in the country. The Allen County Public Library is collecting subscriptions to all genealogy and history society periodicals in the country (and beyond) and indexing every article.
Putting the work of these tiny society publications onto the internet is a huge boon for genealogists everywhere. If you're researching an ancestor who lived in a geographically distant area, PERSI will help you gain easy access to a wealth of information written by the people who know that area best.
There are two ways to explore local history on PERSI. First, search all publications to see if there's a periodical dedicated specifically to the town your researching. If not, check for the county.
You can do this by clicking the "show filters" button next to the Periodical filter on the PERSI search screen.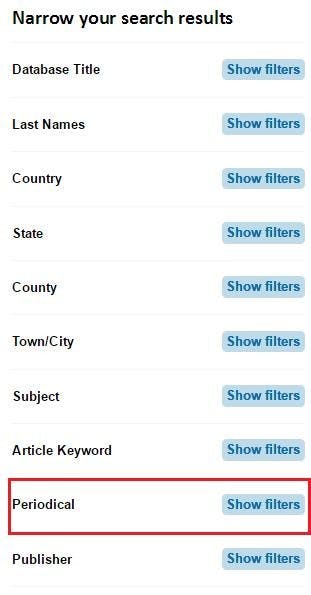 From there, you can search for the town or county publication in the search box in the upper right hand corner: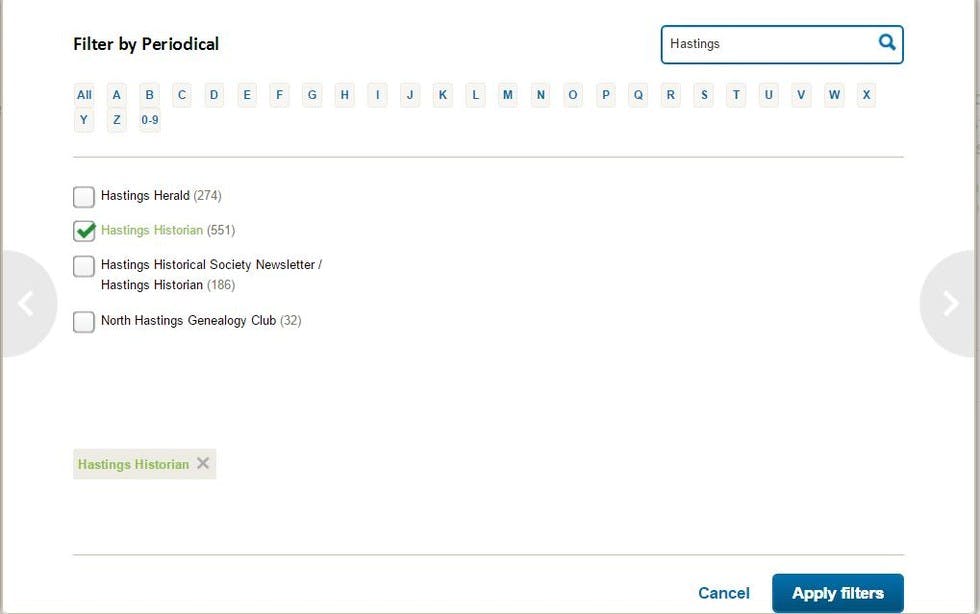 You can search for specific subjects within the periodical, or simply browse by article title, article subject, or year of publication. Many publications in PERSI have digital images of the issues available only at Findmypast. All others are very easy to order copies of by mail.
An alternative way to look into local history is to simply search all journals in PERSI, using the town or county name as a keyword. It's possible that the town or county you're interested in was written about in a far-away journal. Thanks to PERSI, now you'll know!
Throughout the long history of the county or town you're investigating, someone was bound to publish some kind of written history.
A monograph is essentially a book - a specialized piece of writing on a specific subject, in this case a town, county or region. These tend to go more in depth and cover broader periods of time than periodical articles. Luckily, many of them have been digitized and are fully searchable.
Begin your search by navigating to our A-Z record sets and searching the name of the state that contains the town or county you're looking for. The list will automatically filter out all other states, and from there you can easily browse to see what works are available: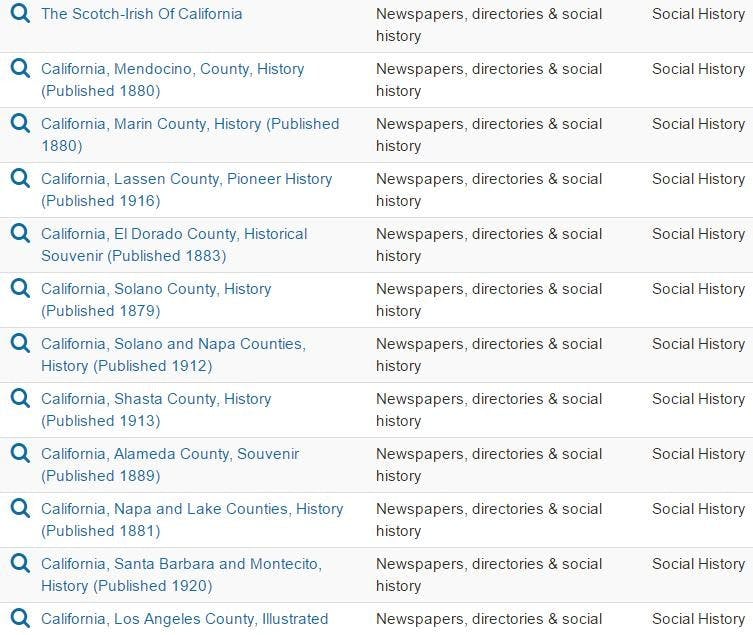 These books are fully searchable - you can search by keyword, location or name. You can also browse from page to page, and we highly recommend taking the time to do so.
The books are highly informative and generally quite readable. These aren't stiff academic history books - they usually tell of events, names and places in a straightforward and sometimes even entertaining narrative. They'll also frequently mention other works of history, giving you even more material to use.
Another great source for learning local history is newspapers, although they will give you a little bit of a different perspective -periodicals or monographs are usually written further removed from the time period, while newspapers write about contemporary events.
Register and search for free - no credit card required