Lesser-Known Irish Resources
6-7 minute read
By The Findmypast team
7 March 2018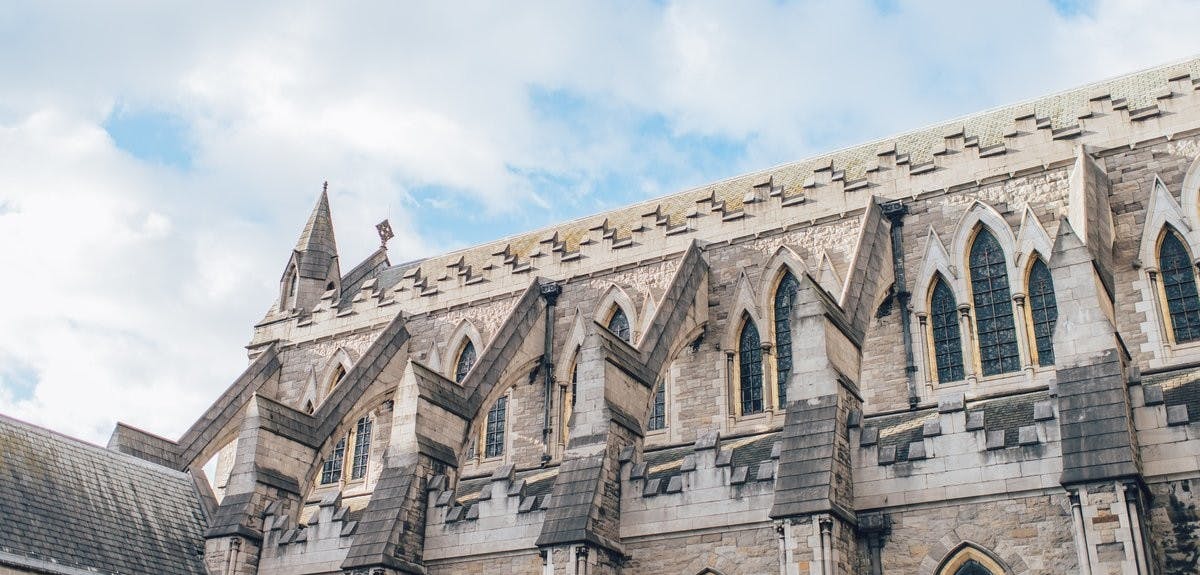 Welcome to this week's instalment of The Essential Guide to British and Irish Family History! In this week's guide, we'll be looking at some of the record sets that can help you learn more about your Irish relatives, including some record sets you may not think to check.
That's right, dog licenses. You may not think that you can glean too much information from a record set like this, but you'd be surprised. Owing to the fact that many Irish records were destroyed in the 1920s, lateral thinking is key to Irish research, and dog licenses present a golden (retriever) opportunity to discover more about your family in Ireland.
Our 'Ireland Dog Licences' record set contains over 7,000,000 records, and contain a lot of the same information you can expect to find in a census. You can expect to find:
To find this record set, visit our A-Z of records and type in 'dog', you'll see the collection there.
Dog licences were introduced into Irish law in 1865 and the first licences were issued the following year. It cost 2 shillings per dog with an extra 6 pence in administration costs. The licences were issued in the same courts as held the Petty Sessions.
In the first year 353, 798 dog licences were issued generating over £35,000 in revenue. Subsequent years saw an average of 250,000 licences purchased. In the following decades, millions of licences were issued. There are 7,310,994 records available to search on Findmypast.
Working dogs were widely and variously used. Collies were often sheep dogs. Mastiffs had first been bred by gamekeepers and were popular guard dogs due to their powerful build and otherwise quiet and loyal temperament. In coastal areas water dogs were in demand including the powerful Newfoundland. Terriers were often hunters as were spaniels.
The dog licences were introduced to make it easier to identify the owners of trouble making dogs, the ones which either worried sheep or damaged property. Be sure to check the record image, you might even find the name of your ancestor's pooch!
Landed Estate Court Rentals
The Landed Estates Court Rentals from 1850 to 1885 are a unique record set containing over 490,000 records from estates in almost every county in Ireland. This record set includes over 500,000 tenants on more than 8,000 estates in Ireland. During the famine in the mid-19th century, many landed estates were in serious financial trouble, but many of the tenants weren't allowed to sell the estates due to encumbered obligations that forced tenants and owners to pay mortgages, or portions, of the estate. However, in 1848 and 1849 two Encumbered Estates Acts were passed so that these estate owners could finally sell their land and make an income from it. These records are a result of the ability to sell property. Think of the Landed Estates Court Rentals like a catalog of houses for sale or rent. These Landed Estates Court Rentals covered not only urban areas, but rural areas as well, which may help if you can't track down your rural ancestors in more well-known records.

These records are particularly useful because you could find:
But also be sure to view the image as it can yield additional information and facts to help you uncover more about your ancestors. In the images you could find: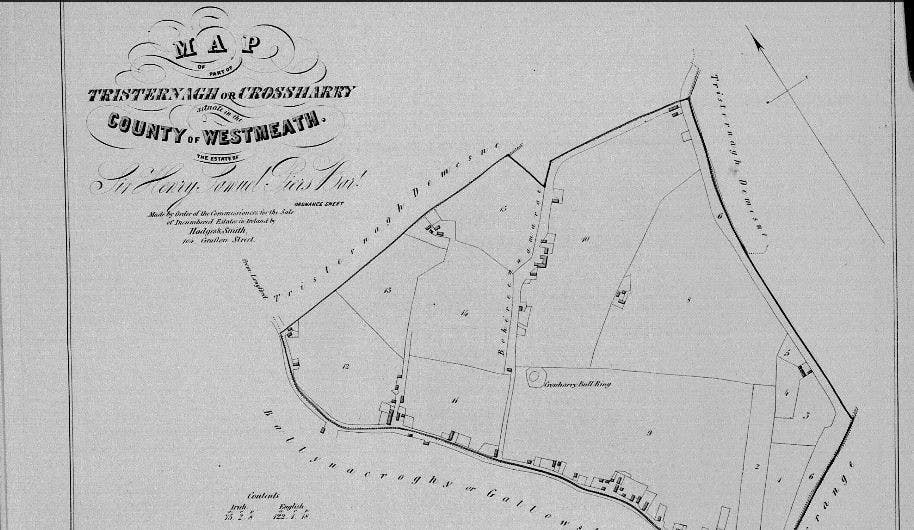 We have millions of Irish Catholic Parish Registers free to view on Findmypast, but what's the best way to use them? Here are our top five things to keep in mind.
1. Find your family's Civil Registration District:
Once you have found your family's parish and all associated records, it's time to explore our other Irish records - with this information, you'll be able to look at land records, court sessions, census survivals and more to further research your family history.
The key to doing this is to cross-reference the parish where your family was found with their Civil Registration District.
Many of our other records don't have anything to do with Catholic parishes, and locations are often categorized by these Civil Registration Districts instead.
As you can see, there are often several Civil Registration Districts within one county. Knowing the district your family lived in will greatly help you locate more records on them.
It's very simple to do. Just find the location of the parish, and then use this map (larger version):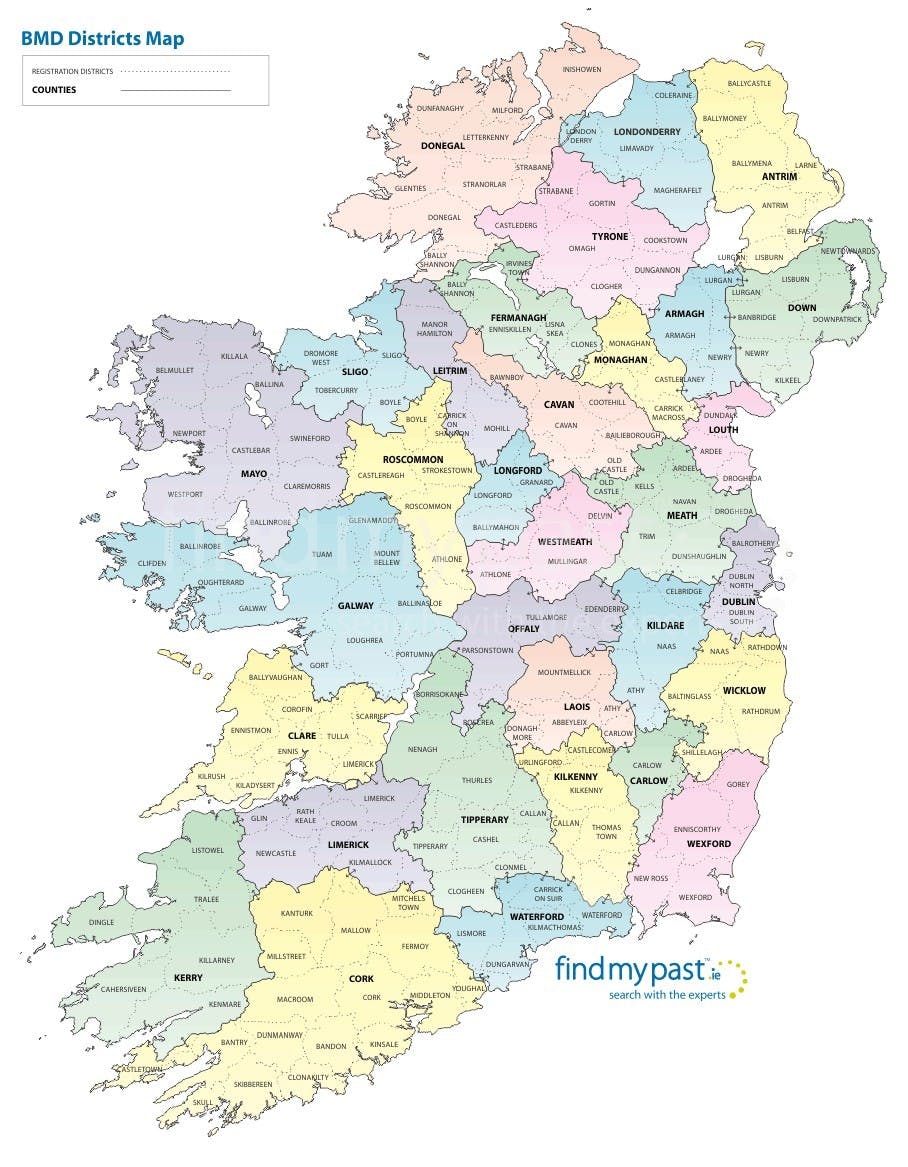 Many people are often confident that their family came from a certain parish or county of Ireland. While this absolutely can be the case, that doesn't mean the whole family stayed put for the entire century.
Though many Irish families remained relatively local, don't discount the possibility that your family spent some time in a neighboring parish for work or other reasons. Marriages especially could be recorded at different parish.
So make sure you don't limit your search to the most obvious parish!
3. Having trouble? Try dropping the prefix
If you're having difficulty finding your ancestors in the records, and your last name includes a prefix like O' or Mc' then try a search without the prefix.
It's possible your family wound up changing their name last name in order to anglicize it and avoid anti-Catholic persecution, only to re-adopt it later.
It wasn't until the early 19th century that anti-Catholic laws began to be relaxed, and although many families eventually re-adopted their Irish prefixes, it's possible that your family went through much of the 19th century without them.
4. Brush up on your Latin
Until the 1960's, Latin was the official language of the Roman Catholic Church, so you're going to see some Latin on these records.
Even many of the names written in the record were Latinized. For instance, Patrick may show up as Patricius.
We'll soon have a Latin dictionary applied to the search function for these records, but until then there is an easy trick to get around this.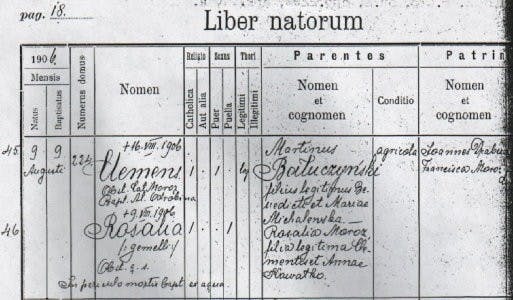 Use a wildcard search by including a * symbol after the root of the name - for instance if you're searching for Patrick, enter the name as Pat* and you'll get the results you're looking for.
Some of the record categories will also be in Latin. This isn't an issue if you're looking at our transcription, but if you're looking at the original image you may want to use this list of common Latin words as a reference:
5. Some parishes span two counties
You may sometimes see parishes that turn up under two counties. These aren't duplicate parishes - some parishes actually span two counties, and in our records they will show up on queries for both counties.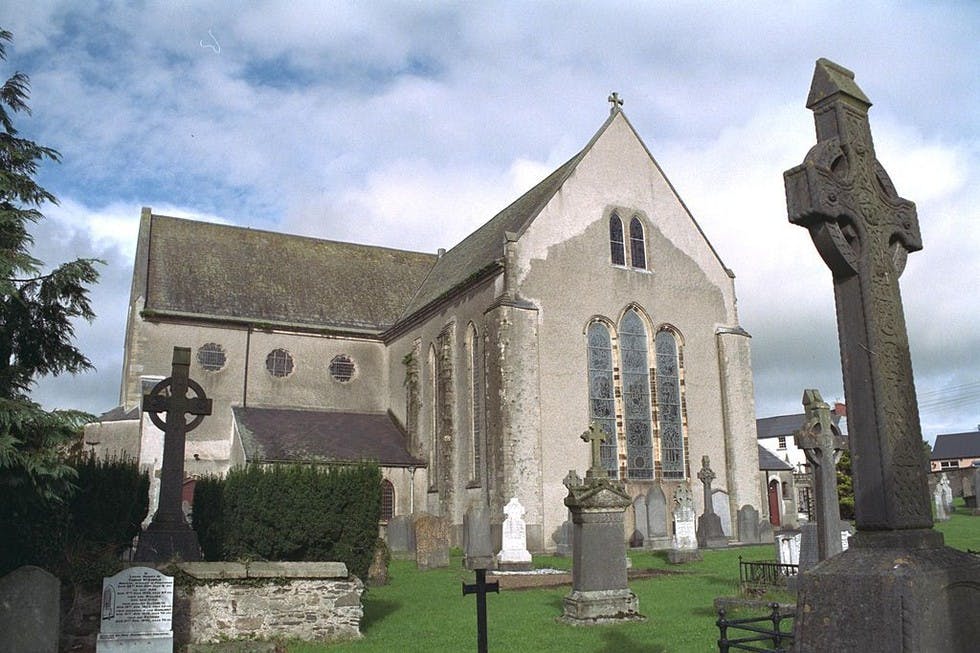 Graignamanagh AbbeyANDREAS F. BORCHERT
Graignamanagh, for instance, goes across Carlow and Kilkenny, so the county in our database is recorded under both Carlow and Kilkenny counties.
The Poverty Relief Loans are interesting in that they cover Ireland's Western Seaboard and so if you have rural ancestors in Ireland, who can be tricky to trace, these are the records worth digging into. These records have to do with the Irish Reproductive Loan Fund set up in 1822 to provide small loans to the poor. They provide significant details and insight into Ireland before and during the Great Famine, so you can get to understand what life was like for your ancestor during the hard times. These records not only provide a significant amount of information about your ancestor, but can also provide details of additional family members or friends who were co-signers or guarantors.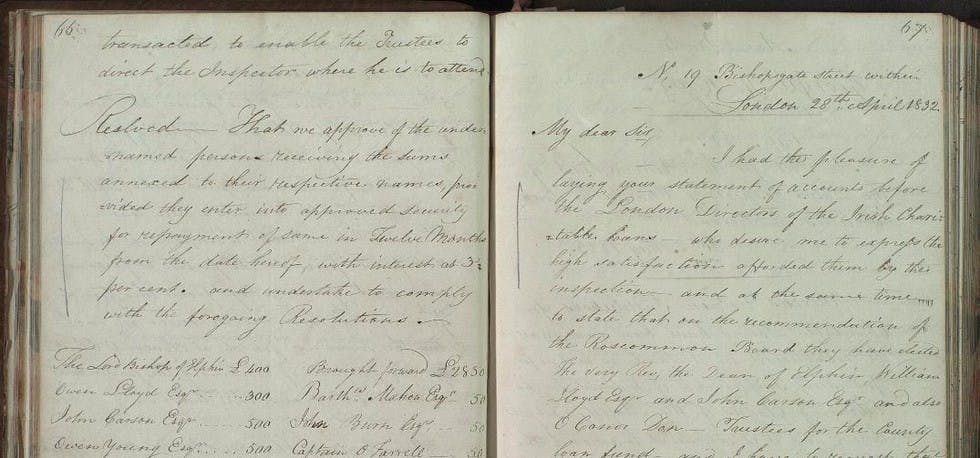 In this rich record set you may find:
But pay close attention to the images as well. They can reveal many additional details regarding the document you're viewing and your ancestor.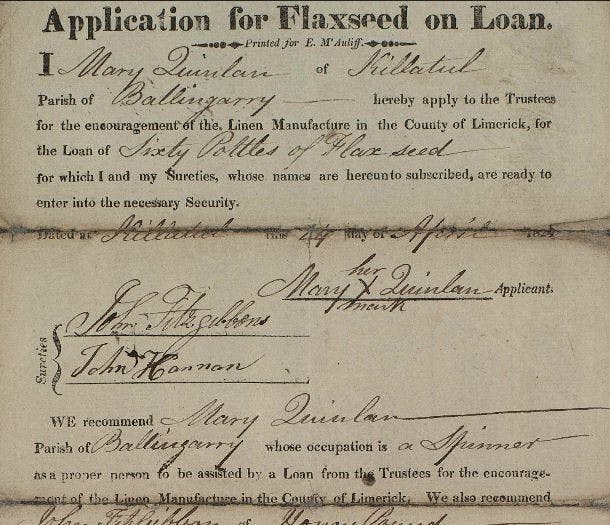 More on this topic:
Share this article
About the author