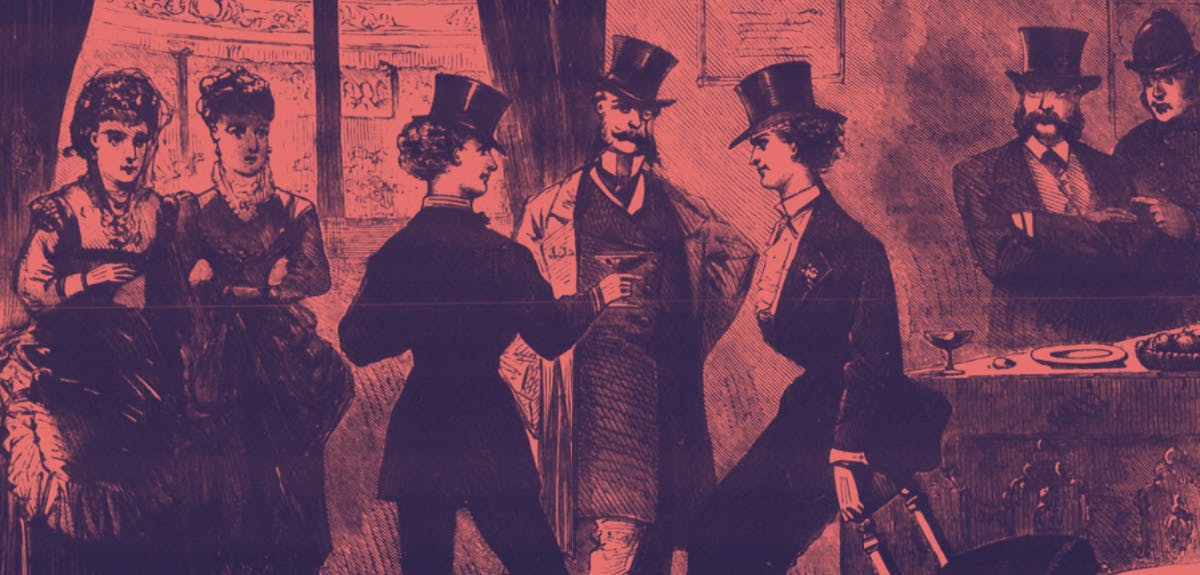 The amazing historical LGBT figures you might not know

We're celebrating historical LGBT figures from a diverse and often hidden history. Their stories, and those of our LGBT ancestors, deserve to be shared.
Through our historical records, we can tell some of these tales from LGBT history.
What does LGBT stand for?
This is an umbrella term for people who are lesbian, gay, bisexual, or transgender. It's not a term you'll find in our records (as it was introduced in the 1980s). In fact, most historical documents avoided mentioning a person's sexuality or gender identity altogether. 
Remember, before the 1960s, homosexual acts were illegal in the United Kingdom. If you're researching a potential LGBT ancestor, it's important to keep the context in mind. 
Find your ancestor's story with our 14-day free trial
Here, we explore the stories of just a few historical LGBT figures through the eyes of our family history records.
Recently the subject of a popular BBC drama series starring Suranne Jones, Anne Lister was a lesbian diarist. Born in Yorkshire in the late 18th century, she wrote extensively about her relationships and her work. She is perhaps one of the most famous LGBT historical figures in the United Kingdom and often considered the first modern lesbian.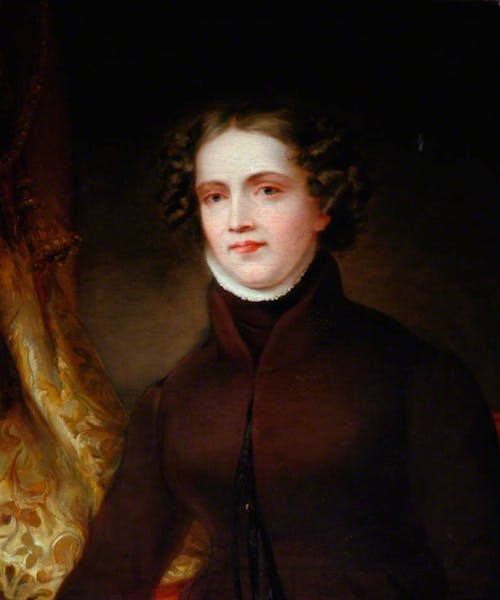 However, her diaries were written in code, and it wasn't until the 1930s that her words were deciphered by historian Helena Whitbread.
She lived openly as a lesbian with her partner Ann Walker until her death in 1840. She was a keen traveler, often dressed in masculine clothing, and ran Shibden Hall, her family home, making many improvements to the property herself.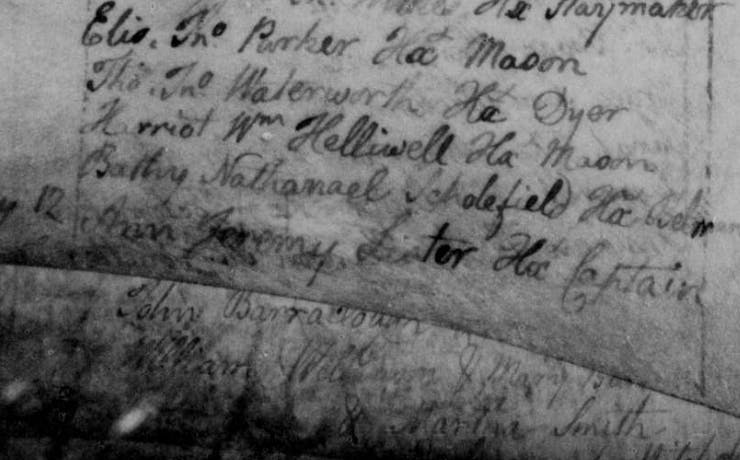 While mentioned little during her contemporary lifetime, Anne's legacy arose some 40 years after her death during a land dispute in the newspapers. Ann Walker is described as Anne Lister's 'friend.' Here, over 200 years ago, there is no indication of their romantic relationship, nor their sexuality.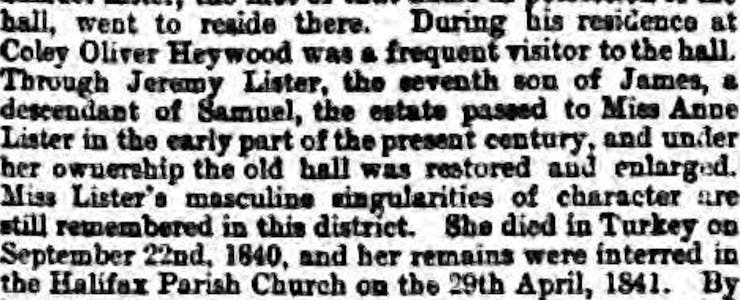 In 1834, Anne Lister and Ann Walker took communion together at Holy Trinity Church in York, and afterwards declared themselves married. It's now considered by some to be the first known lesbian wedding in Britain. 

Anne Lister's will gave Walker interest in Shibden Hall. Sadly, Ann's mental health deteriorated after Lister's death. Walker died in 1854, and in the record above, she is described as 'Ann Walker of Shibden Hall'. 
Close contemporaries of Anne Lister are Eleanor Butler and Sarah Ponsonby, known as the Ladies of Llangollen. Their story is filled with forbidden love. They were both born in Ireland, and rather than enter into unwanted marriages, they left home to be together. Though their families hunted them, Eleanor and Sarah settled at Plas Newydd in Llangollen, North Wales.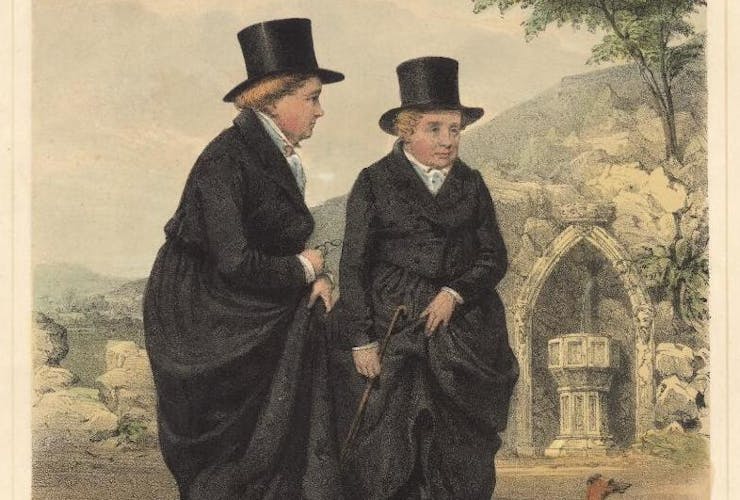 During their 50 years of living together, they hosted famous figures such as Wordsworth, Lord Byron, Anne Lister, and even drew the attention of Queen Charlotte, who persuaded the King to grant them a pension.
Eleanor's death in 1829 was reported in several newspapers. She was referred to as the:
'friend and companion of Miss Ponsonby, the sister of the celebrated speaker of the House of Commons.'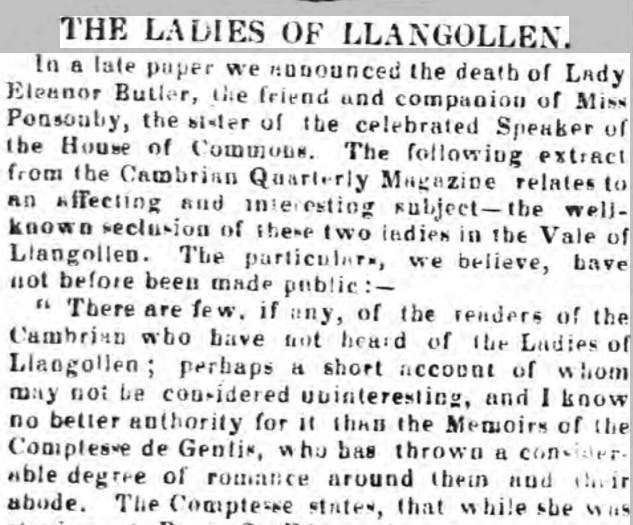 While the obituary recounts their fame, there is little to no mention of their relationship which had spanned decades. The closest thing to it was a quote from the Cambrian Quarterly Magazine:
'Madame and her protégé, the young Princess, undertook the journey to Llangollen, and they were received with grace and cordiality. She saw nothing in them of that vanity which is gratified by awakening the astonishment of others: they loved each other, and lived in that spot with much simplicity…'
As they grew older, Eleanor and Sarah increasingly wore more masculine clothing. It's said that some of their possessions included their joined initials.
Wilfred Owen: poems of love and war
Famed for poems such as Dulce et Decorum est and Anthem for Doomed Youth, Wilfred Owen was an English poet and soldier during WW1. He was killed in action only a week before Armistice Day.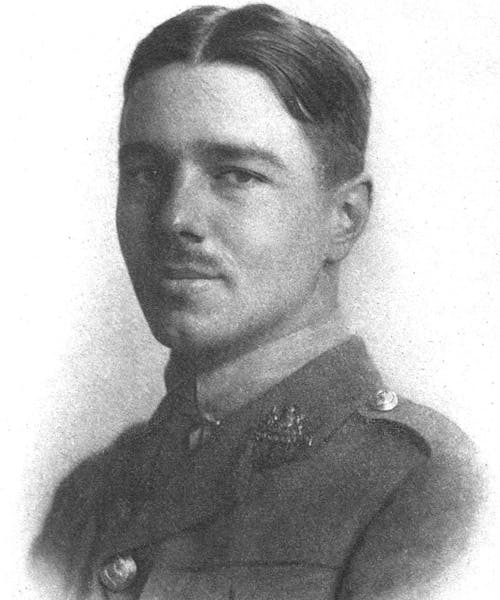 Owen formed a close friendship with fellow poet Siegfried Sassoon, who himself had relationships with men. They met while both rehabilitating at Craiglockhart War Hospital in Edinburgh. While it's not certain if Owen and Sassoon were romantically involved, close friends of Owen's said he was gay, and many of his literary circle were homosexual. 

After Owen's death, it appears that his brother Harold removed passages of his diaries and letters to obscure references to his sexuality. It wasn't until 1967 with the passing of the Sexual Offences Act that Owen's sexuality wouldn't have been considered criminal in the eyes of UK law.
The mathematician and computer scientist was born in 1912. He's perhaps most famous for his groundbreaking work deciphering German code at Bletchley Park during WW2, but his story had a tragic end. As Turing was gay, he was prosecuted in the 1950s for homosexual acts.
Turing is also known for developing the universal Turing machine, a precursor to the modern computer. He was an early forerunner in computer science while at Princeton University.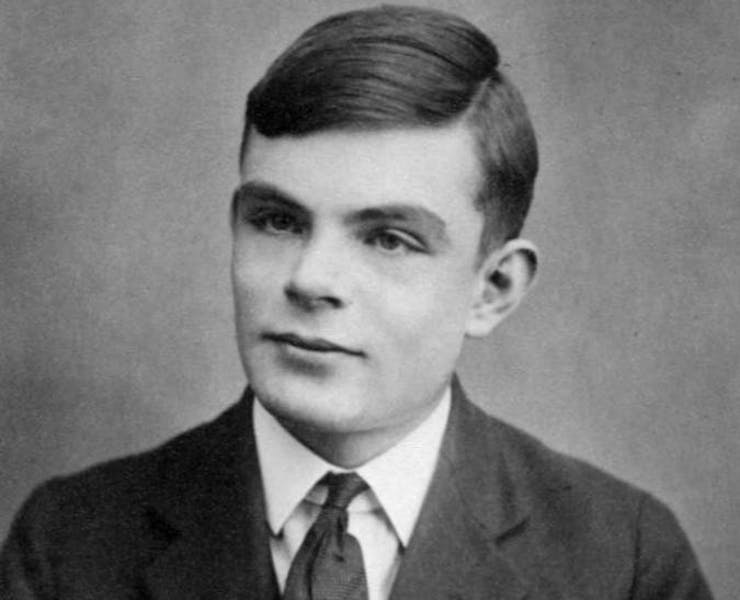 His prosecution and death by suicide, and the Official Secrets Act, meant that Turing's work wasn't recognized during his lifetime. Without him and other talented scientists, the Second World War might have taken a very different turn.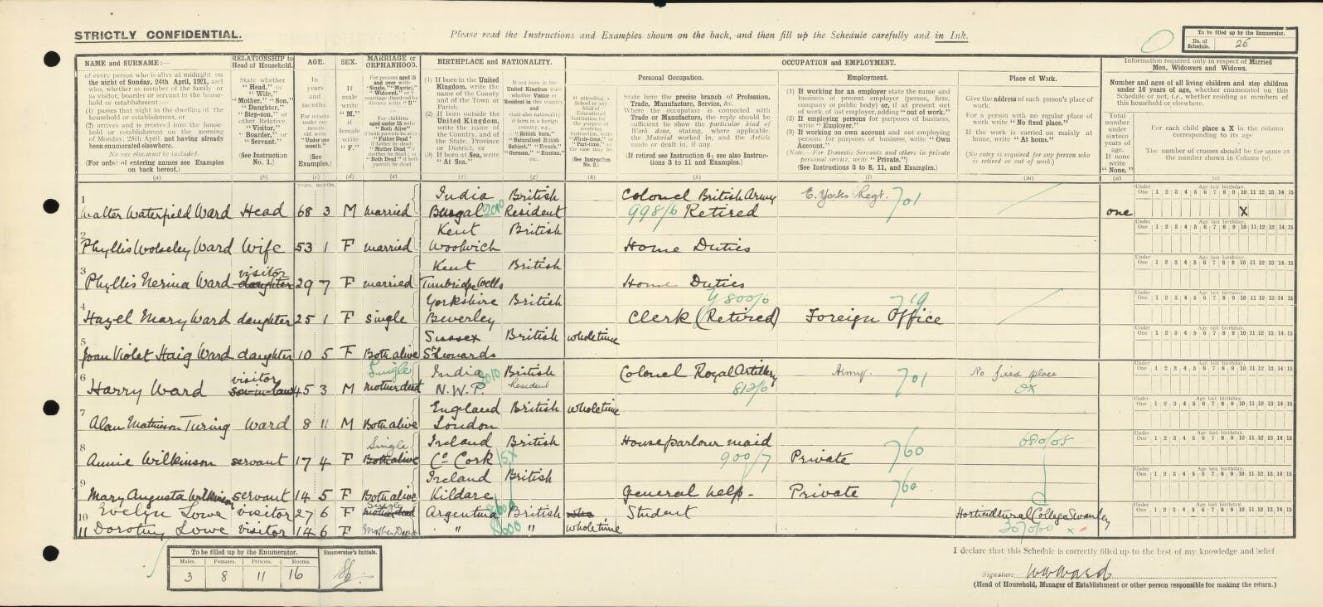 In the 1921 Census, the young Alan is living with Walter Waterfield Ward, a retired British Army Colonel. As Turing's father travelled between Hastings and India for work, Alan was left behind at Baston Lodge, St-Leonards-On-Sea.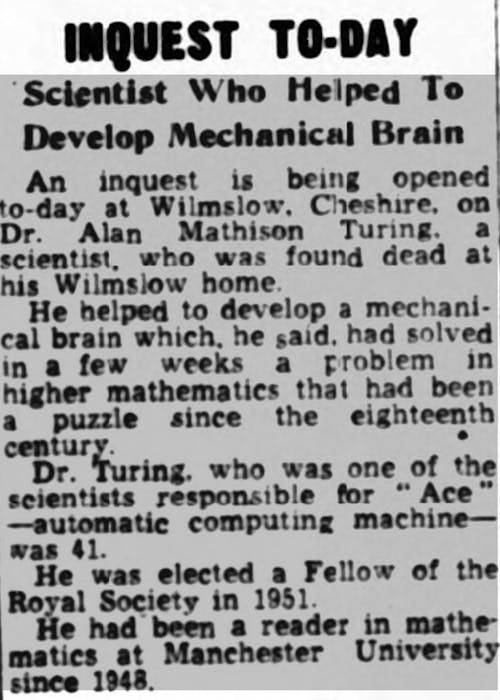 We found three mentions of Turing's death in our newspaper collection, none of which highlighted the treatment he endured during his prosecution. We found only one other contemporary mention of him: a discussion around mechanical chess players. This was around the time of his trial.
Back in Victorian London, two men were once arrested for cross-dressing. Thomas Ernest Boulton and Frederick Park, also known as Fanny and Stella, shared a love of the stage.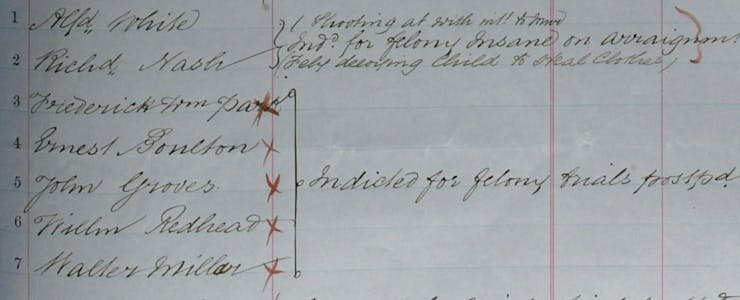 Their trial of 1871 was widely reported in the newspapers of the time. Illustrations appeared of them dressed in both men's and women's clothing, especially in the more sensationalist titles like the Illustrated Police News.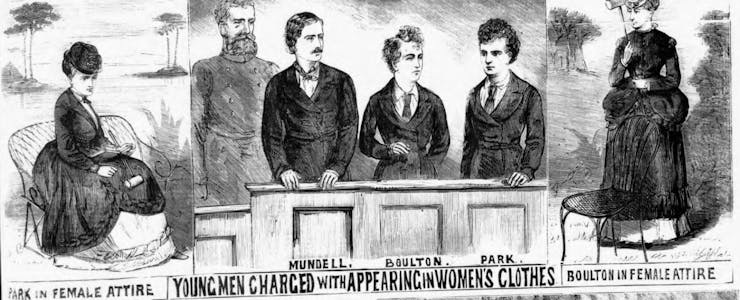 The landmark case saw Boulton and Park found not guilty of homosexual acts, after all the witnesses the prosecution produced could not confirm the allegations. Instead, they pleaded not guilty to cross-dressing. Today, the possibility is considered of Boulton and Park to be transgender, having been known by feminine names, female pronouns and dressing in women's clothing.
Do you have a story to share about your ancestor? Let us know by emailing discoveries@findmypast.com.