Real-life spies, actors and priests in this James Bond writer's family tree 
4-5 minute read
By Ellie Ayton
22 September 2021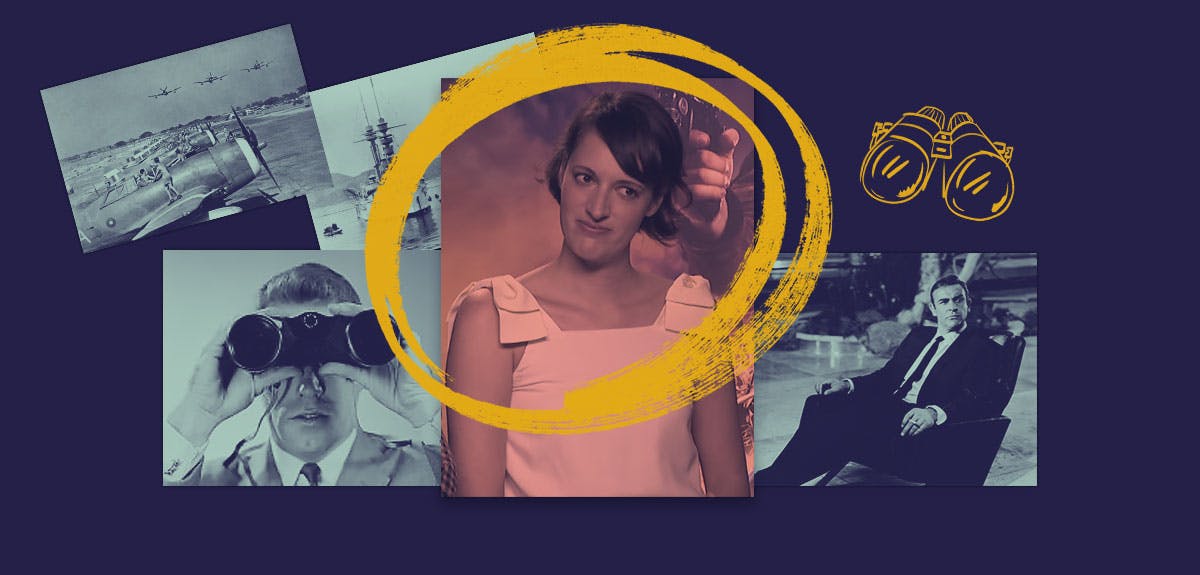 No Time To Die and Fleabag writer Phoebe Waller-Bridge has her own daredevil characters in her family tree. Our genealogy records reveal a World War Two spy, an actor, a scandalous colonial jurist, and even a priest or two.
Phoebe Waller-Bridge is an actor, writer and comedian from London. She has the acclaimed series Killing Eve under her belt and contributed to the screenplay of the James Bond film No Time To Die, starring Daniel Craig. 
But does life imitate art? We took to our family history records to explore the stories from Phoebe's family tree and discovered that life is often stranger than fiction. 
By using genealogy records such as births, marriages, deaths, and more, we discovered that Phoebe's maternal grandfather led a life worthy of the movies. An actor like his granddaughter, Cyprian Chando Richard Waller-Bridge was born in East Grinstead in 1918. He's listed in the 1939 Register as an actor with his father Horace, mother Elsie, and sisters Noeline and Florence.

His upper-middle-class parents threw a 'coming of age' party for him in 1939, which even made the newspapers. Well-do-to guests and well wishes made the article too.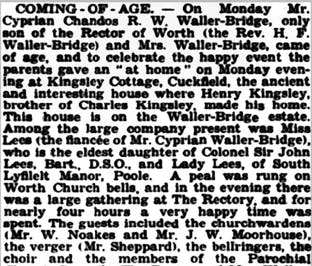 Before Cyprian married Phoebe's grandmother Auriol Harvie, he had a relationship with Lina Kaloyeropoulou, a Greek pianist. They married in Greece in 1946, with their engagement reported in the newspapers of the time. Their ceremony took place at St Paul's English Church in Athens.
Lina's story alone is one worthy of the history books, or perhaps its own thriller movie. According to one newspaper article, she was arrested by the Italians during the Second World War, suspected of being a spy for the British. She was interrogated and later released due to a lack of evidence.
But it turns out she may have been more active as a spy than the Italians thought. As Cyprian himself later said Lina had been,
"
'of great service to the British, helping several officers escape.'
"
Could Phoebe have a connection to a real-life secret agent, like Sean Connery and Pierce Brosnan's James Bond?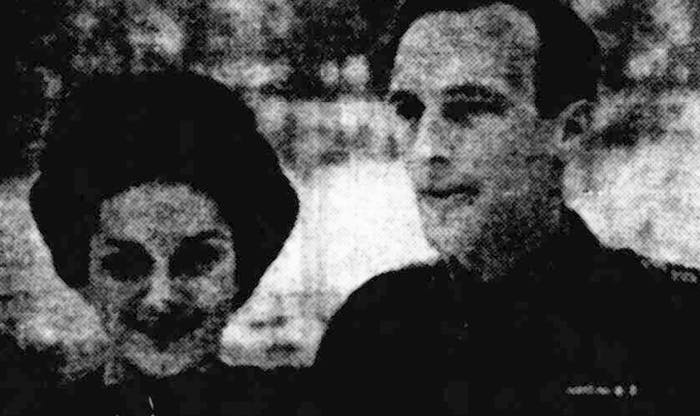 Cyprian had traveled to Athens in 1944 to set up a radio station, to 'give the Greek people a true account of the progress of the war', and from there romance blossomed.
In 1957, we spotted Cyprian in our passenger lists heading to New York via Southampton aboard the Ryndam. His occupation? A BBC announcer. Also traveling with him were Phoebe's grandmother, Auriol, and her father, Michael.

We wonder how much her grandfather's life affected Phoebe's decision to pursue a career in film and television. And now, we're waiting for a series about Cyprian's spy-wife...
A 'hot' priest in the family tree?
Phoebe's great-grandfather was born Horace Fitzhenry Bridge. Census records differ as to whether he was born in Canada or England. He was a theological student in Lincoln in 1901, and reportedly was later a member of the Inner Magic Circle according to his obituary. 
He married Elsie Noeline Waller Boughton-Leigh in 1913, and from then on, the family surname became Waller-Bridge. Their engagement announcement in 1912, complete with photographs (and yes, he was quite dashing) was listed with surnames like Parker, Bowles, and Bridgeman.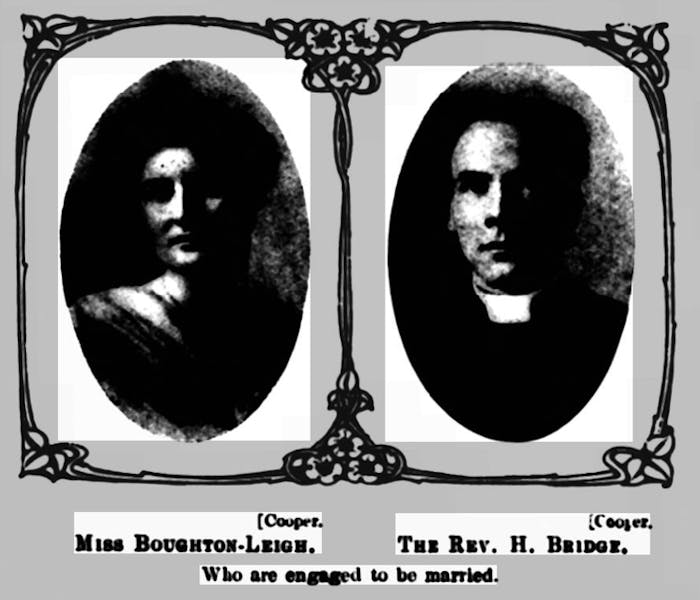 In addition to Cyprian, their children included Florence, Etta, Noeline, Theodosia, and Elsie. We love the use of such unusual names. In fact, many of them are family names, which can be found further back and further forward in Phoebe's family history.
Horace's father, Phoebe's 2x great-grandfather, was Henry Darley Bridge. He was also a reverend who lived in Ontario, Canada for some years with his family. No doubt young Horace lived over there as a boy. 
We discovered in our newspapers that Henry's 12-year-old daughter Henrietta Townend Bridge tragically died in 1888, after 'years of suffering'. She was his only daughter.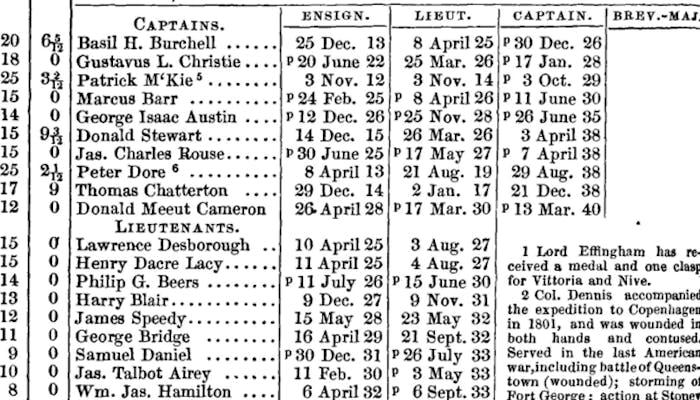 And going further back in the family history research, we found Phoebe's 3x great-grandfather Lieutenant Colonel George Bridge. By exploring his military records, we discovered that he served in the 3rd Buffs (Royal East Kent) Regiment in India during the early 19th century. Two of his daughters, Rosa and Clara, were born there. 
A connection to the real-life Bridgertons?
On Elsie's family tree, we found her as a bridesmaid to her relative Leila in 1898. Her father Theodosius gave Leila away. The wedding was officiated by Reverend Bridgeman Boughton-Leigh, and we began to wonder if Phoebe Waller-Bridge is distantly related to the real-life Bridgertons.
While we haven't yet found a connection, the name Bridgeman is certainly unusual. Bridgeman Leigh was the brother of Theodosius, born in 1855.
Scandal in colonial America
Perhaps the most scandalous discovery we made is that of Phoebe's 6x great-grandfather. Sir Egerton Leigh was the sometime Attorney General of South Carolina, a British loyalist, colonial jurist, and apparently an adulterer. 
He fled South Carolina in 1774 following an infidelity scandal. His wife was Martha Bremar, and their son Sir Egerton Leigh, 2nd Baronet was likely born in South Carolina. He later married Theodosia de Malsburgh Leigh.

Despite the reported scandal, Egerton met George III on his return to England. How's that for a discovery, finding your ancestor met the king?
More on this topic:
Share this article
About the author