We've unlocked hidden branches in Joe Biden's family tree
3-4 minute read
By Jen Baldwin
25 October 2023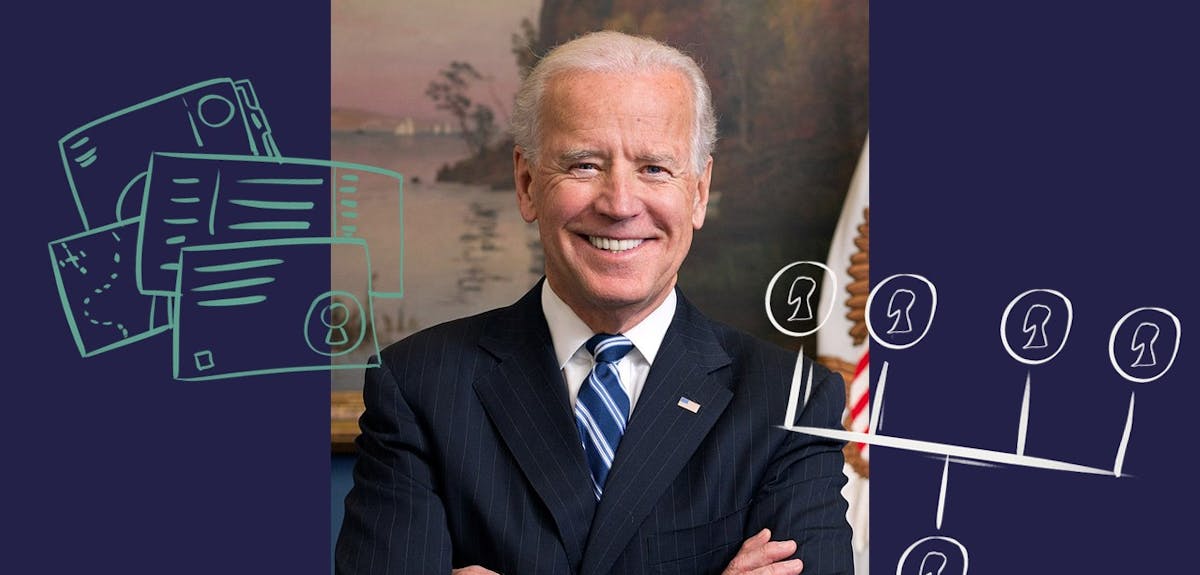 Joe Biden's ancestry features inter-faith marriages and deep-rooted ties to England. Read on to discover the details.
The Catholic Heritage Archive has helped us unlock a hidden chapter in Joe Biden's family story. His Catholic connections stem from the Baltimore area and while he was raised in Pennsylvania, his family before him resided in Maryland for several generations.
Joseph Robinette Biden Jr. was born in Scranton, Pennsylvania on November 20, 1942, to Joseph R. Biden Sr. and Jean Finnegan. He is the eldest of four children, including his sister Valerie and brothers Francis and James. The family left Scranton in 1953 and settled in Claymont and then nearby Mayfield in Delaware. The family still has roots in Delaware, where Biden has a residence in Wilmington.
Joe Biden is a father of four children. Beau, Hunter, and Naomi were born from his first marriage to Neilia Hunter, and his daughter Ashley was born from his current marriage to First Lady Jill Biden (née Jacobs). His marriage to both Naomi and Jill took place in New York. Sadly, Neilia and Naomi were killed in a car accident in 1972 and former Delaware Attorney GeneralBeau Biden died of brain cancer in 2015. The latter tragedy inspired Biden's memoirPromise Me, Dad. Hunter Biden's business dealings have been the subject of much suspicion in recent years.
Biden served two terms as vice president alongside Barack Obama before entering the White House as commander-in-chief when he defeated Donald Trump in the 2020 presidential election.
Joe Biden is fiercely proud of his Irish-American heritage. Our friends at the Irish Family History Centre traced his earliest Irish ancestor to County Mayo on Ireland's west coast. His three-times great-grandfather, Edward Blewitt came from the town of Ballina.
The Biden and Finnegan lines can be traced back to Ireland but it's the president's less well-known English family lineage that intrigues us most.
Joe Biden's English ancestry
The Biden lineage stretches back to William H. Biden, born in the late 1780s in Sussex, England.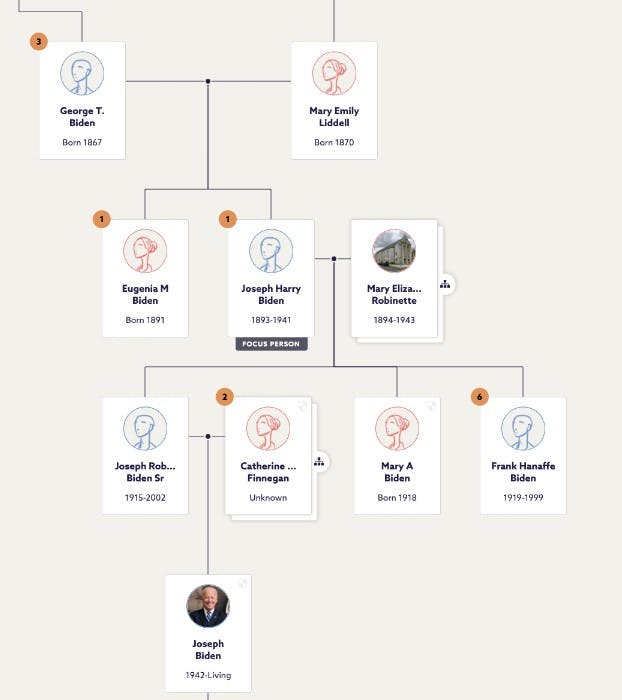 The exact location that William Biden hails from has been debated. Some sources indicate that he may have been born in Cambridgeshire, England, as his memorial page on FindAGrave suggests.
William is the first Biden known to immigrate to the United States, where he married Mary Elkins on February 13, 1822.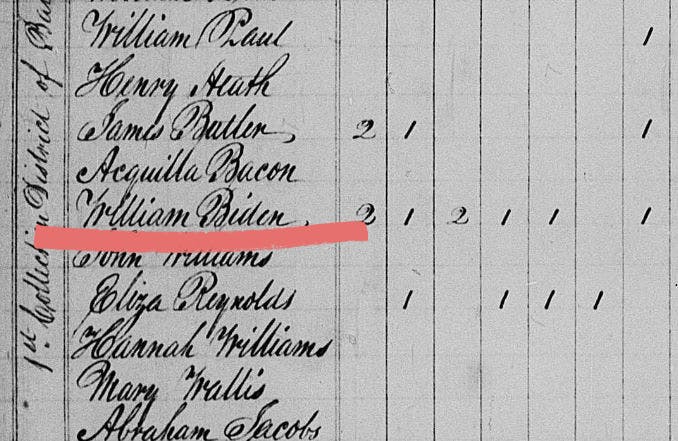 William Biden died in Maryland in 1849 and is buried at Loudon Park Cemetery in Baltimore. He appears in the US Census Mortality Schedule of 1850 with his surname spelled Byden. His entry indicates that he was a stonemason and died of dropsy after being ill for six days.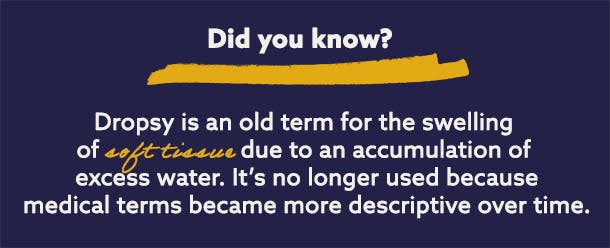 The Biden surname crops up repeatedly in Westbourne, Sussex. This is the most likely place of origin for the family. However, there is a two-year discrepancy between the published birth year of William Henry Biden and the transcriptions available online. His parents, James and Ann Biden (née Silverlock), seem to have baptized all of their children several years after their birth, so this oddity appears to be a family tradition. James Biden and Ann Silverlock married at Westbourne on May 16, 1785.
Joe Biden's grandparents, Joseph H. Biden and Mary E. Robinette married in the parish of St Edward, Baltimore, Maryland in November 1914. Their detailed marriage record features in Findmypast's exclusive Catholic collection from the Archdiocese of Baltimore.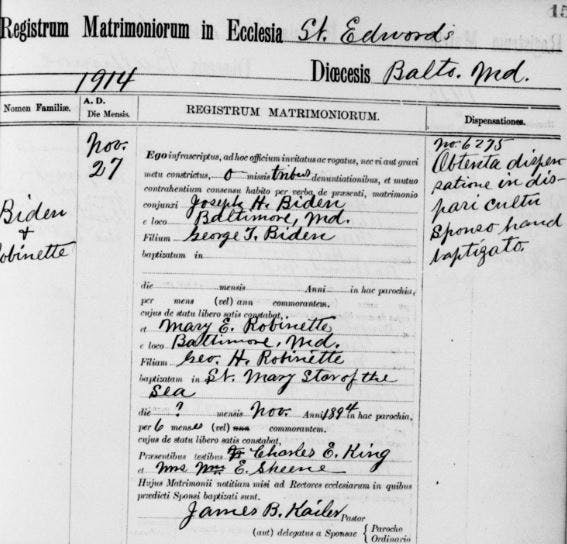 As with most old Catholic records, notes were added in Latin. The note added in the margin of the Bidens' record reads;
"
"Obtenta dispensatione in dispari cultu"
"
These little notes imply that Joseph Biden was not a practicing Catholic when he married Mary. We know that he needed the dispensation from the church because Mary's baptism record is included in the register. So what religious denomination was the Biden family before Joseph's marriage to Mary?
Joseph H. Biden was officially converted to Catholicism on February 18, 1917, at St. Martin's parish in Baltimore. On the record, the priest noted that he was Methodist beforehand. This was a conditional baptism, because of his adult status and his previous denomination.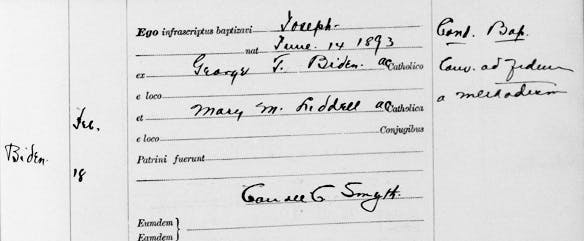 Clearly, Joseph's adopted religion stayed with him. When he died in 1941, he was buried in a Catholic cemetery. On his death register, his cause of death was noted as a cerebral hemorrhage. His obituary was printed in Frederick News Post on September 29, 1941.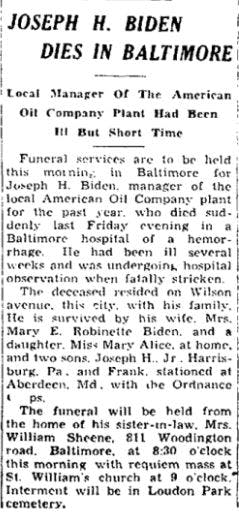 Mary Robinette (Joe Biden's grandmother) was the daughter of George and Mary (Hannafe) Robinette. George was listed as a locomotive engineer in the 1900 US Census, residing in Baltimore, and was born in Maryland. His wife, Mary was born in Ohio. They were married in West Virginia in 1884.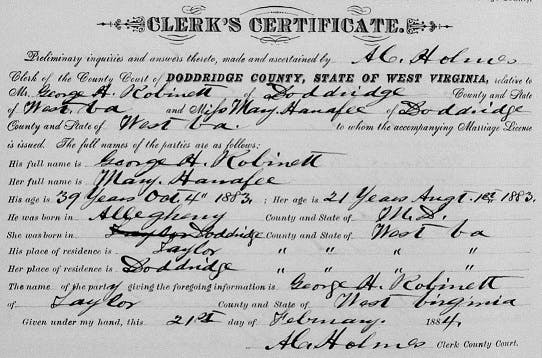 Do you have a family connection to a US President? Just as it has for Joe Biden, has our Catholic Heritage Archive added more color and context to your family history? Whatever your family story, we love hearing from you. Drop us a line to share your favorite finds. Your story could go even further than you think.
More on this topic:
Share this article
About the author