Findmypast's Irish newspaper archives unlocked the grisly details of my grandfather's murder
6-7 minute read
By Guest Author
15 March 2021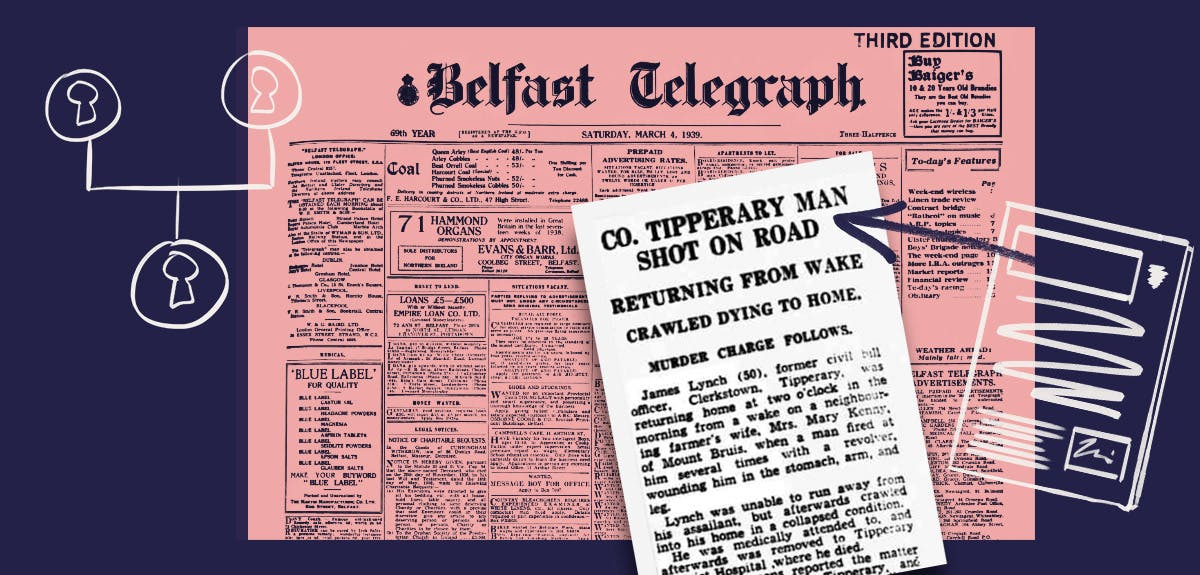 Imagine Therese Lynch's shock when she discovered the grandfather she never knew was murdered in Ireland. Findmypast's historical Irish newspapers revealed the whole sorry story.
As a first-generation Australian on my father's side, I grew up not knowing my Irish family history. In my late twenties, I eventually met some Irish cousins and discovered that our grandfather was murdered. It was the first I had heard of it. Information was sketchy and it was another 30 years before I discovered all the detail in Findmypast's online Irish newspapers.
On 2 March 1939, my grandfather, James Lynch, had been to a wake in Kilross, just a mile or so from his home in Clerkstown, Lattin in County Tipperary. He was walking home in the early hours of the morning when he was shot several times on the Lattin Road near the turn-off from the main Galbally-Tipperary Road. Many newspaper articles from as far north as Londonderry (Derry) and Belfast and as far south as Cork reported the incident and the killer's subsequent trial.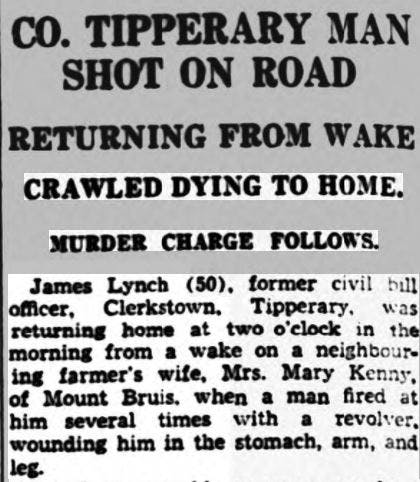 In newspaper reports, James was correctly described as a former Civil Bill Officer. Family folklore recalls he had been dismissed from this job because he had a habit of forewarning the recipient that he would be calling to deliver a summons or collect property on behalf of the court. The person or their saleable property (usually in the form of livestock) would suddenly disappear. James lost his job at the height of the depression in the 1930s and thereafter worked as a laborer to support his family.
About 2.00 am in the morning of 3 March, James' wife Annie got out of bed when she heard banging on the door. She found her husband collapsed and lying in a pool of blood from gunshot wounds. Although he was still conscious, James must have sensed he was mortally wounded because he told Annie to get the priest rather than call a doctor or the police. His eldest son, Jim, ran for the Gardaí (the Irish police force) while his brother-in-law, Pat Kelly, rushed in from next door when called by Annie then went for a priest.
James was taken to hospital and remained conscious long enough to tell those around him the name of his assailant - Michael Ryan. He also named Michael Hayes as a witness. His brother-in-law heard James give his statement to Superintendent O'Sullivan and helped him sit up to sign the document. Ryan was arrested and initially charged with attempted murder, however, when James died at noon in the Tipperary District Hospital, the charge was upgraded to wilful murder.
The Coroner impaneled a jury and conducted an inquest at the hospital that very night where Annie had to testify despite the shock and grief at losing her husband in such terrible circumstances. The inquest was adjourned as requested by the Gardaí pending the result of criminal proceedings.
James was buried in the Lattin cemetery on March 4, 1939. Newspaper reports described the funeral as a pitiful scene at the cemetery with widowed Annie and her five children weeping bitterly among the large group of mourners from the surrounding countryside.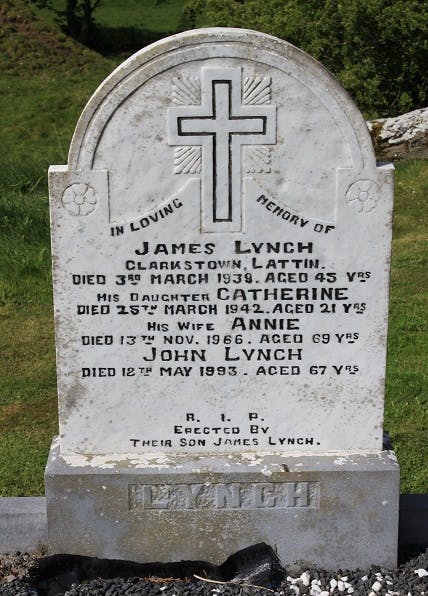 Among them was my 12-year-old father John who, according to my cousin, swore vengeance not on Ryan but on Michael Hayes for his part in leaving his father to die without help.
Ryan appeared before Justice Troy in Kilross District Court where a large crowd had gathered for the proceedings. Ryan refused to recognize the Court stating;
"
"As a soldier of the Irish Republican Army I refuse to be tried under the Crown of England."
"
This seems rather odd given Ireland had been partitioned from Britain for many years by this point. He also stated that he knew nothing of the murder.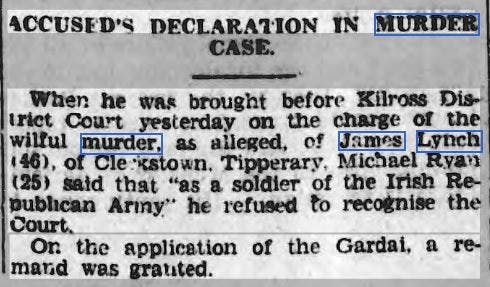 At the request of the Gardaí, Ryan was held on remand at Clonmel gaol then transferred to Limerick until his trial at the Central Criminal Court two months later.
The trial commenced in May 1939 and the court heard evidence from multiple witnesses including Michael Hayes. Perhaps because Ireland still had capital punishment at the time and murder was a capital offense, both the prosecutor and defense attorneys were K.C.s (i.e. Kings' Counsel).
At the trial, Hayes confirmed he was with Ryan on the night of the murder and testified that James had passed them on the road without speaking. According to press reports, just the day before the murder, James and Ryan had a physical altercation at the local pub. The reason for their dispute was not reported, but this could have been why James ignored Ryan who was clearly known to him and who, like him, had attended the wake that evening.

Hayes claimed Ryan told him to stay put while he mounted his bicycle and followed James who was by then about 100 yards away. Hayes stated it was a clear, moonlit night and he saw Ryan dismount when he passed James and heard three or four shots and saw gunfire flashes coming from Ryan's hand. He added that James turned and started running toward him before there was another gunshot and he (Hayes) jumped into the ditch to hide. As James came level with him and called his name, Hayes stayed where he was.
Once James had passed, Hayes got out of the ditch, and as Ryan approached he asked what was wrong. He claimed Ryan said it is alright and walked on with his bike. Hayes told the court both men headed toward their respective homes and he went to bed. He added there was no further discussion between them other than when Ryan said;
Among other court witnesses were Thomas Marnane and his 15-year-old domestic servant, Rita Conway. Mr. Marnane testified that at about 2:00 am he heard gunfire in the distance followed by someone shouting his name several times. He went downstairs and called out to see who was there but on receiving no response he did not open the door. He went to get dressed but heard steps walking away so went back to bed.
Miss Conway testified that she heard a shot and then someone calling out to her employer three or four times. The person then called her name saying he was dying and needed a priest. She corroborated her employer's testimony that the visitor did not respond to a demand to identify himself. Miss Conway further testified that in the morning she found blood on the pavement at the front door and at the gate.
Medical evidence at the trial confirmed three bullets, possibly from a revolver, went straight through James' stomach, arm and leg. Two doctors agreed that James' death was due to shock and hemorrhage following bullet wounds. The Garda Superintendent O'Sullivan testified that despite an organized search, the murder weapon was not found.
Although not mentioned in any newspaper reports or court records, family folklore claims that when the police searched Ryan's house they found a hitlist naming not only my grandfather but also Ryan's sister and several other people. This possibly contributed to the jury being asked to determine whether Ryan was fit to plead.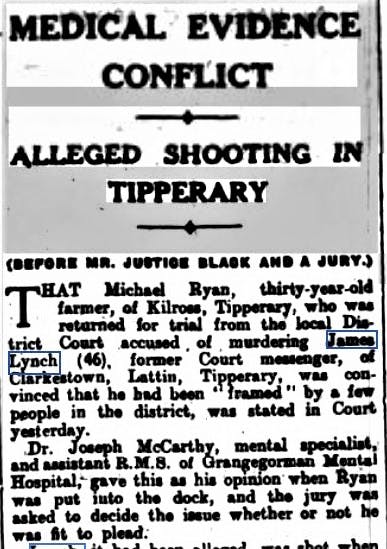 Four specialist doctors provided detailed yet conflicting medical advice at the trial as to whether Ryan was insane. Irish Times dedicated many column inches in reporting medical witnesses' testimony in considerable detail including their differing views about Ryan's history and his current mental health. Having examined Ryan, two physicians felt he was insane, while two more believed he was not.
After hearing all the medical evidence, jury members could not agree on a verdict as to Ryan's fitness to plead and Mr. Justice Black dismissed them. A second jury was impaneled which determined Ryan was insane and was therefore not fit to plead. Consequently, the judge ordered him to be detained at the pleasure of the Executive Council.
I found no other newspaper articles to report how long Ryan remained in an asylum or whether he was ever released. Family folklore couldn't shed any light either.
Such a shocking and traumatic incident must surely have had a lasting effect on James' family, both emotionally and financially. Annie was left to raise their five children alone and without any means of income. Her eldest son, Jim, gave up school and worked to support his mother and four siblings. Two and a half years later, John had grown into a very tall and strapping 15-year-old who excelled at hurling. At Annie's instigation, he lied about his age and managed to enlist in the Army during Ireland's World War 2 Emergency, thus reducing the drain on his mother's limited resources. For the rest of his life, he remained very proud of his Irish Army service.
Newspapers are a rich and important resource for our family history research. Without them, I would have never known more than the sketchiest details of this shocking aspect of my family's history which had such a tragic and long-term impact on members of that generation.
Have you found anything in Findmypast's newspapers that has significantly shaped your family story? We'd love to hear about your discoveries. Get in touch on discoveries@findmypast.com.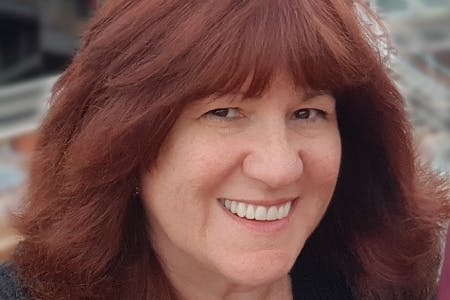 Therese Lynch is the owner of Your Family Genealogist and a member of the Association of Professional Genealogists.  A former senior public servant, she combines her passion for genealogy with a love of helping people get started or progressing their own family history journey. Therese holds a Diploma in Family History from the University of Tasmania.  She often uses her blog to inform readers about little-known or under-utilized resources.  In non-Covid times, Therese pursues her other passion of traveling as frequently as possible, preferably to lands rich in ancient history followed by visits to Ireland and England to continue her own family history research.
More on this topic:
Share this article
About the author