How Findmypast helped me trace all 46 men in this military photograph
4-5 minute read
By Guest Author
7 November 2019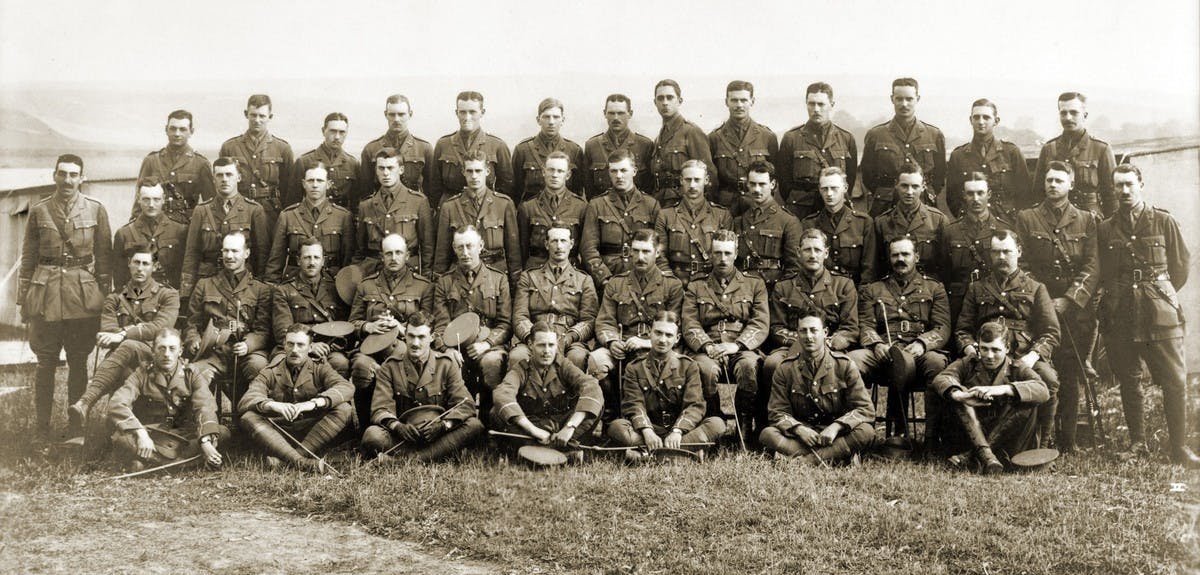 When Andrew Tatham started his search for all of the men in a First World War photograph, he had no idea it would lead to an exhibition and a sell-out book. Here's how it happened.
22 years ago I found a World War 1 group photograph with my great-grandfather in the centre (2nd row from bottom, 7th from left).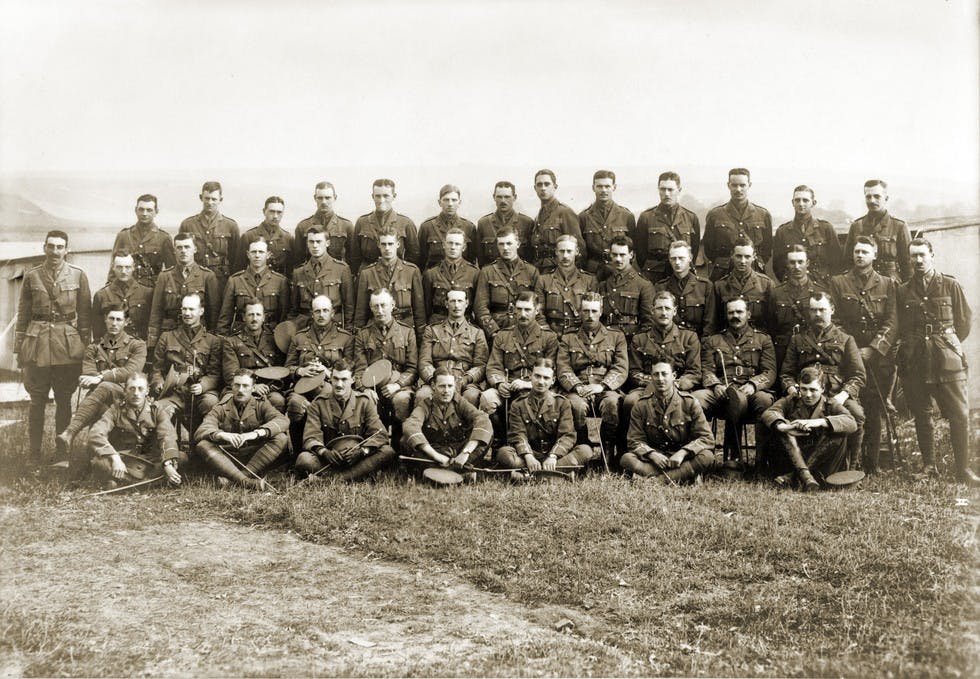 He was commanding officer of 8th Battalion Royal Berkshire Regiment, and he is pictured surrounded by his officers in their training camp on Salisbury Plain in May 1915, not long before they headed out to the trenches in France. Spurred on by my discoveries, I resolved to find out what happened to all 46 men pictured and to trace their families.
In particular, I wanted to show the effect the First World War had on this group by showing how many descendants each of them had. This turned into an animated film that shows each of them growing as the trunk of a tree and their descendants as branches. This required an enormous amount of research and in the beginning, back in 1994, that meant trawling through paper documents in archives.
If a man was 25 at the end of the war, I could look through 75 heavy indexes at the Probate Registry only to find he didn't leave a will and then I could look through around 260 quarterly and then annual death register indexes with no result only to eventually find he died in Canada.
In 1997 the internet arrived in my home and that is how real progress started being made with the difficult ones, particularly those who were outside the UK. At that stage, there weren't any online databases of records available and it was building my own website (so people could find me) and corresponding with people on genealogy newsgroups that led to me eventually finding a relative for each of the 46 men and also finding the birth/marriage/death information for all of their descendants. That was in 2001, seven years after I started, and I then made my animated film.
Several years later I discovered there were databases coming online that meant that it might be possible to achieve another of my initial aims, to see where all these men came from in terms of their ancestors, and also to see what happened to their wider family, looking at their siblings and their siblings' descendants.
Search for your ancestors now
Access billions of online family records from any device.
Findmypast have been setting the standards in this field for a long time with their drive to produce better search capabilities, more accurate transcription and constantly increasing numbers and types of records. Being able to automatically search for possible spouses in marriages pre-1911, better fuzzy searching on names in censuses, huge amounts of parish records and ships' passenger lists being transcribed and uploaded for searching, being able to text search old newspapers to fill in those gaps in the official indexes – all of these helped me reach my goal.
The result was a massive exhibition at In Flanders Fields Museum in Ypres in Belgium last year. Exhibits ranged from intimate mementoes from the families and photo montages showing every picture of these men's faces and graves and memorials and signatures, to huge installations of family tree drawings and contemporary stained glass windows.
The book that accompanied the exhibition was featured by Jeremy Vine on his BBC Radio 2 show. He said;
"
"Honestly I can't recommend it enough – the whole year we've done different books on this show but this is the one that is just so powerful."
"
Things went through the roof after that, and I sold 3,000 books in a single week.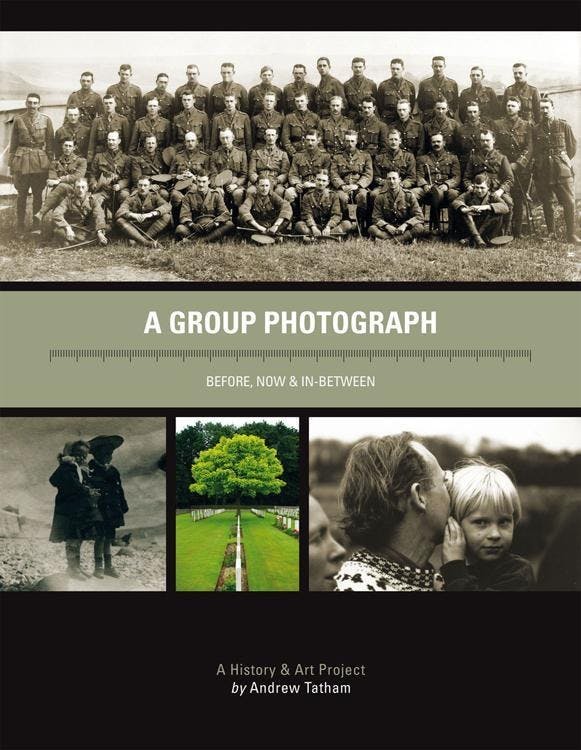 I've been trying to work out why it's captured people's imagination so much, and I think it's come down to the fact that through it all I've wanted to show each of these men as individual human beings, each created through years and years of love and struggle, and each making choices or having choices made for them on their journey through life, just like all of us. That I have been able to do this is a testament to the sort of information I've found on Findmypast.
Alongside the names and dates that are the foundations of family history research, are the bits of gold dust that bring people from the past alive (metaphorically).

Frank Mariner Sumpster (top row, 7th from left) was one of the men who had been forgotten by history. He was killed on 21 March 1918, the first day of the German Spring Offensive, leaving a wife and a one-month-old daughter. By the time I found his daughter, she was in a home suffering from dementia and I could only communicate with her via her solicitor. She had no photographs or memorabilia and I was left with just a grey image of him made from military group photographs and memorials. And then in searching for the date of his marriage, I came across this article in the local newspaper. I could picture the joy on his face when he first saw his bride on his wedding day.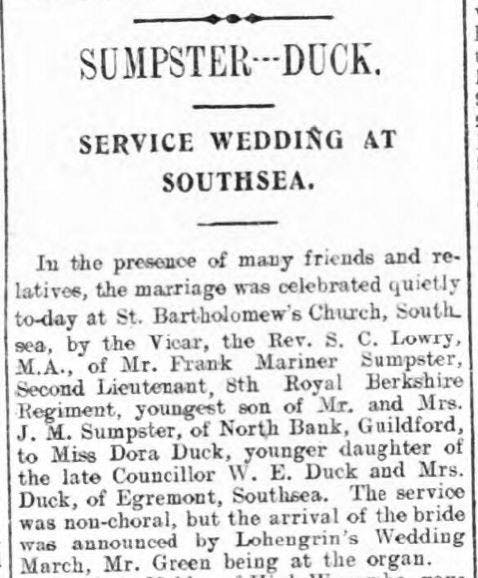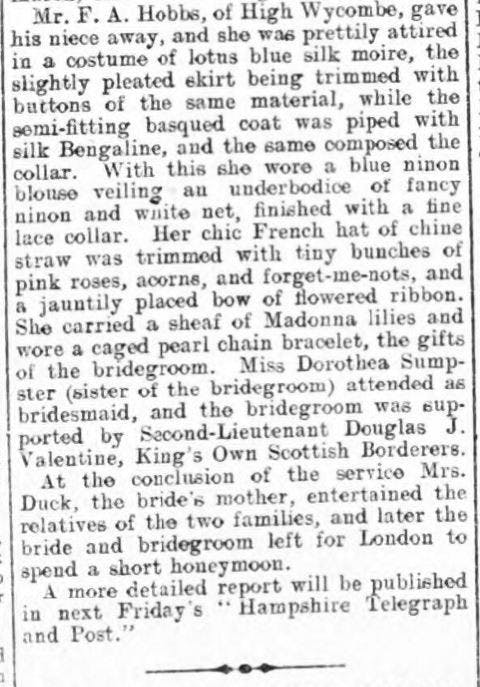 Andrew Tatham is a Chemistry & Computer Science graduate who became a historian and artist through this project. He spends so much time growing family trees on his computer that his garden in Norfolk is neglected and the brambles run wild. Visit Andrew's website for more information.
More on this topic:
Share this article
About the author