My grandfather's World War 2 diaries have brought his incredible experiences to life
4-5 minute read
By Ellie Ayton
11 January 2021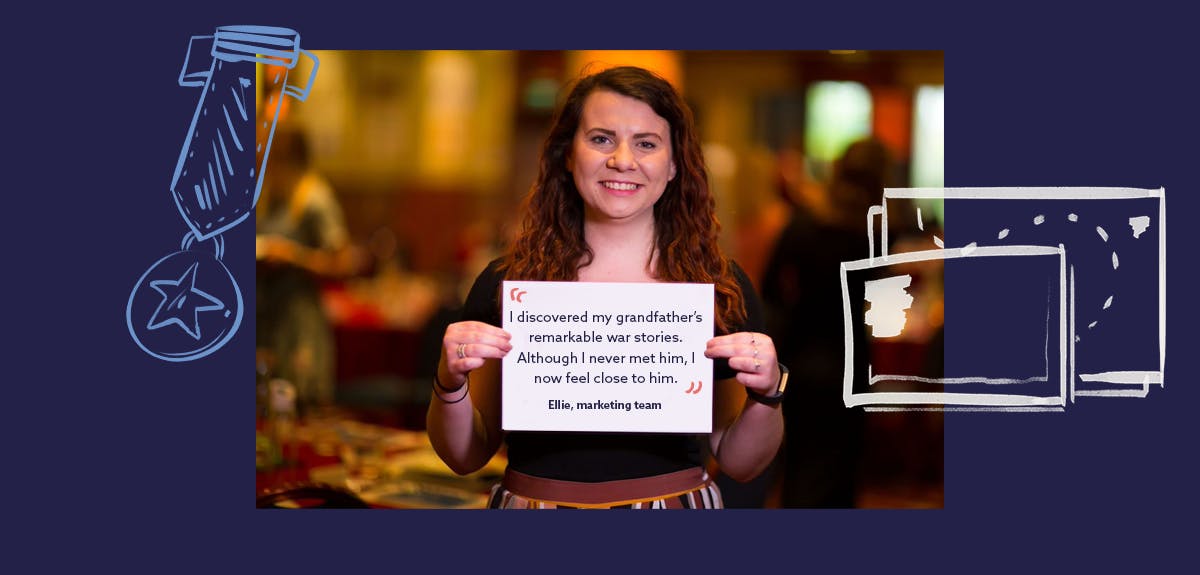 One of the golden rules of family history is to speak to your relatives about what they know. By speaking to her aunt and uncle, Findmypast's Ellie uncovered the military career of the grandfather she never knew.
I never knew much about my paternal grandfather. He sadly died in 1960 of a burst stomach ulcer, leaving behind my nana as a mother to four children, including my father aged 18 months. Only by speaking to my family have I learned more about him and his experiences of the Second World War.
I'm fortunate my late father kept so many photographs of him. My uncle has a war diary, which has given me valuable insight into my grandfather's war experiences. Without this, the photographs, and my relatives' stories, my grandfather would have been completely lost to me.
Cecil Dennis Jones was born in north Wales in 1918, son of Robert Thomas Jones and Nellie Griffiths Rogers. Robert was a miner. In the 1930s the family moved to Rhyl to begin a life away from the mining industry. The Second World War raged for 12 months before Dennis enlisted in Swansea, on September 30, 1940, fifty years to the day before I was born. A few months later, he married my nana, Eileen.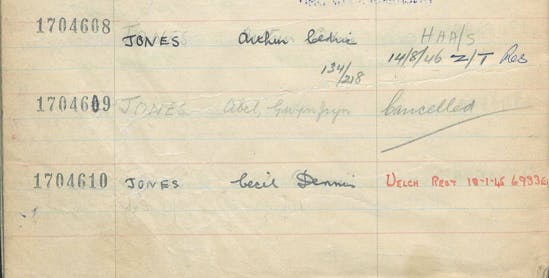 On his attestation, Dennis was listed as 5'7" tall, weighed 138 lbs, with a fair complexion, light brown eyes and dark brown hair.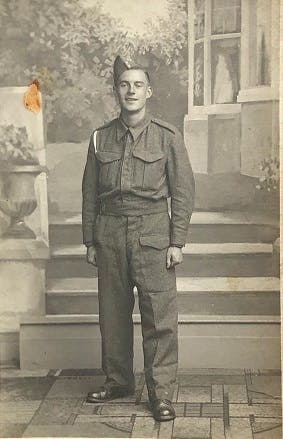 Already, I was building a picture of the grandfather I never knew.
During the Second World War, my grandfather served with the 65th Battery, 34th Light Anti-Aircraft Regiment, Royal Artillery as Gunner 1704610. They trained at Ollerton, and then the Battery headed to Glasgow, embarking on the SS Oronsay. Their six-week voyage took them to Port Tewfik at the southern end of the Suez Canal, stopping at Freetown and Capetown, and arrived on September 2, 1942. This vital information was recorded in his war diary.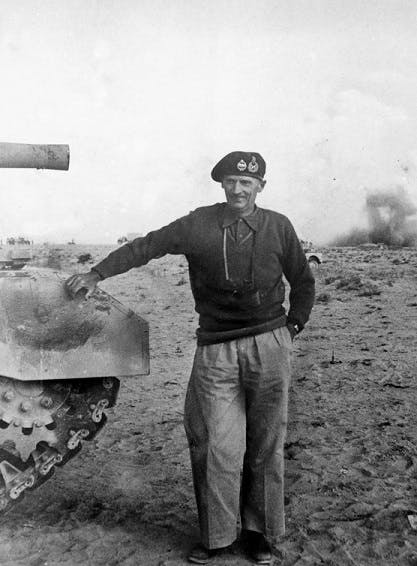 Dennis served in General Montgomery's Eighth Army in Egypt, affectionately known as the Desert Rats. He saw action at the Second Battle of El Alamein (October 23-November 11, 1942) and experienced the conclusion of the North African campaign.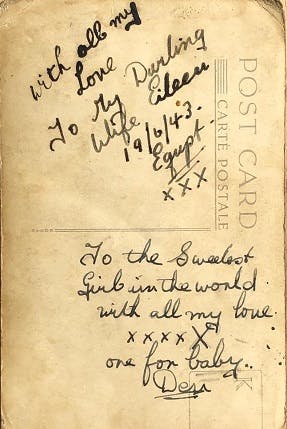 The Battery left north Africa from Bizerta on Christmas Eve in 1943, heading for Italy, as recorded in his war diary. They arrived at Naples on December 27.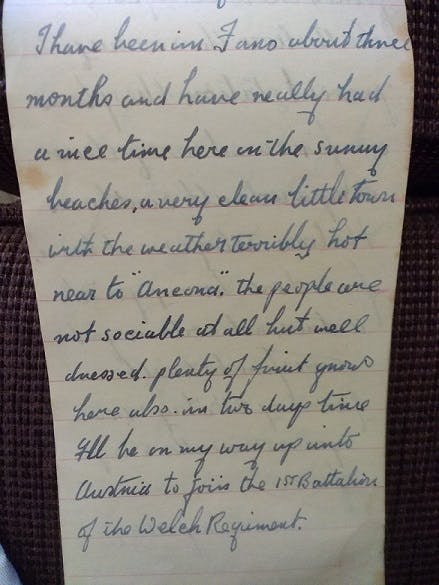 His diary goes on to detail his involvement in the Italian campaign in Barletta on the Adriatic Coast.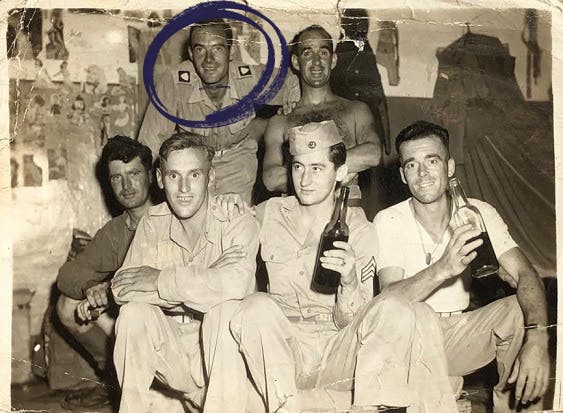 His Bofors 40mmm anti-aircraft gun was mounted on Barletta Castle, and the Battery remained there until they headed to Bari in June 1944. In December, they moved to Taranto until the end of 1944.
Dennis regularly sent photographs and letters home. The back of this World War 2 letter read;
"
"My darling Eileen, I'm afraid it's not so very good but hope to have some better ones tonight. In case you don't know me I'm at the back. Feeling a bit light but don't worry it's not a regular habit. I'm always loving you and wishing this war will end. Chins up keep a big smile it won't be long now. All my love to you and our little Audrey. So glad you are both in good health."
"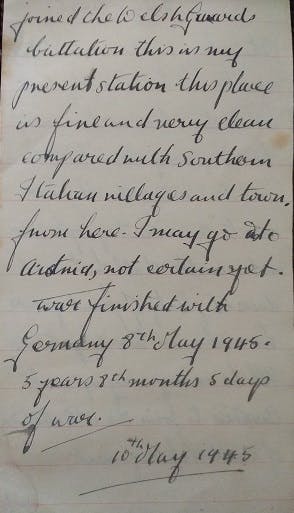 Later, Dennis noted in his war diary;
"
"War finished with Germany 8th May 1945. 5 years, 8 months, 5 days of war. 10th May 1945."
"
He was awarded the Defence Medal, the 1935-45 War Medal with Star, the Italian Star, and the Africa Star with 8th Army. What struck me in the photos of him is just how much he appeared to age during 5 years of warfare. After demobilization, he returned to the building trade. By the time of his death, Dennis was proud of his growing, respectable business, C.D. Jones & Sons, named for his sons Peter and Geoffrey.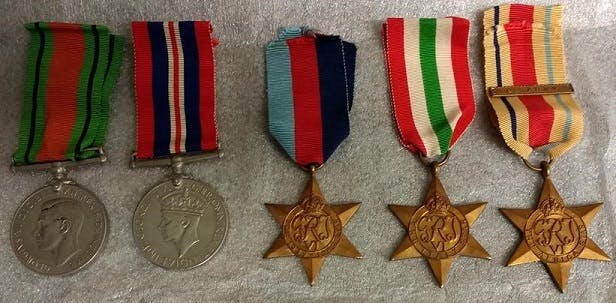 If I had not spoken to my aunt and uncle, I wouldn't know anything about Dennis. I wouldn't know that he was away from his family for four years during the Second World War, or that he kept deeply personal and detailed war diaries. He wrote about the kindness of strangers, the food, the landscapes: an emotional insight into the soldier experiences of a man I never knew. I'm indebted to my aunty Lynn and uncle Peter, Dennis' living children, for sharing this story with me. My aunt recalls that Dennis saw people searching dustbins for food in Italy, and hated food waste. In particular, he spoke about how precious water was during his time in North Africa. He was asked to re-enlist as a trainer after demobilization. He declined. I feel like I know him better now.
Take the time to speak to your relatives and tell the stories of your military ancestors. Then, share your discoveries with #FindmypastFeatured on social media.
More on this topic:
Share this article
About the author