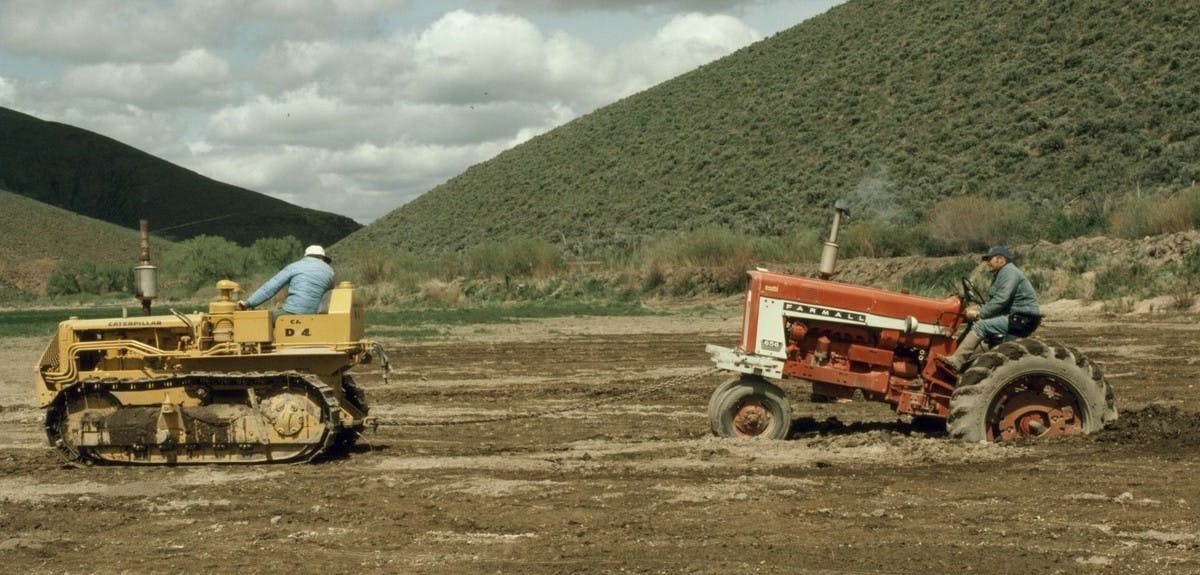 What To Do When You're Stuck
We've all been there - the infamous brick wall.
Behind it are more records, more stories, more family members that you haven't yet met!
What can you do to get around it?
Every brick wall is different, but there's one thing in common to overcoming them all - creativity.
It's going to take some out-of-the-box thinking, but you can do it! Here are some suggestions that will get your mental gears turning.
Genealogy records often contain misspellings - it's just a fact of life. From census takers to immigration officials, the wide variety of last names in the US as created countless accidental name changes.
If you're looking for someone who you are certain should be there, try working from the assumption that their name was misspelled. You can search checking the "name variants" box or you can try wildcard searching.
Did you know that our newspaper search database is separate from our other records? This mainly has to do with the technology used to search newspaper print, but it's important to know - broad-based category searches (including "search all records") will no query our newspaper databases.
Instead, navigate to the "Newspapers and periodicals" section of our drop-down menu and search there. You may be able to find birth announcements, obituaries and other interesting stories in the newspapers.
Our quick start guide to searching newspapers
Read and search periodicals
PERSI can help you break through a brick wall in many ways. Periodicals often contain abstracts or transcriptions of material that has since been destroyed or hasn't yet been digitized.
By searching the index, you may be able to find some work that is crucial to your family history that was done in a local community very far away from where you live. If you didn't search on PERSI, you might never have known it existed!
PERSI also contains tons of information that may help you pinpoint where a record may be held, or what organization would have had a certain record at a certain time in history. Example: an article about the history of religious congregations will help you pinpoint where to look for your ancestor's baptismal records at a given point in time.
Did you know you can create, upload and store your family tree on Findmypast?
It's free, easy and definitely worthwhile. You are fully responsible for the data contained in the tree - we never share it without your permission, and you can choose to keep it public or private.
The best part is, our hints feature automatically scans our records for your ancestors. In case you missed anything, hints will suggest you take a look. Even better - when new records are added every Friday, hints will scan them and email you if your relatives might be in there.
Search for collateral ancestors
If you're stuck on a certain line, take a look at some of the siblings.
Researching people on parallel branches of your family tree can help in a number of ways. First of all, it might be easier - we all know genealogy is more fun when you're making lots of discoveries, so some much-needed success will be valuable soup for your genealogical soul.
But it can also help lead to breakthroughs.
You may find some key information in the records or cousins or siblings that help you break through on the main line you're interested in. Furthermore, if you can find a long-lost cousin, you have discovered another invaluable resource.
Attend a class, webinar or lecture

Finding and joining a local genealogy society is one of the best things you can do as a genealogist. There's nothing like connecting with other researchers, and moreover, small societies are the fabric that binds out community together.
Not only will members have intimate knowledge about genealogy in your specific area, they're often always willing to help and lend a hand with their expertise.
Keep your eyes peeled for new records
New records are being digitized and made available online at a shocking pace. At Findmypast, we're releasing brand new records every single Friday.
If you register on Findmypast (no credit card required), you can sign up to receive these new records to your email inbox every Findmypast Friday. We're constantly adding to our industry-leading British and Irish collections, and our North American collection is rapidly growing as well.