10 Tips to Help You Trace Your Immigrant Ancestor
6-7 minute read
By The Findmypast team
14 October 2016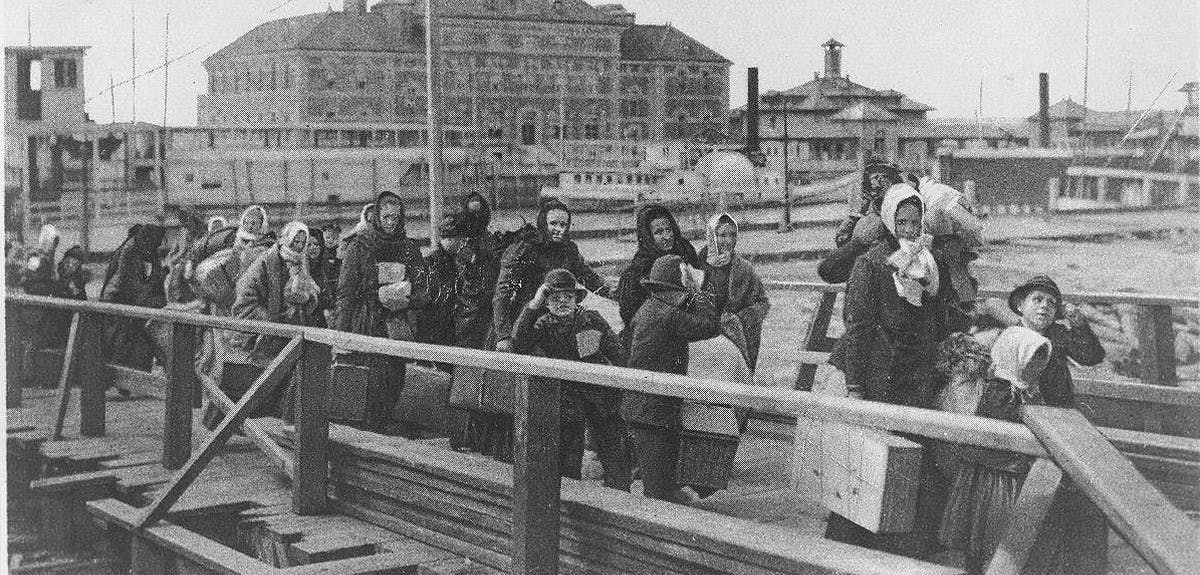 One particularly intimidating brick wall that many people face when researching their family history is uncovering their ancestor's immigration story.
It can be difficult to know where to start looking through the records to find your ancestors that immigrated to America from overseas, but there are many tips and techniques that you can use to get started searching for your origin ancestors, or those ancestors of yours who first immigrated to America. Once you overcome and break through the immigration brick wall, there's a whole new world of records for you to search next. Finding your origin ancestor, or your first ancestor who immigrated to the United States, is a great accomplishment and isn't as intimidating as it may seem.

Here are 10 tips to help you trace your immigrant ancestors and to start breaking through that brick wall in no time.
In genealogy, it's always best practice to start with what you know and move backward. Some of the best immigration discoveries come from finding your ancestor's parent's information in the records, the census, for example. But when working with immigration records, it's important to have a clearly defined timeline created for your ancestor so that you can dive into the records more easily and narrow your search.
Having an approximate date range of when your ancestor immigrated is key to starting your research so that you can narrow where to look.
It's also important to have a clear understanding of the location(s) of your immigrant ancestor because having your ancestor's location can help you narrow down your search since the naturalization process may have occurred over multiple courts and locations.
A great place to start before you dive headfirst into the records is to do a search around your house for clues that might point you in the right direction. Look for family bibles, heirlooms from another country, postcards, journals, books with inscriptions written in them, photographs, etc. don't leave any stone unturned, you never know what may be the key to uncovering vital migration details about your ancestors.
If your ancestor immigrated to the United States in the late 1800's and early 1900's the US Census records can provide you with clues to help you narrow down your search for immigration records. The US Census records have sections for citizenship as well as naturalization of the person and parents of the person listed, so it can help you determine which ancestor came over and where from.
Narrowing dates can be a little bit more complex, so it's best to use the census records as a starting point. As with all records, keep in mind that some of the data might not be 100% accurate as the census data was collected verbally from the head of household and wasn't fact-checked by the enumerators.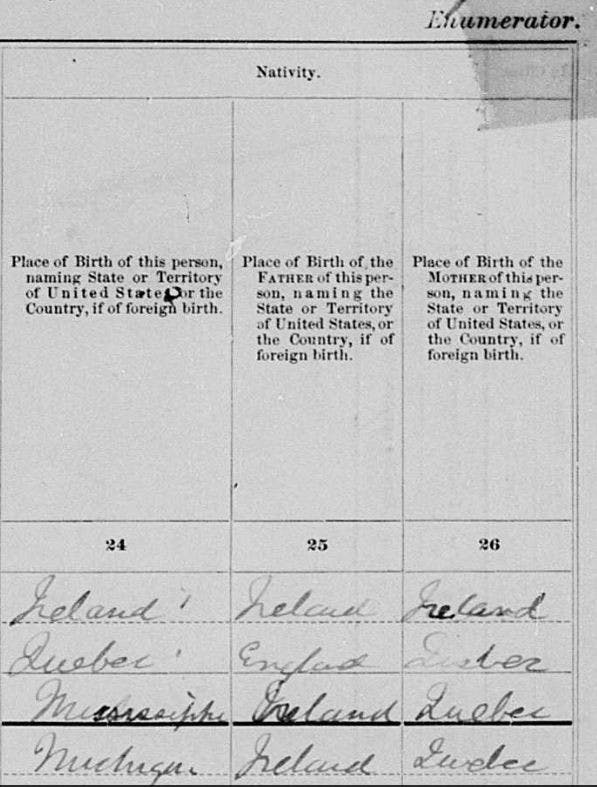 One tip to keep in mind is that often immigrants didn't begin the naturalization process until after they had been in the country for a few years, so be careful with this data because it could be either data derived from the head of household's memory or it could be inaccurate because of the way they chose to report it.
If you see abbreviations in the census under the naturalization columns they can provide clues about your ancestor's naturalization process and can help guide your search. Here are the common abbreviations in the naturalization and citizenship columns:
If you can pinpoint where your immigrant ancestor lived before they immigrated to the United States, it will help you narrow your search. You can often find this information in records you've likely already searched previously. Church records, school records, marriage records, death records, gravestone inscriptions, etc. can all reveal hints about where your ancestor may have lived prior to journeying overseas. The census records can help you narrow down the country at least.
Even if you don't find anything or find possibilities, track down everything you've searched. If you're organized while you search then it will be easier for you to put the pieces together when you have more information, plus some of that information you didn't think was helpful initially, could end up being a key element in your research later on.
Millions of people migrated to the United States between 1836 and 1914 and, luckily for us genealogists, ship manifests were required from the colonial period on. If the record survived, it's likely that you'll find your ancestor in one of these lists. Passenger lists and the information you can learn from them varies as each shipping line had their own way of keeping record.
Keep in mind that passenger lists are often kept in the country which your ancestor departed, so if you aren't finding your ancestor in the US records, this could be why. If this happens to you and you don't know where your ancestor came over from, don't worry, there are many other strategies to locate your immigrant ancestor.
If you have a general idea of when your ancestor came over, you can browse ship records by time period to try to find your immigrant ancestor.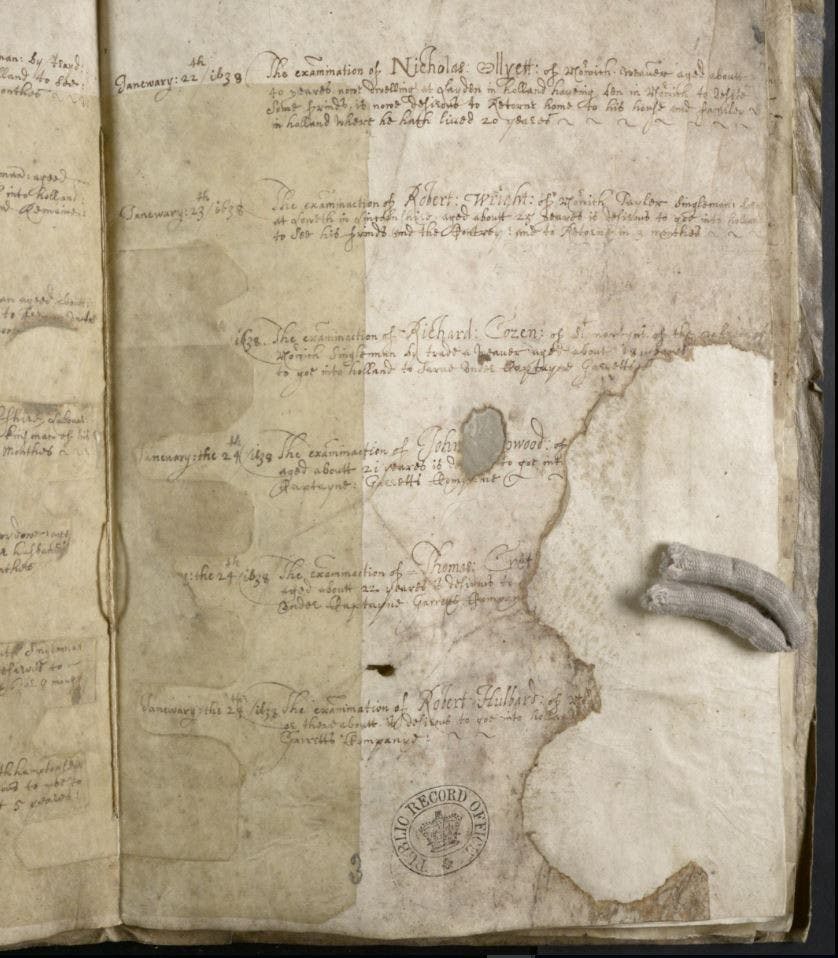 Be sure to use the wildcard tool or search with name variants as in some instances, your ancestor's name may have changed due to miscommunication, language differences, or even to Americanize the name, but do keep in mind that this act of changing names upon entering the United States wasn't very common.The wildcard function is a tool to help bring up additional, variant results in your searches. The wildcard tool allows you to search with fragmented data or parts of names. Use either an asterisk (*) or a question mark (?) within any search term. If you're looking for a "Eugene," for example, but don't know if he went by "Gene" in the records, you can look for both by using the wildcard at the beginning of the name, for example, *gene. It will bring up anything that ends in gene to help you.


Don't neglect the whole list of information because it could show you family relationships or friends that your ancestors may have immigrated with. If you find a close friend of your ancestor, it's possible that they were lifelong friends and could indicate your ancestor's birthplace.
Naturalization records are the records associated with the process of becoming an American citizen. These records often include key details about your ancestors that you might not find anywhere else and are essential to finding your origin ancestor.
These records may also include people who were born in the United States because the way the records are indexed is that they include the family members of those who are applying for naturalization. If your ancestor was born in the United States, but their parents immigrated, you could find your citizen ancestor in the naturalization records and those records could lead you to their parents who were applying for naturalization.
Naturalization records are often more than one page long, so be sure to look through all the pages in the search results by clicking the "next page" button to see everything included in the record set.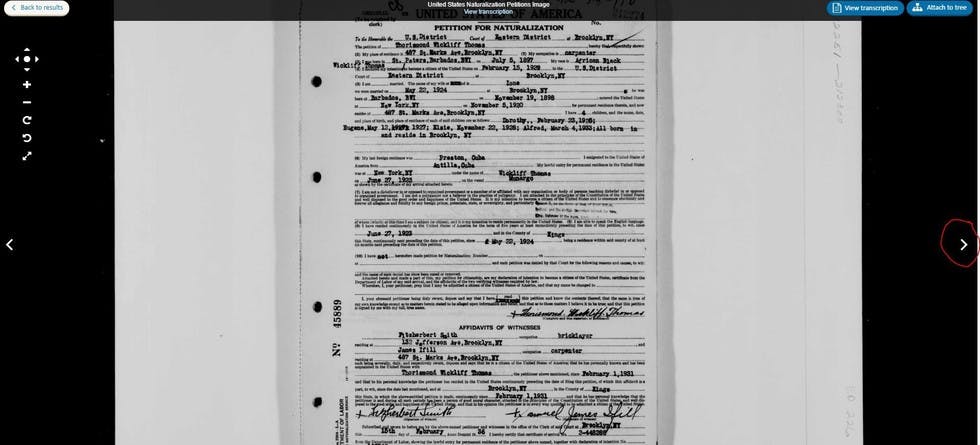 The naturalization process could take many steps so if you have multiple locations where your ancestors lived, be sure to check those location's naturalization records as well as part of the process may have been completed there.
If your ancestor wanted to travel abroad he/she had to apply for a passport like we do today, so be sure to check for your ancestor in our passport application records because passport applications can reveal: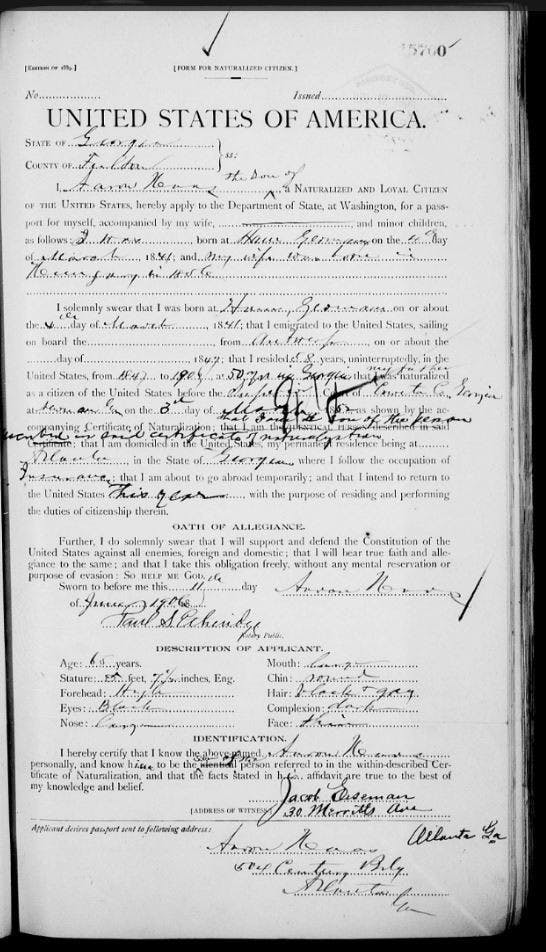 It's always a good rule of thumb to search for all the members of the family because these vital details might be in one of their records, but not the records of your ancestor in question. For example, your ancestor's hometown might be listed in his/her's sister's marriage certificate, but not in any documents of his/her's. Your ancestor's close, or even distant, relatives can provide additional clues to help you fit the pieces of the puzzle together.
Have you traced your ancestors overseas? What did you discover?