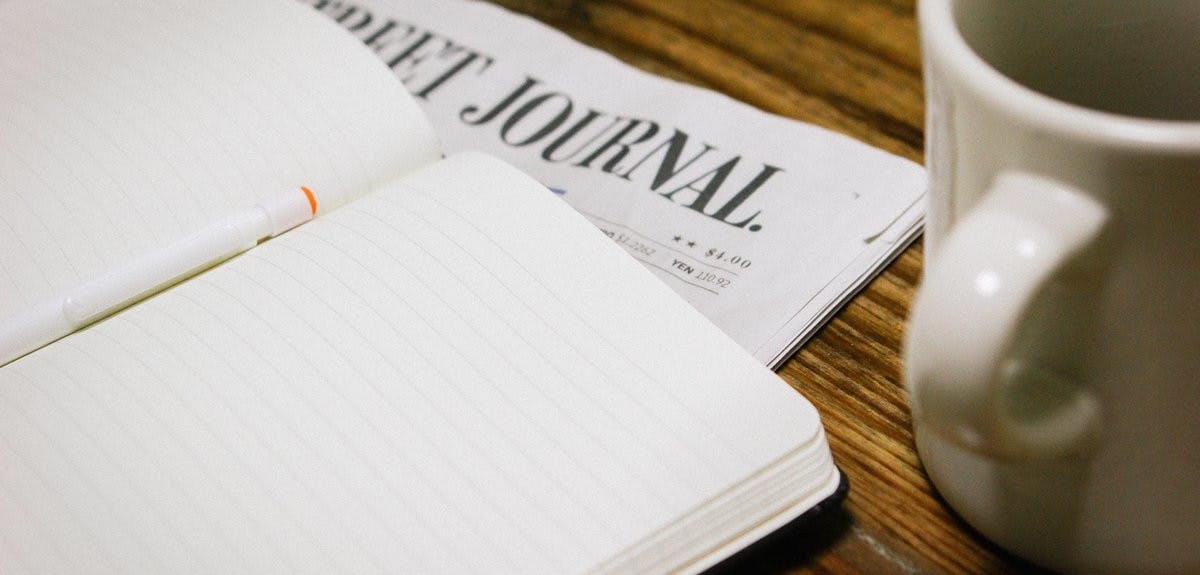 Week 15 | Newspapers, Part One
Welcome to week 15 of The Essential Guide to British and Irish Family History! In this instalment, we'll be looking at our collection of US newspapers, where to find them, how to use them and what they can tell us.
Findmypast is home to the largest online archive of British and Irish newspaper pages (more on that next week), but did you know we also host almost 120 million pages of newspapers from the US? What's more, the details in these newspapers can not only provide you with rich color about your ancestors' lives, but also fill in details like places of birth that can help you to break down Transatlantic brick walls.

The collection of US newspapers on Findmypast contains titles from all 50 states plus Washington D.C., Panama and the Virgin Islands. Titles include a variety of local papers, as well as national publications including the New York Times and the Washington Post.
We've put together a few tips and tricks to help you search our US newspaper collection so that you can find out more about your family and the world in which they lived.
To search our newspaper collection, sign into your Findmypast account, then click 'Search' at the top of the page: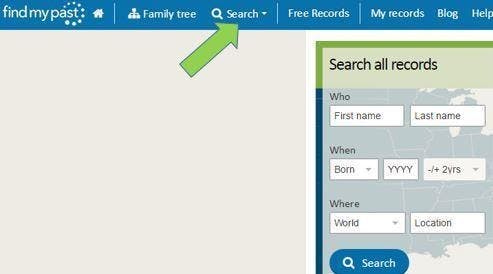 Then, in the menu that drops down, select 'Newspapers and Periodicals':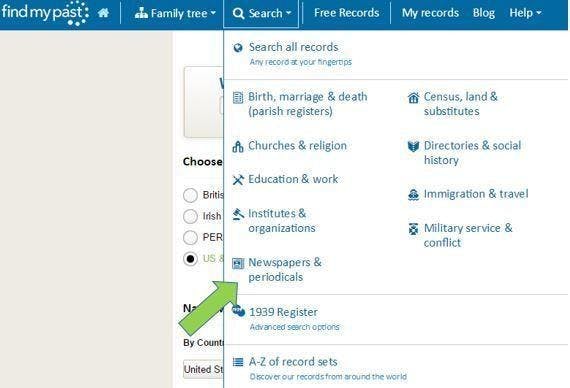 This will take you to our newspapers screen. If you're logged in with a Findmypast.com account (as opposed to .co.uk, for example), your search will default to American newspapers. To make sure you're searching the US, look at the menu on the left of your screen, and ensure the 'US & World newspapers' box is checked. Beneath that checkbox, you'll see 'Narrow your search results'. Make sure 'United States' is selected.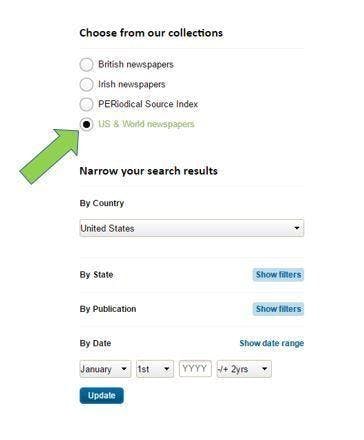 Now you're all set to search!
As with most of the collections on Findmypast, it's generally better to start with a broader search and to then refine. If you're searching for details of an individual, this is what to do.
Start by searching their name. If you know what you're looking for, you can add it in the 'keywords' box, so for example:

If I'm searching the records for the maiden name of the wife of Bruce Ferguson in the records, but am not finding anything, I can search the newspapers, where the marriage may have been reported on. The search boxes above say, respectively, 'Bruce', 'Ferguson' and 'Marriage'. This will search our entire database, and so will return more results than we need.

In this case just over 1,000
This is where we begin to narrow it down. The ancestor we're looking for is known to be from Illinois, and married around 1903. Using the search tools on the left of the screen, we can click 'show filters' next to 'By state'.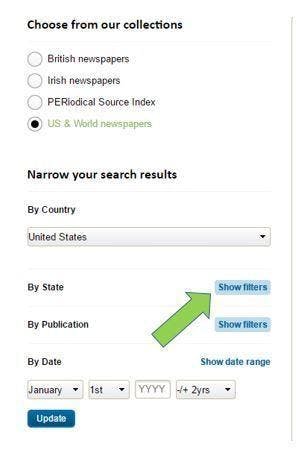 And then select Illinois.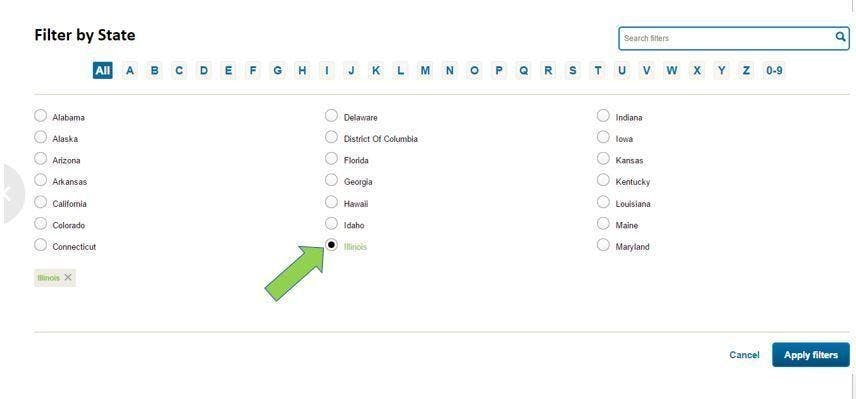 States are listed alphabetically, and you can also search for the state you want in the top right of this box
As I already know that Bruce's wife's first name is Clara, I could also add that to the keywords box at this stage.
In the date box, also on the left, enter '1903' and click 'update'.

Now I have my ancestor's date of marriage and the maiden name of his bride, opening up a new branch in my family tree. In some cases, the parents of the bride and the hometown of bride and/or groom will also be listed, creating the potential for you to discover the part of Ireland or Britain from whence your ancestors came, as in this example from the Boston Daily Glove, February 14, 1900. Note the richness of the information around Jeremiah O'Leary, we have an age, the year he immigrated and his place of birth!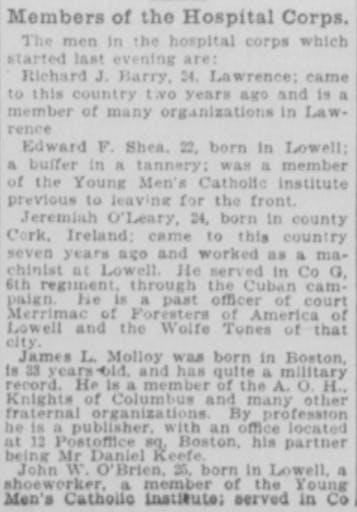 This method can also apply to birth records (where parents and occasionally grandparents will be listed) and death records (which may include details like survived by/widow of etc.)
If a record is hard to read, click 'download page' and then view the PDF file using your computer's in-built reader, it should open using that program by default. This will allow you to zoom in further and highlight sections of the page.

If family lore dictates that a member of the family ran afoul of the law, or was a fugitive from justice, or anything else that is often spoke about but never proven, the newspapers offer the perfect chance to confirm or deny the rumors.
Using the same method above with your relative's name, try a few variations of keywords, like 'court', 'crime', 'jail', 'prison', 'robbery' and so on to see if anything comes up.
For example, if a Joseph Wilkins in your line in the 1880s was rumored to have been incarcerated, it's likely to have been reported on if the stories are true.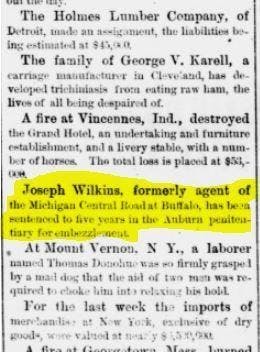 To find the above incident, one would search the name of the ancestor, along with the name of each of the penitentiaries at New York State at that time, in this case Auburn.
When searching our newspapers, it's crucial to finesse your search as much as you can, trying different keywords, searching nearby states if nothing shows up where you think it should and gradually whittling away the results until you have what you're looking for. It can be time-consuming, but the results are definitely worth it!
-----------------------------------------------------------------------------------------------------------------------------------------------------------------