How to trace ancestors from America back to Ireland
4-5 minute read
By The Findmypast team
7 September 2020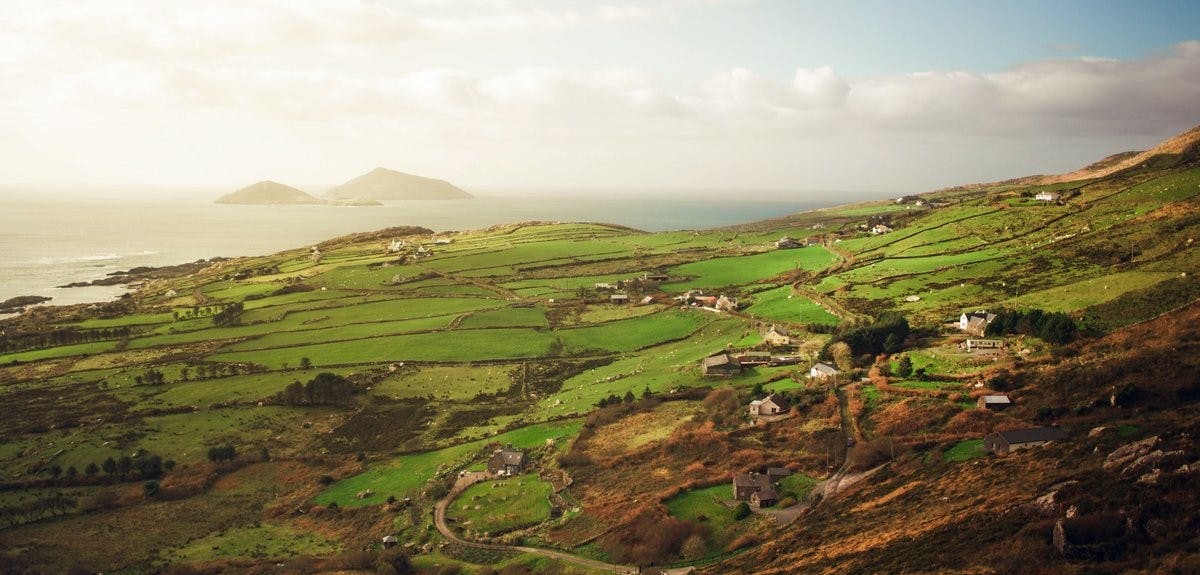 Today, there are millions of Irish-American families. Examining historical periods of migration, we'll show you the records you need to get to the roots of their incredible stories.
More than 33 million Americans have Irish heritage - for a vast majority, their ancestors immigrated during the 19th century. Over 3.8 million Irish immigrants arrived throughout the 1800s, especially in the middle part of the century when the deadly potato famine wreaked havoc on their homeland.
When researching your family history, identifying Irish-American immigrant ancestors, and discovering more about your family's life before they came to America is a huge accomplishment.
Up until now, the problem has been that it's quite difficult to do that - nearly all of the 19th-century Irish censuses have been lost, leaving genealogists with a precious few documents to find evidence of their Irish ancestors.
But since we released 10 million local Irish Catholic Parish records, that's all changed. When compiled all together, these valuable documents are able to reconstruct what was previously lost or inaccessible. Now that these records are indexed and fully searchable online, you could find the missing link between American and Irish families.
Let's take a look at exactly what you need to do to make this amazing discovery.
Before searching Irish records...
Before you try to trace your family back to Ireland, you need to spend time researching your American ancestors.
Though having good evidence for and understanding of each generation in your family is very important, it's especially important to zero in on your immigrant ancestors.
Here's the absolute minimum you'll need to know before you should start looking in Irish records:
Name
Date of birth
Location of birth
Names of siblings or parents (not always vital but very, very helpful)
Birthplace is the most essential, and will often be the make-or-break piece of information for many. Many Irish last names are very common, so unless your name is unique you'll need to know where your ancestor was born at least down to the county level.
If you know their full name, date of birth, and the county they were born in, that's enough to take a shot. But it's even better if you can find the parish or townland they were born in.
Must-search Irish records
Okay, so you know where they came from and when they immigrated. Our parish registers span the biggest period of immigration, so it's definitely worth searching there.
However, we do have other record sets that will be useful depending on the time period of their immigration.
If your ancestors came to America after 1901, the very first place you should look is the 1901 census. This snapshot will give you an extraordinarily detailed picture of their life and will provide plenty of information to use to trace them further back.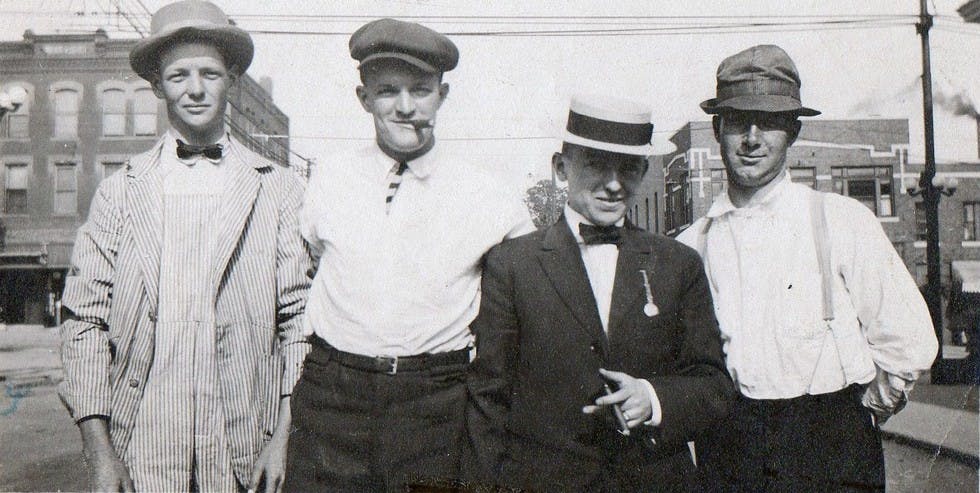 If you found them in the 1901 census, don't stop there. Use the below records to unearth even more.
Immigrated between 1864 and 1901
Of course, our Irish Catholic parish registers reach up until 1900, so you should definitely look there as well. But even beyond that, there are more records to look for.
If your family left Ireland before 1864, the most important records are parish registers and land records. That's why the Irish Catholic parish records are so valuable. Prior to their online release, if you had ancestors who left Ireland before 1864, there were a very limited number of places to look for them.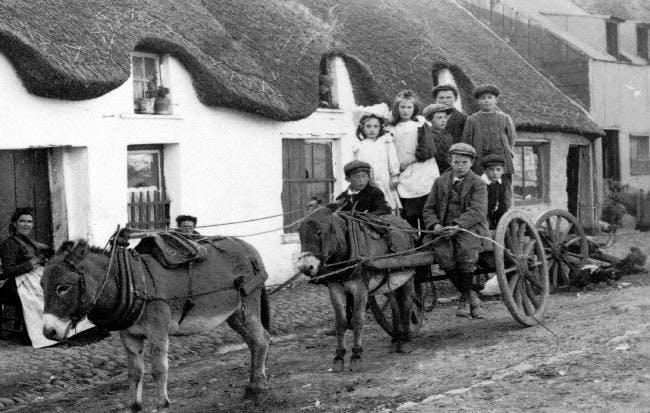 Begin by searching our Irish parish records (we also have records from the Church of Ireland as well - it's not all Catholic), but don't stop there.
Land records are key resources for anyone exploring their Irish family history. It's an amazing discovery to connect your ancestors to a piece of land, especially if it was a place the family remained for generations. Much of what you find while exploring your past isn't tangible, but you can always visit your family's ancient homestead if you know where it is located.
Land ownership is also a particularly important theme in Irish history. At various times, intense political and even physical battles occurred as the power of land ownership was used to repress or favor different religious groups and levels of the social strata. Fortunately for family historians, this means a substantial amount of paperwork about land and land ownership was generated, and relatively early too - systems of land registration date as far back as the early 18th century.
And of course the wealth of information found in land records themselves - names of children, spouses or other family members, occupations, and even the history of your family's land ownership - can be valuable to growing your family tree and breaking through brick walls.
Historically, most Irish immigrants weren't landowners - many lived on large estates that were owned by a single family or individual.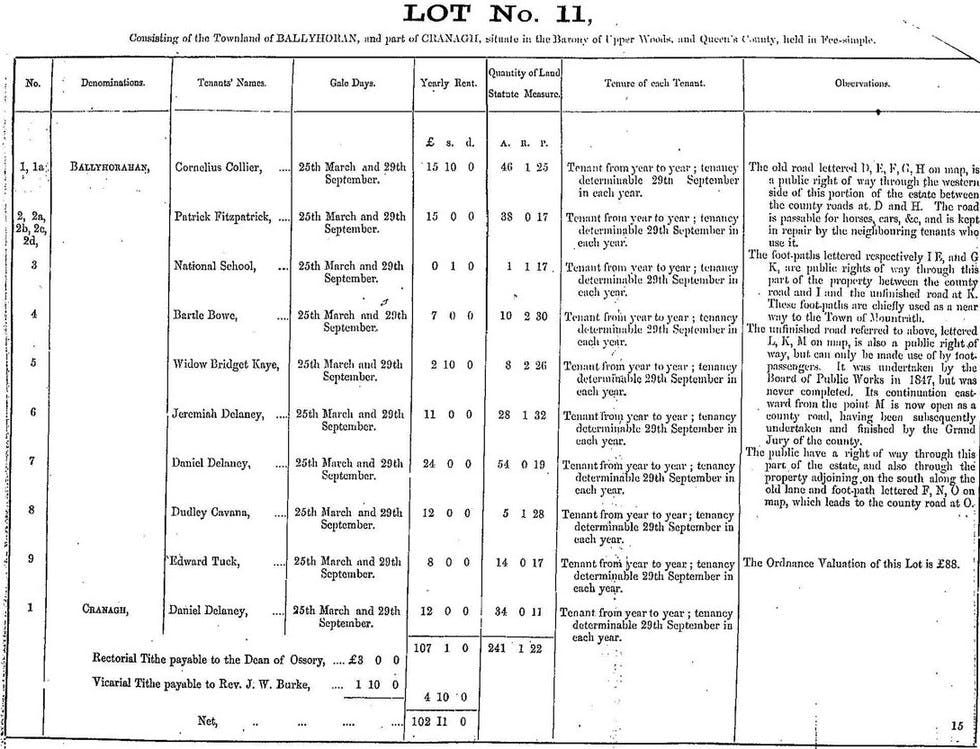 Since a huge percentage of those that immigrated to America came from the lower rungs of the social and economic ladder, most of your Irish ancestors were tenants on these huge estates. So you're most likely to be interested in the tenants, not the landowners.
The Landed Estates Court Rentals is a fantastic resource for discovering the tenants of landed estates. In the collection, you will find the records of over 500,000 tenants on over 8,000 estates in 19th-century Ireland.
Due to the Famine, many of the landed estates fell into bankruptcy in the latter part of the 19th century. As the government took over and assessed many of the properties, a huge number of records were generated, giving you the opportunity to discover more than ever about your Irish ancestors.
Once you have pinpointed the birthplace of your Irish immigrant ancestors, you can begin tracing their family further back. The ultimate prize is discovering exactly where your family lived in Ireland - then you have an excuse to go visit.
More on this topic:
Share this article
About the author