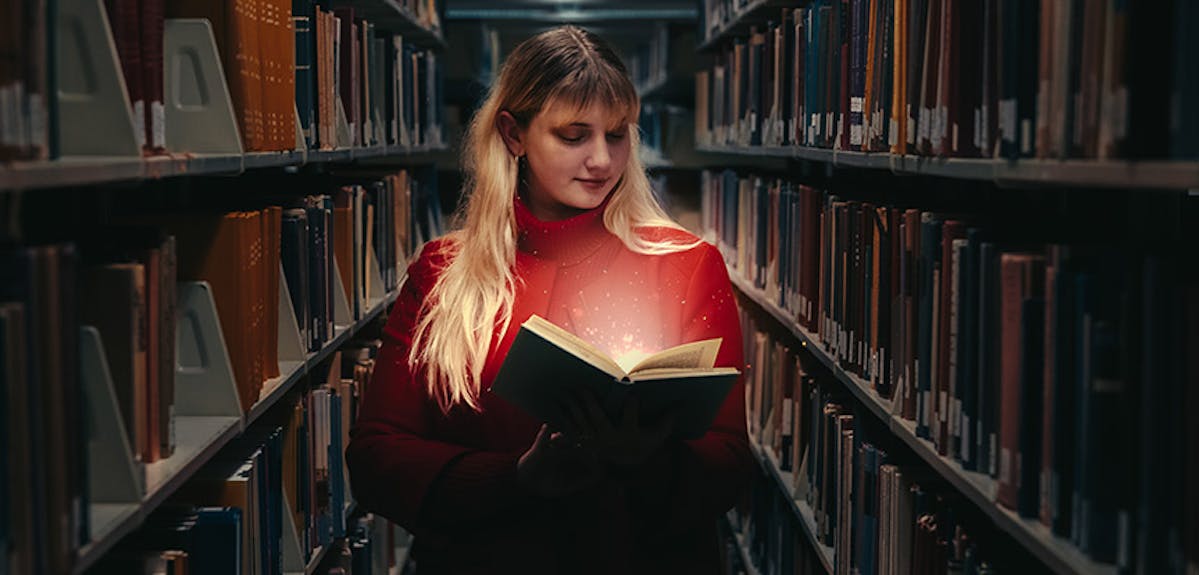 What is the PERiodical Source Index (PERSI) and why should you care?
What if you were sitting on a goldmine of genealogical information and you didn't know it?
What if you could get your hands on the kind of information that could help you locate rare family records, break down pesky 'brick walls' in your family tree and learn valuable information about the lives your own family lived?
That would be pretty amazing, right?
The PERiodical Source Index (PERSI) is that goldmine.
Sadly, PERSI is a resource that doesn't get close to the attention it deserves.
What is the PERiodical Source Index?
The Periodical Source Index (PERSI) is the largest subject index for genealogy and local history periodical articles in the world. Created, maintained and expanded by the Allen County Public Library (ACPL), PERSI is a valuable resource for genealogists and family historians.
Seasoned and professional genealogists know all about PERSI, and they've been using this little secret to their advantage for years - but Findmypast and the Allen County Public Library Genealogy Center have been working to evolve PERSI in a major way, making it invaluable for everyone interested in their past.
In fact, if you aren't looking in periodicals, you could be missing up to 30% of the available material out there
The Allen County Public Library has been obtaining periodicals from thousands of local, state and regional history and genealogy societies and indexing their articles into a searchable database. This allows users to track down game-changing information from all over America and beyond.
The main drawback (until now) has been that PERSI was just an index - only the article's metadata (very useful for tracking down a hard-copy of the article) was available, but not the content of the article itself.
And don't get us wrong, this is still extremely valuable, but we totally understand that not everyone possesses the time or money to hunt down a hard-copy of a publication.
That's not going to be a problem much longer. Findmypast and ACPL understand the value of the amazing content these small societies produce, and we're working hard to make PERSI into much more than just an index.
For a number of years now, Findmypast and ACPL have teamed up to digitize as many of these periodicals as possible and make the images available online for the first time ever.
This is no small task - there are thousands of periodicals to get through. Many have been producing material for decades, and even more, are still producing new issues.
That's right - our goal is to work with as many local societies in America as possible and make their amazing content available at the click of a button. We jumped on this opportunity because we're (obviously) obsessed with using the internet to preserve historical documents and we know this will help you get to the next level as you explore your family story.
Curt Witcher (MLS, FUGA, IGSF), Genealogy Center Manager and Senior Manager of Special Collections at Allen County Public Library expressed his excitement in the early stages of the project when it just got off the ground:
"Already available on the site is 49 years' worth of the New York Genealogical and Biographical Record, totaling over 7,000 images from this one publication. Imagine what this collection will be when it includes ten, twenty or one hundred publications. The amount of content will be staggering."
There's no need to imagine anymore - we continue to add dozens of periodicals to PERSI every year, which means tens of thousands of images are available right now. It's quite staggering already, and it's only going to get bigger.
Once you've familiarized yourself with the treasure trove that is PERSI, here are some handy tips and tricks for getting further.
How to find an indexed PERSI article
While we've been working hard with the Allen County Library to digitize as many periodicals in their PERSI collection as possible, and we're making great progress, There are still thousands and thousands of articles in PERSI that can help you - they just aren't digitally available yet. Fortunately, they're easy to get hold of. Here are some ideas to help you as you go.
PERSI indexes on Findmypast include publisher information.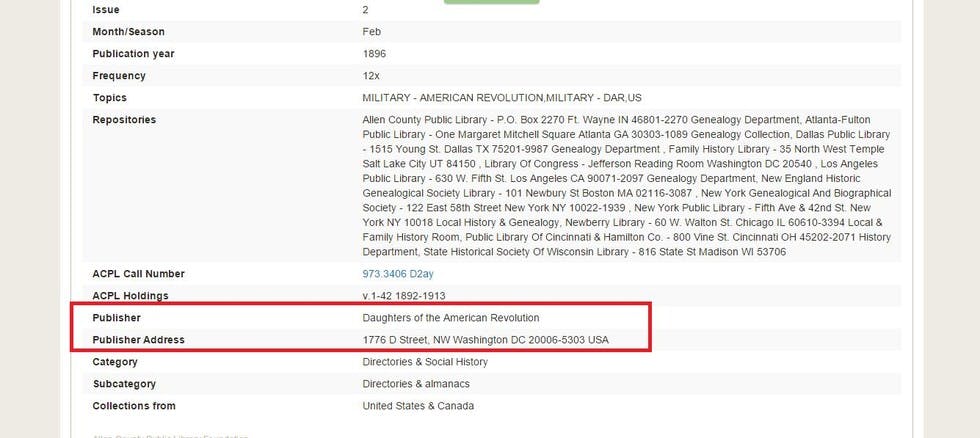 Use the publisher information to track down the organization and contact them. They will usually be happy to reproduce an issue or article and mail it to you (usually for a very small fee). Make sure to let them know what you're searching for. Oftentimes they'll know of more articles that will help.
2. Search local libraries
For many articles, PERSI will also contain a list of repositories where the article may be available. This handy list of repositories is a good starting point if you want to use your local library to locate a PERSI article. It may not be exhaustive though, so if you don't find a library near you, keep looking.
3. Hire a local genealogist
One thing you might not have thought of - hire a local. Take a look at the list of libraries that have the articles, and find a genealogist (or any competent library researcher) in the area. They can easily travel to the location, find the periodical you're seeking, scan it and then send it to you. In fact, you might as well get the most bang for your buck - see what other interesting articles might be in the library and give them a whole genealogy shopping list.
4. ACPL are the go-to experts
One way of tracking down that elusive article or issue that is essentially guaranteed to work is to contact the Allen County Public Library itself. You'll need to know the information highlighted in red below and found in Findmypast's indexes: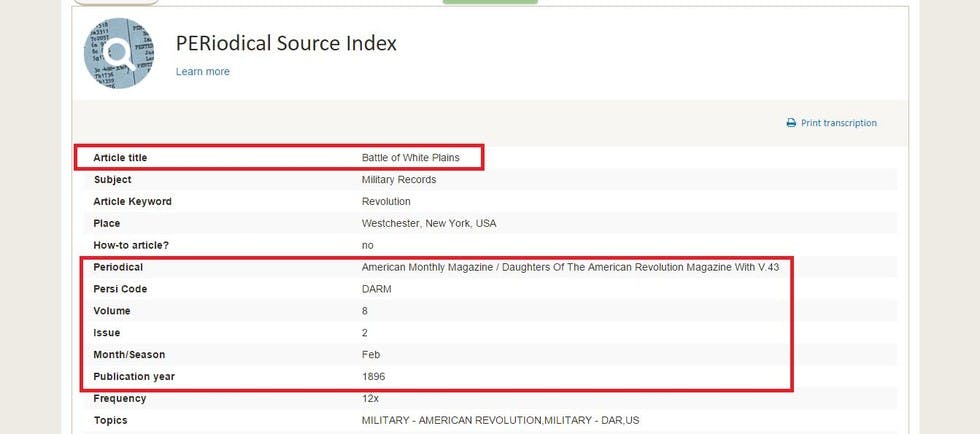 Once you know what you want, fill out this form and send it in (with payment) to ACPL. You can request up to 6 articles on one form, so make sure to shop around and see if there are any others you would like to request.
However you decide to acquire your articles, it's easier than you think and can be well worth the effort. When was the last time your mailman delivered essential information on your ancestors?!
5 quick-fire tips for making the most of PERSI
It is a great way to obtain those tricky details about your ancestors who seemed to hide from the traditional record sets.
PERSI is that it is subject-based, so you can't search PERSI for your ancestor by their last name unless they were the subject of an article or the subject of a periodical, so you'll need to do a little bit of browsing.
Use our advanced search tools to narrow your options - you can filter by periodical, article title, subject, keyword, publisher, country, location, whether images are included and more.
The periodicals are usually based around specific geographic locations, so when looking for your ancestor's information, first search by the relevant location to see if there's a local periodical that covers it.
When you open an image, it will always take you to the first page of the periodical. Use the side arrows to navigate through a publication, just like you would if you were looking through a book at your local library.
Want to delve even deeper? You'll find more useful techniques for exploring PERSI in our pro guide.