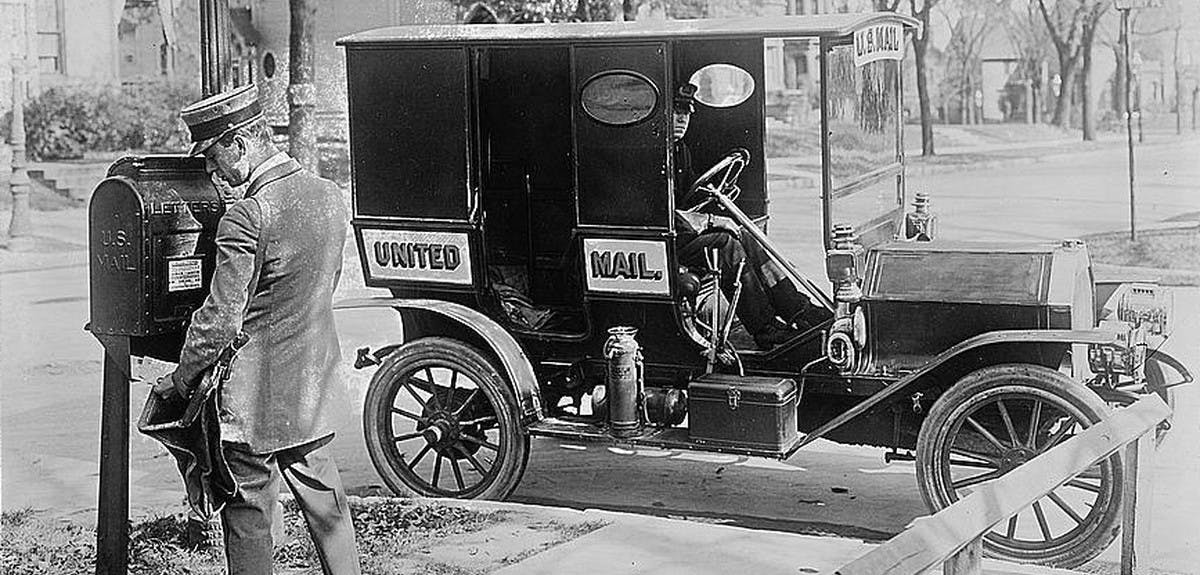 4 easy ways to track down an indexed PERSI article

If you're only looking at digitized periodicals in PERSI, you're really missing out.
PERSI has been undergoing a major evolution - Findmypast has been working with the Allen County Library to digitize as many periodicals in their PERSI collection as possible, and we're making great progress.
But don't let that spoil you!
There are still thousands and thousands of articles in PERSI that can help you - they just aren't digitally available yet.
5 things you can find in a genealogy periodical
Fortunately, it's easy to obtain an article you found in PERSI that is indexed but not yet digitally available.
Motivation: Top genealogists make use of indexes
The internet has done wonders for genealogy, but sometimes we think it makes us a tad bit lazy.
And that's understandable.
If you're used to accessing everything you need while surfing the web, it can make requesting an article by mail seem obsolete or cumbersome.

But as any experienced genealogist will tell you, it's the offline research that really makes your family tree blossom.
So let's take a look at how the pros do it - you can too!
When you click on a specific article in your search results, you'll see publisher information at the bottom: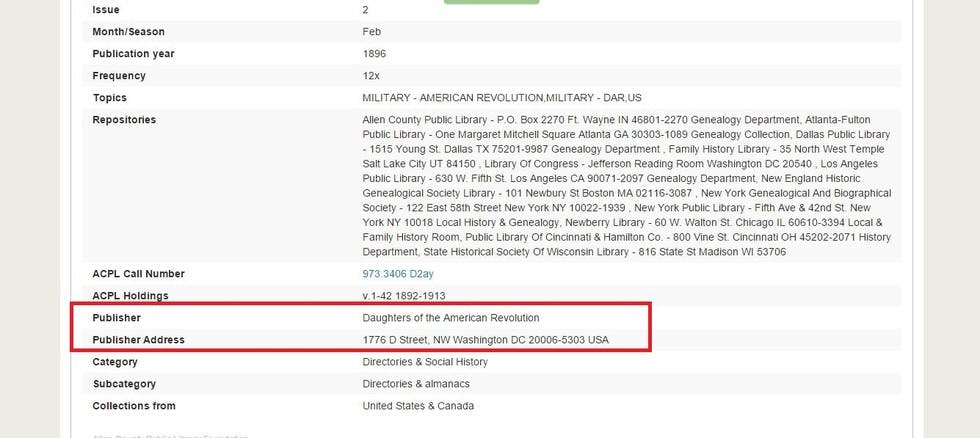 Perform a quick Google search to see if the organization is on the web or available by phone.
When you determine the best way to contact them, make sure you do more than simply let them know you're looking for a copy of an article or issue.
Let them know the details of your research - these amazingly helpful organizations will often recommend a few more articles that may help. Each journal will then let you know the cheapest and fastest way to get your article.
For many articles, PERSI will also contain a list of repositories where the article may be available. The section below, highlighted in red, can be a little intimidating, but just comb through it line by line - there's a decent chance that an institution near you has access to this periodical.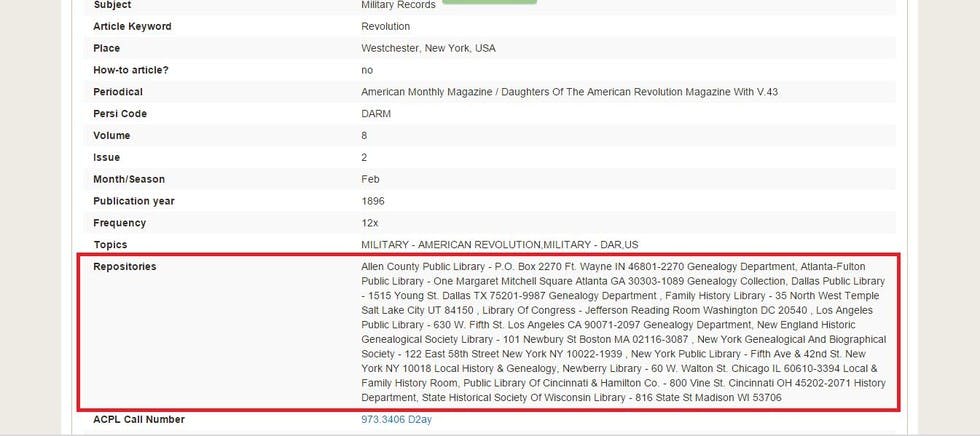 If there isn't a library listed that's near enough to visit, that doesn't mean all hope is lost - it's very worth searching your local library database. If you still have no luck, give OCLC's WorldCat a try - it's the largest bibliographic database in the world!

One thing you might not have thought of - hire a local! Take a look at the list of libraries that have the articles, and find a genealogist (or any competent library researcher) in the area.
They can easily travel to the location, find the periodical you're seeking, scan it and then send it to you. In fact, you might as well get the most bang for your buck - see what other interesting articles might be in the library and give them a whole genealogy grocery list!
If all else fails, contact ACPL
If you aren't able to locate the article these other two ways, the one way that is essentially guaranteed to work is to contact the Allen County Public Library itself. You'll need to know the information highlighted in red: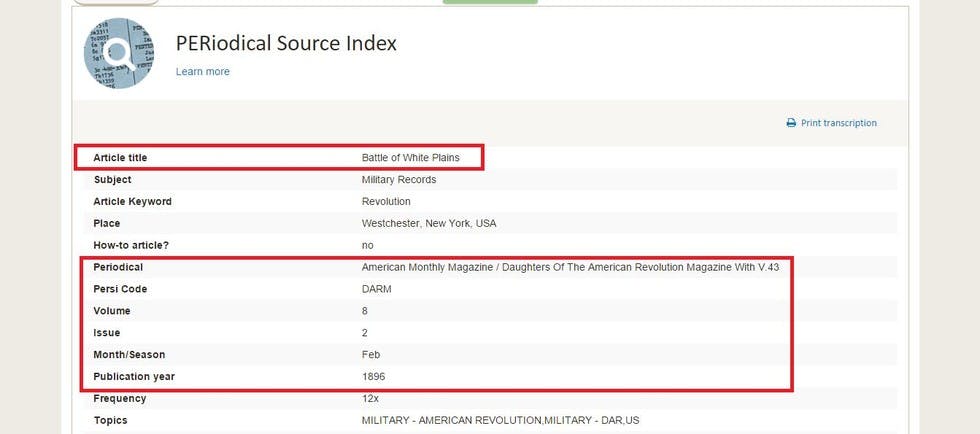 Quick tip: You can request up to 6 articles on one form, so make sure to shop around and see if there are any others you would like to request.

However you decide to acquire your articles, it's easier than you think and it's well worth it! When was the last time your mailman delivered essential information on your ancestors? Go for it!