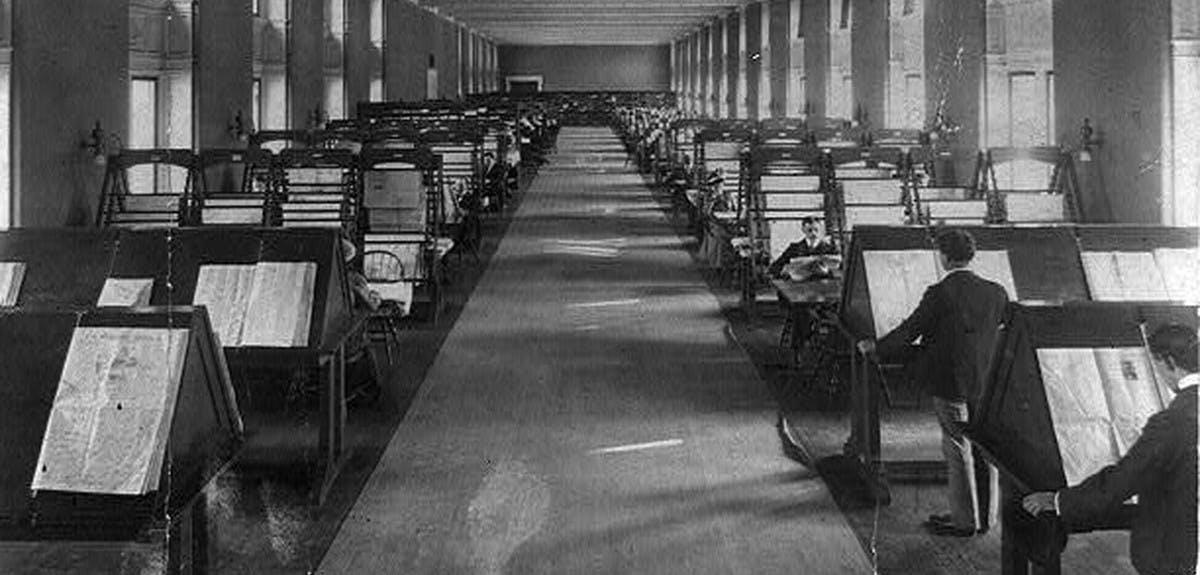 How to Use PERSI to Find Out Information About Your Ancestor's Death

The Periodical Source Index, also known as PERSI, is an amazing, underutilized resource for genealogists. PERSI is the largest subject index for genealogical periodicals. PERSI was created by the Allen County Public Library and the goal of the project is to index every genealogy and local history periodicals in the United States and eventually the world.
Since PERSI is an index, it means that the majority of the articles aren't online yet (although that's something we're working on), so you will have to obtain the hard copies of the records offline, but it isn't as difficult or time consuming as it seems.
One of the great things about PERSI is its sheer wealth of information and details. It is a great way to obtain those tricky details about your ancestors who seemed to hide from the traditional record sets.
TIP: One thing to keep in mind with PERSI is that it is subject based, so you can't search PERSI for your ancestor by their last name unless they were the subject of an article or the subject of a periodical, so you'll need to do a little bit of browsing.
If you want to learn more about your ancestor's death PERSI is a goldmine. PERSI is organized under 22 different subject headings or record types. The subjects are:
As you can see this list gives you a lot of places to search for information surrounding your ancestor's death.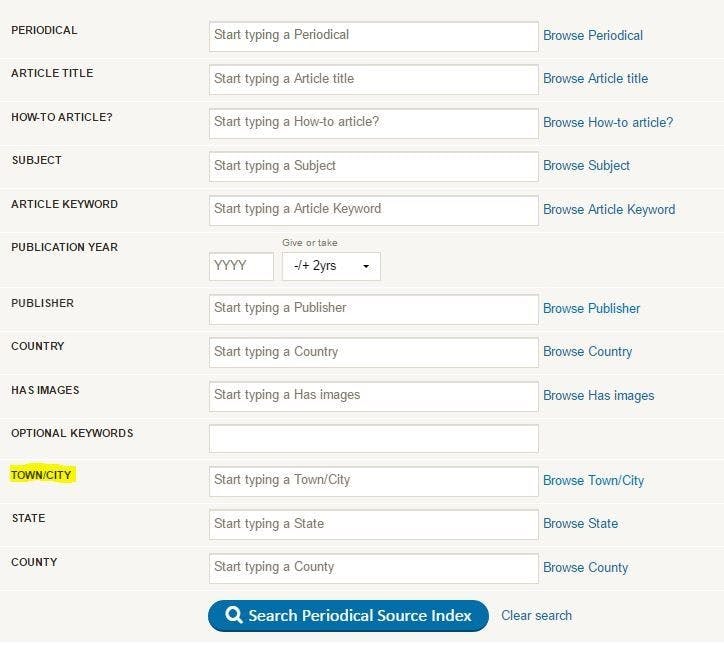 The periodicals are usually based around specific geographic locations, so when looking for your ancestor's death information, first do a search of your ancestor's location to see if there's a local periodical that covers it, or look at their filters to browse locations where your ancestor could have been if you're unsure.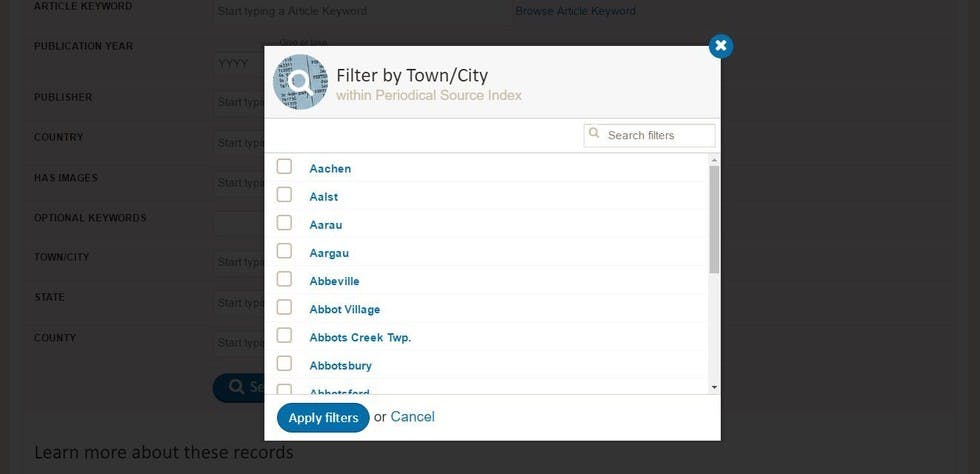 Once you're brought to a search page it's important to keep in mind that when you click on the image of results it will always take you to the first page of the periodical or document. But you can't stop here!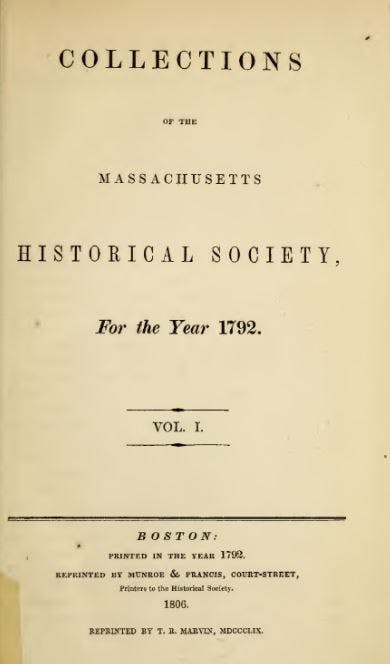 You need to use the side arrows to navigate to the table of contents page, just like you would if you were looking for an article or a chapter in a book in your public library.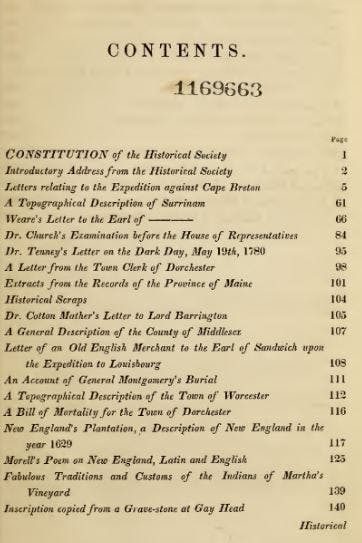 Then you can see if any of the titles apply to you or your ancestor.
TIP: Be sure to keep clicking through the document because sometimes the table of contents is multiple pages long.
If you continue to the second page of this document you'll see: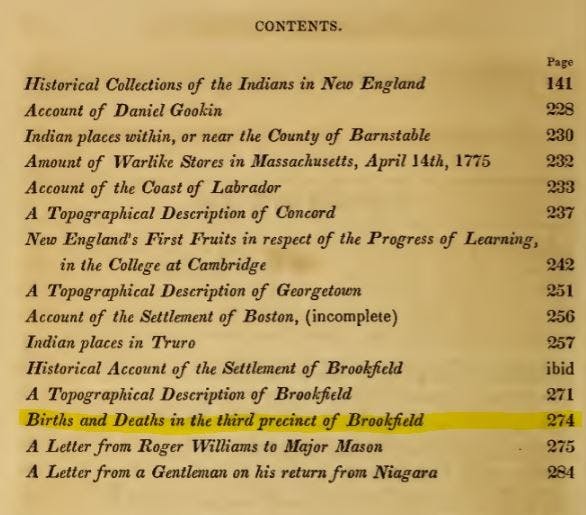 So, if your ancestor lived in the third precinct of Brookfield in Massachusetts around 1792, then there's a possibility that your ancestor's death date could be included in this record, it's definitely worth investigating. Keep in mind that these town histories and directories sometimes only cover 1 year at a time or previous years, so use approximate death years as a guiding force.
Search Tip: To get to page 274 quickly, you don't have to click through 200+ pages. Just go to the top of the search bar and alter the link to fit your page number as seen below:

Keep in mind that it won't take you to the exact page, but it will bring you closer, so verify which page you're on once you search and click through to the correct page.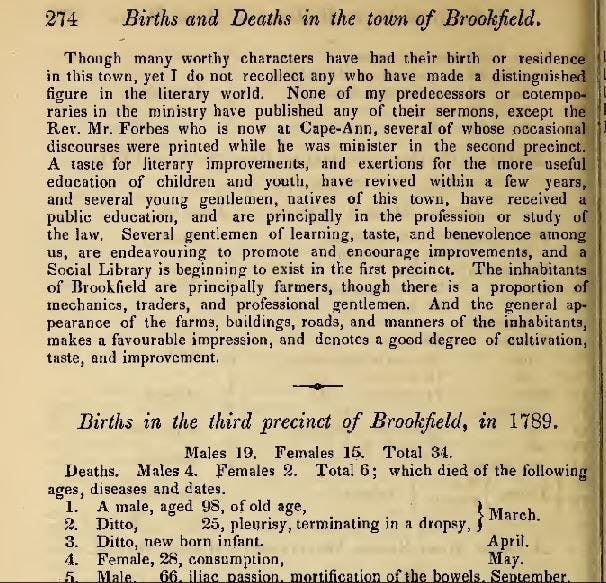 Now you can see below, the wealth of data that a periodical found in Persi can give you: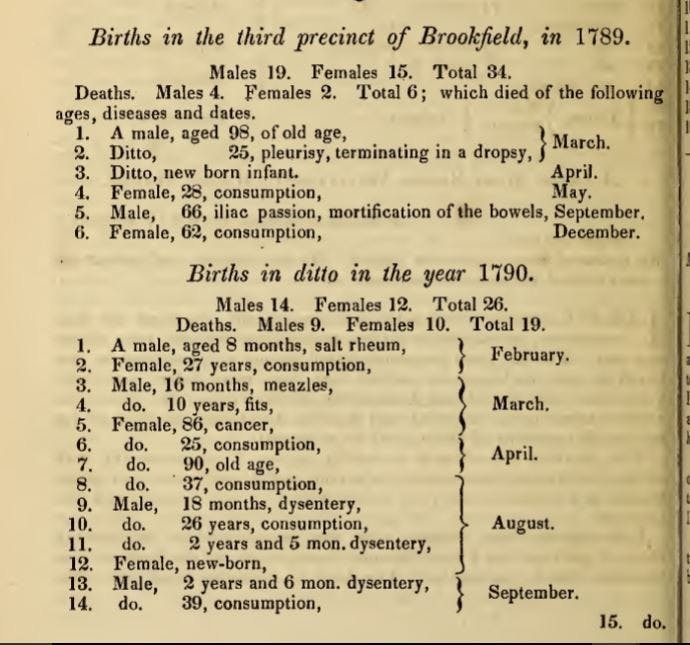 This particular record may not include names, but if you know when your ancestor died, where they died, and the approximate age that they died, it is possible to narrow down the list in this document to find out how your ancestor may have died, which can help you learn more about your unique family history and can provide clues where to search next.
Although this particular set of births and deaths didn't include names, you might be lucky enough to have a detailed obituary or sketch of your ancestor's life saved in one of these periodicals, which could tell you vital facts in addition to giving you insight into what your ancestor was really like.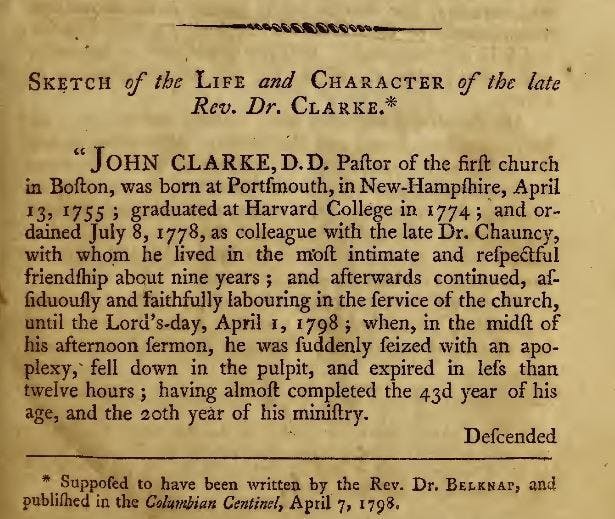 If you don't know the location of your ancestor, you could try searching the year he/she died and then search using the keyword "death" or "cemetery" or any other subject or type of record where you can find death information about your ancestor.
If you're really struggling to find anything, you could always browse by subject or record type and entering any data you have on your ancestor in the other fields.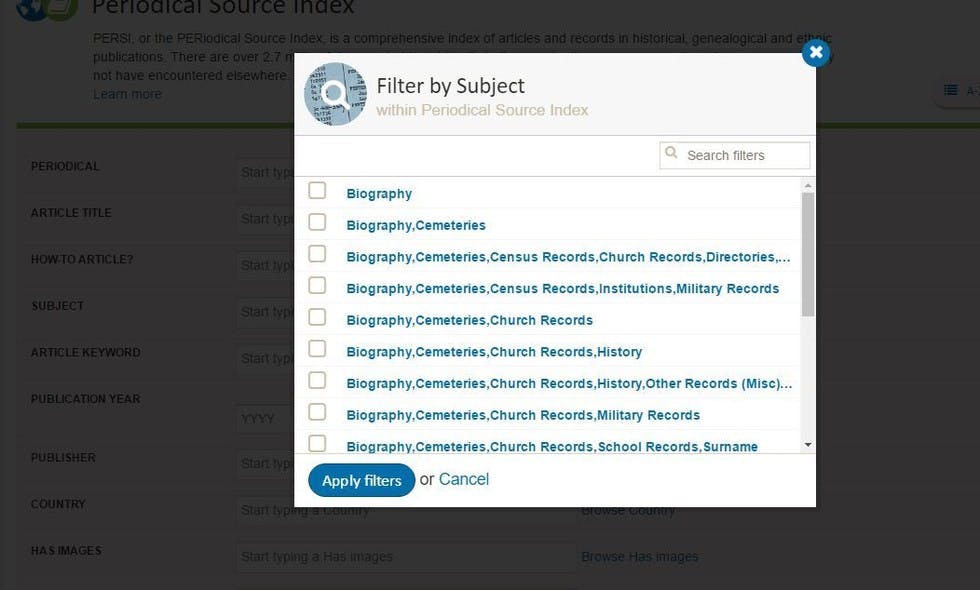 You never know what important death information you may be able to uncover about your ancestor without searching PERSI.
If you don't know your ancestor's location, then you can try your luck with a surname because if your ancestor was the subject of an article, there's a possibility you'll be able to search them, but this is less likely. It's worth check though because who knows, your ancestor may have had a life sketch written about them!