5 things you'll find in genealogy periodicals
2-3 minute read
By The Findmypast team
19 January 2016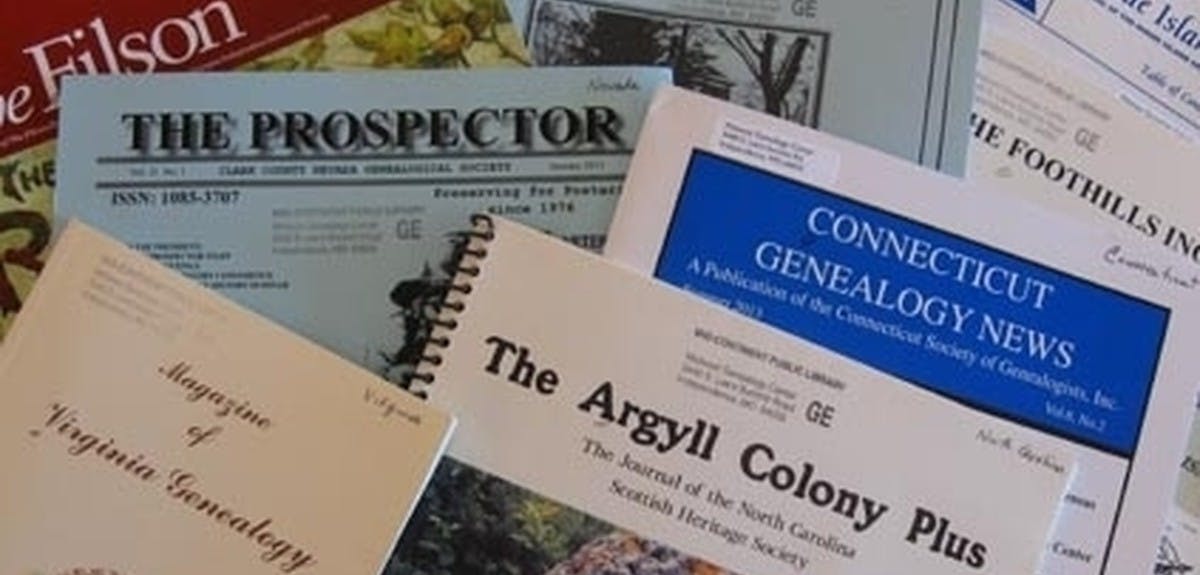 Over here, we're starving and it's about time to do something about it.
Starving for more family history resources of course! At a certain point, you feel like you've visited and re-visited every digital database out there, and you're still facing an ugly brick-wall that's been standing for so long you're considering decorating it.
Well folks, it's time to feast on some periodicals. If you haven't looked into periodicals, you could be missing a huge percentage of valuable information out there.
In the past it's been a challenge to access the actual content of these goldmines. But that's all changing very quickly and we want to make sure you're prepared.
The truth is, both beginners and advanced genealogy-buffs will find a ton of value in exploring periodicals.

"
So what kind of things can you hope to find? Let's dive in:
"
Indexes and transcriptions of hard to find records
Periodicals can provide a seemingly limitless supply of source material - they are filled with indexes and transcripts of every kind of record.
Oftentimes you'll find a list of genealogical resources that aren't on the internet (and probably won't be any time soon).
"
Find places to go and resources to explore - don't overlook periodicals.
"
The records listed in each periodical are usually associated with the geographical focus of the publication. This can be extremely useful for location-based research - if you're struggling with an ancestor in a particular area, tracking down a local periodical will tell you if there's anywhere else to look.
Your complete family history
Wouldn't it be amazing if you found out that decades ago, someone researched your family and published their work in a periodical?
Many publications publish compiled genealogies of entire families, or even corrections or additions to previous research.
If you happen to find one for one of your ancestors, you've hit a potential jackpot - you can use it to save time in validating your work or retracing the footsteps of the original researcher.
Advanced methodology & beginner help
One of the most difficult questions facing knowledge-hungry genealogy enthusiasts is where to get more know-how.
The good news is that there is methodology content in almost every issue of the over 7,000 periodicals published in America. There are loads of articles aimed at helping beginners get off the ground, as well as more academic methodology for advanced researchers.
While you can definitely browse articles and wiki's online or enroll in comprehensive courses, if you're not reading periodicals it's like you're ignoring an entire network of knowledge that's adjacent to the one you use now.

It's all about the case studies.
Case studies delve into research methodology and will teach you how to analyze and correlate your own research. It may be tempting to dismiss a case study because of it's subject, location or date of publication, but trust us - something valuable can be learned from every case study if you approach it the right way.
One of the major attractions of family history research is connecting with living relatives who you may not know even exist. Hopefully you'll use the internet to your advantage here, but it's not the only way.
Many people have (and still do) write into genealogical periodicals in hope of connecting with another researcher.
Keep in mind, these periodicals have been around far longer than the internet - it's possible someone was looking for information on your family in the past, but never made their query on the internet.
This might sound like a strange one to include here, but the book reviews found in these journals can be really helpful.
While Amazon and internet reviews can be convenient, reviews in periodicals are on another level entirely. They are far more scholarly, and that's a good thing- they offer a thorough and well-founded criticism of the work and often summarize it's key arguments and supporting evidence.
Consider that most books reviewed will be in some way related to family or local history, and that the reviewer knows they're writing for those interested in genealogy. Browse through the reviews and you might be surprised at what great finds you make!
More on this topic:
Share this article
About the author