Discover the scholarship and spectacle behind Oscar Wilde's life and family tree
7-8 minute read
By Jessie O'Hara
23 June 2022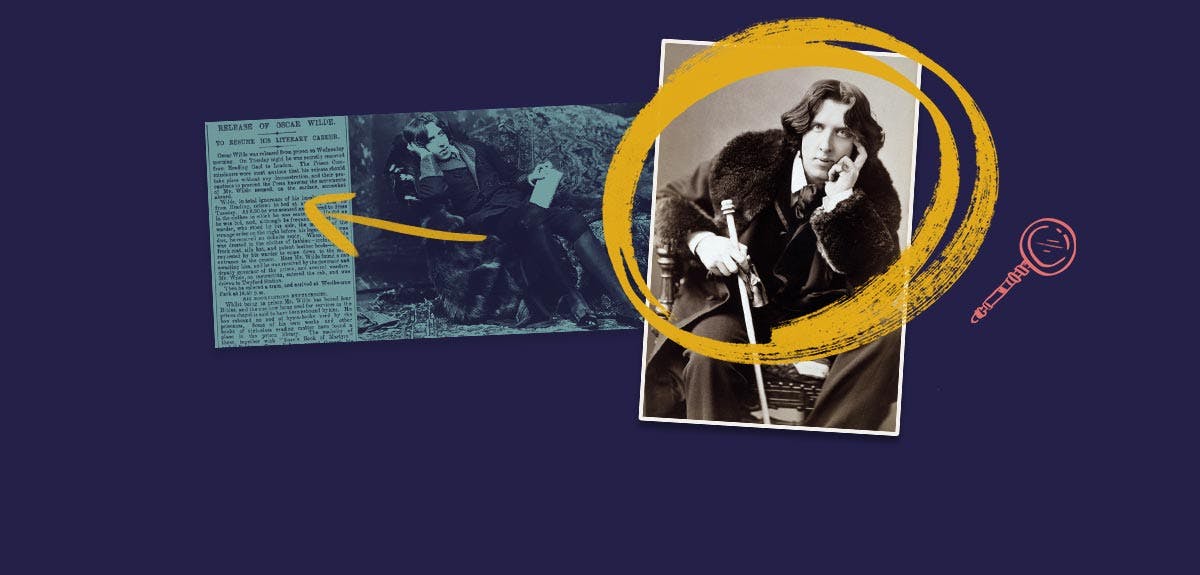 Famously known for his literary career, and for his posthumous pioneering of the gay liberation movement, who else was hiding in the personal life of Oscar Wilde? We delved into our records to find out.
Irish playwright, poet and leader of the aesthetic movement, we can't imagine there's a person alive today that doesn't recognize the name Oscar Wilde. From The Picture of Dorian Gray to The Importance of Being Earnest, the resounding success of his literary career has outlived him by centuries. But who was the man behind the name? We took a deep dive into Wilde's personal life to discover who and what else created the legacy to last lifetimes.
Oscar Fingal O'Flahertie Wills Wilde was born in Dublin, October 1854. He was the second of three children to Anglo-Irish parents Jane Francesca Agnes Elgee and Sir William Wilde. His address at birth was 21 Westland Row, which is now a teaching unit at Trinity College Dublin.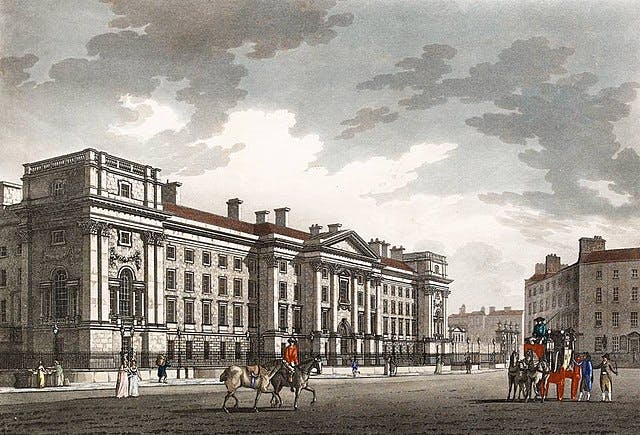 Oscar Wilde's family were fairly esteemed throughout the nineteenth century. His father, Sir William Wilde, was an ophthalmologic surgeon, and his mother Jane was an Irish poet under the pen name Speranza. Searching our marriage records, we can see that they married in 1851. From there, they had two sons and a daughter: Willie Wilde, Oscar Wilde, and Isola Wilde, though Isola passed away in childhood. As well as this, Sir William had three children outside of wedlock before his marriage. He admitted to paternity of these children, and paid for their educations. Unfortunately, two of them also passed away in 1871 after an accident at a Halloween party in which their dresses caught fire.
Wilde was born into the Church of Ireland, which was separate from both the Church of England and the prominent Catholic Church - meaning records for him and his family are scarce in their early lives. However, Wilde often expressed a fascination with Catholicism as his life progressed, though his request to convert after his incarceration was denied.
In 1864, Wilde's parents ran into significant legal trouble. An ex-patient of Sir William, Mary Travers, claimed that he had drugged her with chloroform and raped her. When Lady Wilde wrote a letter to Mary's father Dr. Travers to contest the allegations, Mary sued her for libel.

Mary Travers won the case, but was only awarded a farthing plus costs in damages. It did not significantly affect the careers of either parent.
It was up until 1864 that Wilde was homeschooled, and during this time a French nurse and German governess taught him their native languages. From there, he attended the Portora Royal School in Enniskillen until 1871, when he was one of only three students to win a scholarship to read Classics at Trinity College Dublin. He showed an affinity for Ancient Greek culture, working with his tutor Professor J. P. Mahaffy on his book Social Life in Greece. Wilde called Mahaffy:
"
"My first and best teacher... the scholar who showed me how to love Greek things."
"
After Wilde was prosecuted for gross indecency later in life, Mahaffy disregarded Wilde as the 'only blot' on his tutorship.
However, during his time at the College, Wilde was an outstanding student, though often mocked for his emerging love of aestheticism. He later won the highest academic award available to him, the Berkeley Gold Medal in Greek, and easily achieved a scholarship at Magdalene College, Oxford University, following that.
Wilde's story continues in England
He began reading classics at Oxford University from 1874, at the age of 20 years old. A search in our Irish Deaths collection reveals that two years after this, his father passed away.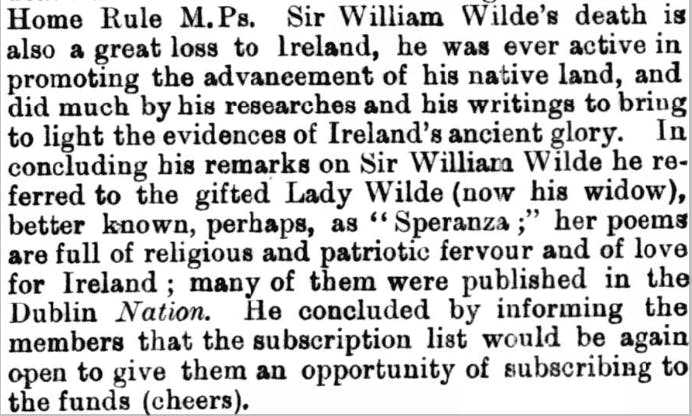 It was after his death that the newly-widowed Lady Wilde and her eldest son Willie followed Oscar to the United Kingdom - though they are nowhere to be seen in the 1881 Census. Instead, in April, Willie is reported bankrupt.
Clearly, neither of them were doing as well as Oscar, who was living apart from the both of them in Chelsea at the time.

Interestingly, despite being born in 1854, Wilde is listed as 24 years old at the time of this census return, rather than the 27 he actually was.
It is also interesting to see that he was living as a boarder with the unmarried Frank Miles, an artist. Besides them, the household consists of just two servants. Reading between the lines, it is now we perhaps begin to see Wilde's same-sex affairs in our records.
A quick search in our newspaper archive gives us a little bit more information on Frank Miles. Most famed for his portraits of socialite and actress Lillie Langtry, he introduced Langtry and Wilde during their time of living together.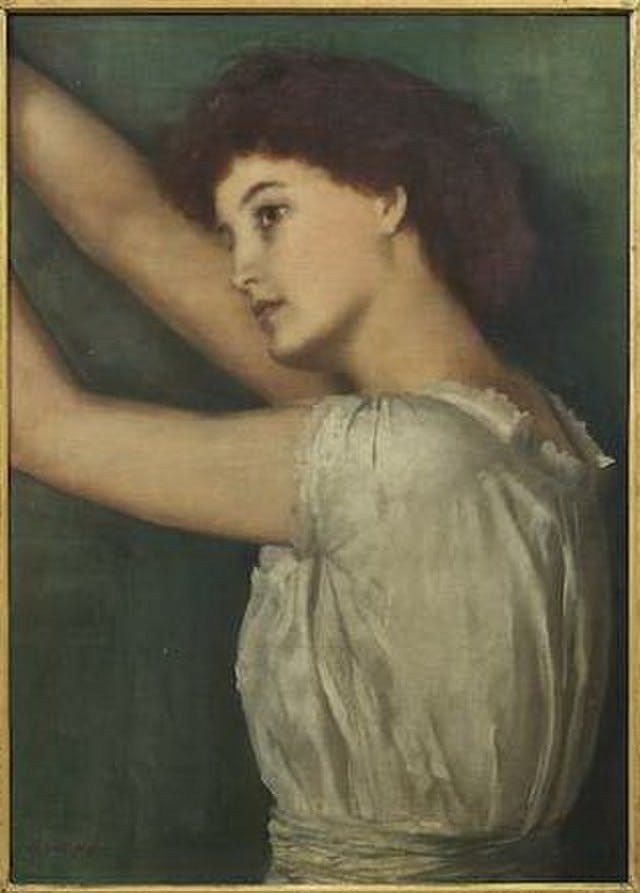 The two men began what was termed the 'Langtry cult' in contemporary news.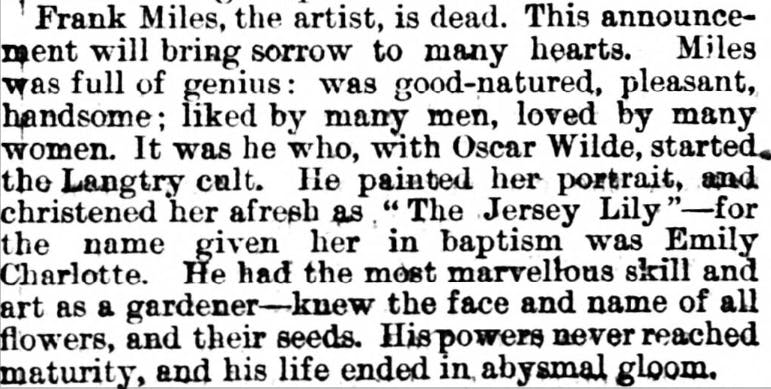 But after 1881, Wilde moved out of Miles' house, and began touring as a lecturer across America. The Western Daily Press reported on a university-wide joke that came alongside mocking applause:
"
"It was announced [before the lecture] that sixty Harvard students would attend dressed in imitation of Mr Wilde... the students occupied the front seats, wearing dress coats, knee-breeches, flowing wigs, and green neck scarves, having lilies in their buttonholes and sunflowers in their hands."
"
It seemed even outside of the educational system, Wilde had not escaped a certain level of ridicule for his appreciation of aestheticism - though nowadays, he is said to have pioneered a method of communicating between closeted gay men, most specifically with a green carnation.
By 1884, Wilde had married Constance Lloyd, after having been engaged to her for a year.

It is unknown as to whether Constance knew of Wilde's sexual orientation, though he did father two children with her. It was reported that later in their marriage that they were estranged.

We can confirm a certain separation between the couple by taking a look at Wilde's 1891 Census return. Though he is listed as married, and as the Head of Household, Constance is nowhere to be seen.

His mother, on the other hand, was still living with Willie, the eldest son.

The two of them were still poor, but Oscar is reported to have given them money on a fairly regular basis to keep them afloat, and Lady Jane had begun to make a name for herself in similar social circles. However, tensions were rising between Oscar and Willie, as Willie had still been receiving money from his mother without Oscar's knowledge.
"
"Mr Oscar Wilde has lately faded from sight somewhat, but we presume he is still dear to the memory of a section of eccentric fellow creatures who once hailed him as the leader of a cult."
"
Perhaps the illegality of his lovers at this point caused him to steer slightly clearer of the public eye. Though, of course, it wasn't long after this that Wilde was arrested.
Oscar Wilde's arrest and the aftermath
Even though he was not touring or lecturing as much, Wilde was at the height of his literary and theatre career when his arrest took place.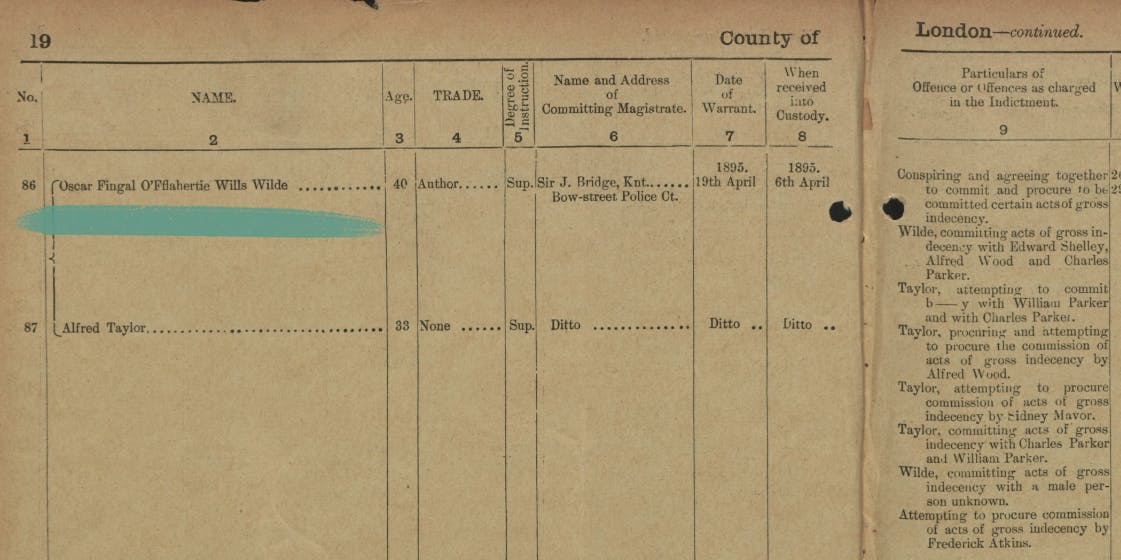 One of his most popular works, The Importance of Being Earnest, was still being performed in London at the time of the warrant.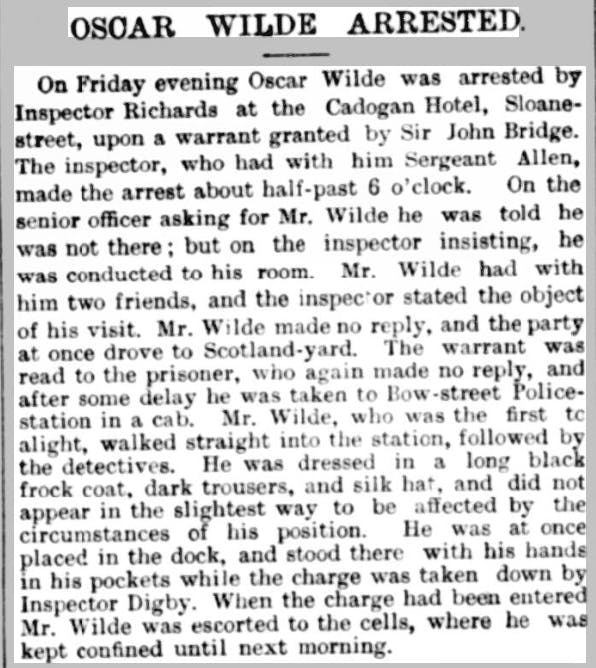 The homoerotic works of Lord Alfred Douglas, long-term lover of Wilde, were used against him in the trial. One of these works, a poem called Two Loves, describes a 'love that dare not speak its name' - a quotation now often wrongly attributed to Wilde. However, the cross-examination at his first trial, Wilde eloquently stated his position:
"
"['The love that dare not speak its name'] is in this century misunderstood... and on that account of it I am placed where I am now. It is beautiful, it is fine, it is the noblest form of affection. There is nothing unnatural about it. It is intellectual, and it repeatedly exists between an older and a younger man, when the older man has intellect, and the younger man has all the joy, hope and glamour of life before him."
"
Though this was considered to be counterproductive to his plea of not guilty, the jury could not come to a verdict in this instance. Wilde posted bail, and was released. The final trial, however, took place the month after. Wilde was convicted of gross indecency and sentenced to two years of hard labor.
While Oscar was incarcerated, his mother contracted bronchitis and became seriously ill. She requested to see him, but her request was denied. She passed away in her Chelsea home in 1896.

At the time, her talents as a writer were highly esteemed and her position as a Nationalist widely acknowledged. Her death was reported on nationally.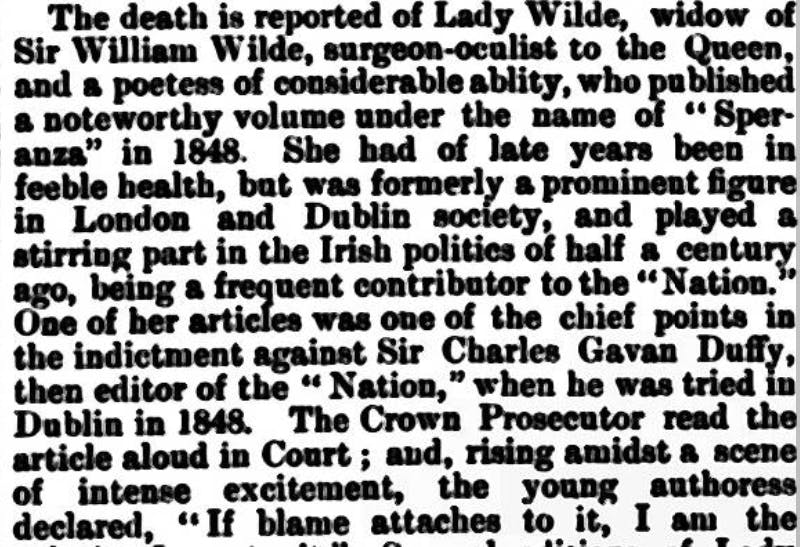 Oscar paid for her funeral from Reading Gaol, as Willie was penniless. Despite Lady Jane's final wishes, the two did not reconcile.
In 1897, Oscar was released from prison. Knowing the vilification he would face should he return home, Wilde exiled himself to France upon his release, and took the pseudonym Sebastian Melmoth. He lived briefly with Lord Alfred Douglas in these years. Though he was now destitute, turned away by his own home, and rejected from the Catholic Church, he reportedly felt a spiritual renewal upon his release. In a 50,000 word letter to Douglas, he wrote:
"
"I wanted to eat of the fruit of all the trees in the garden of the world... And so, indeed, I went out, and so I lived. My only mistake was that I confined myself so exclusively to the trees of what seemed to me the sun-lit side of the garden, and shunned the other side for its shadow and its gloom."
"
Douglas denied receiving the letter, though it's uncertain how true this is. In Paris, 1900, Wilde passed away. He was aged just 45.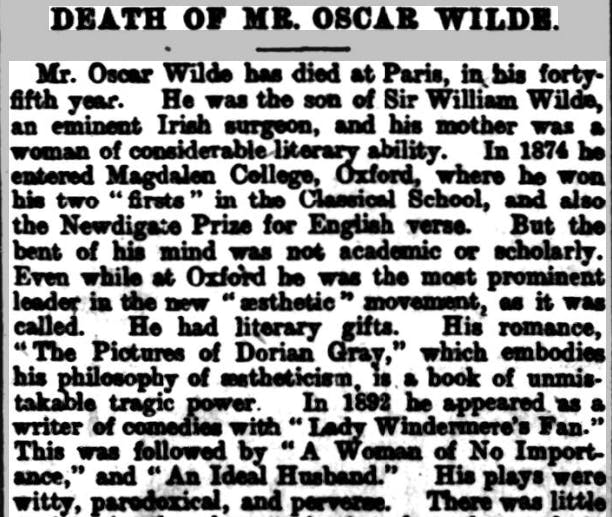 Rather than discuss the scandal of his later years beyond euphemisms, the reports on his death focused on the success of his literary works, such as An Ideal Husband, A Woman of No Importance, and many more. These works are still enjoyed, studied, and celebrated today.
Such is the life story of Oscar Wilde. Not only was his life full of splendor and scandal, luxury and libel, but so was that of his family. He was a pioneer of LGBTQ+ rights before such a thing existed, and a talent to be admired for centuries - but as we can prove with a deep dive into our records, Oscar Wilde's life was so much more than that.
More on this topic:
Share this article
About the author