Colin Firth's family tree reveals deep-rooted military and religious connections
5-6 minute read
By Alex Cox
13 January 2020
By delving into birth registers, census information and military records, we've uncovered some remarkable individuals in Colin Firth's family.
Colin Firth has been delighting film audiences for decades with his portrayal of iconic characters like Mr. Darcy in Pride and Prejudice, Jamie in Love Actually, and the appropriately named Mark Darcy in Bridget Jones's Diary. But what do we know about Colin Firth's family and their past?
In another of his major roles, Colin Firth plays General Erinmore in First World War epic 1917. His character orders two First World War runners to deliver a vital message across enemy lines in order to prevent a massacre.
In a case of life imitating art, we've discovered that Colin Firth's family actually has a strong connection to the First World War. In fact, Colin's great grandfather was there, on the Western Front at the same time the events depicted in 1917 took place.
Colin Firth's family tree
As Colin Firth holds an Italian passport, some wonder if he is actually English. Well, despite taking Italian citizenship in 2017, Firth's roots lie firmly in the British Isles. As well as having both English and Scottish heritage, records found only at Findmypast have also revealed how multiple generations of his family lived and died in British India.
Where is Colin Firth from?
Colin Firth is originally from Hampshire. He was, born in Greyshott to Shirley Jean (Rolles) and David Norman Lewis Firth in 1960. After spending parts of his childhood in Nigeria and the United States, he eventually returned to the UK and committed himself to acting at around the age of 14.
According to the 1939 Register, Colin's paternal grandfather, Cyril Bruce Firth, worked as a confectioner. He was born in Huddersfield, Yorkshire to Wilson Firth and Mary Sykes in 1905.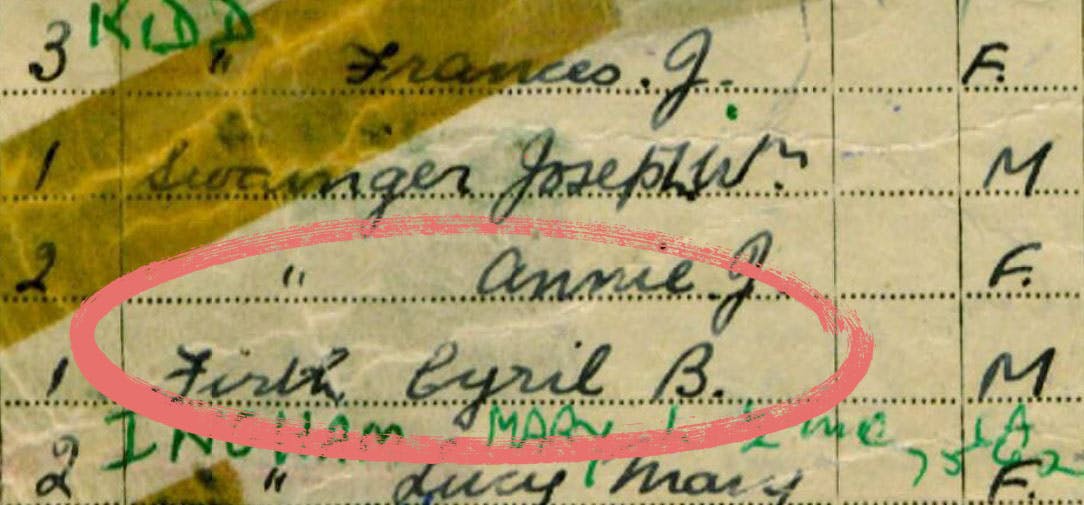 Cyril's mother and Colin's great-grandmother, Mary Helen Bruce, was the daughter of Scotsman Robert Bruce from Aberdeen and Alice Briggs, from Lancashire, England. In the 1871 Census, Robert Bruce was an Independent Congregationalist Minister for the "Highland Chapel", while Alice was recorded as simply "Minister's Wife".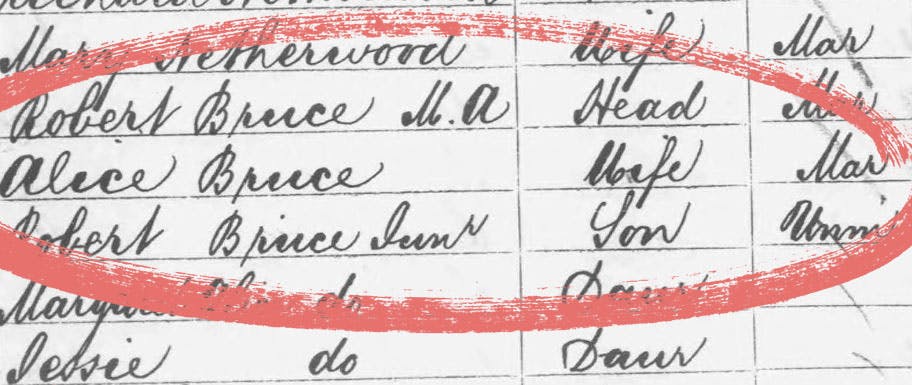 Colin's paternal grandmother, Helen Mary Lewis was also the daughter of a Congregationalist minister named Edwin Herbert Lewis and his wife Dora Katharine Slater. Helen, like her father, was born in British India in June 1911.
A strong sense of faith must have run in the family as our India Office Birth and Baptism records reveal that Edwin's parents', Edwin senior and Elizabeth Lewis, travelled to India to work as missionaries from Somerset, England.

Dora's father, Thomas Ebenezer Slater was also a missionary with the Independent Minister Society of London Missionaries. He was born in Buckinghamshire in 1840. It appears Thomas travelled far and wide spreading the word of God, dying in Goulburn, New South Wales, Australia in 1912.
It seems Thomas Ebenezer met his wife and Dora's mother, Jane Elizabeth Coles, after settling in India. as records show that she was born in Madras in 1848, to Joseph and Anne Coles, also missionaries.

On the maternal side of Colin Firth's family tree, his grandfather, Montague John Rolles-Rolles was born in Hampshire in 1908. The 1939 Register shows him living in Dorset with his wife Florence and lists his occupation as, you guessed it, a "missionary on leave".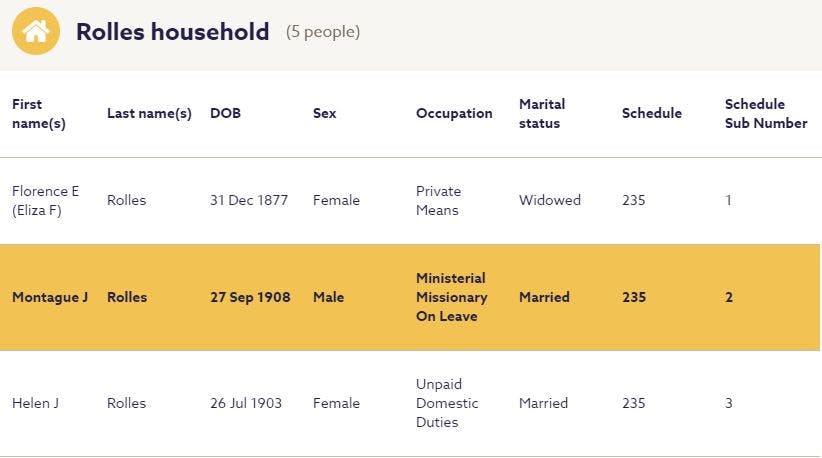 Montague's parents were Montague Senior and Helen Jean Johnson and it is here that we find our first connection to the First World War. Military service records show that Montague Snr, who was born in town of Corfe Mullet in 1876, served as an airman during the earliest days of the Royal Air Force.
Colin Firth's family in the First World War
His papers reveal how, like many airmen in the early years of the RAF, Montague had first served in the Army, joining up in early 1917. The detailed records list his occupation as "meat salesman manager" and describe him as being 5 foot 3 and half inches, with brown hair, grey eyes and a fresh complexion. Given his age, Montague would have either been conscripted or would have volunteered under the Derby Scheme in December 1915.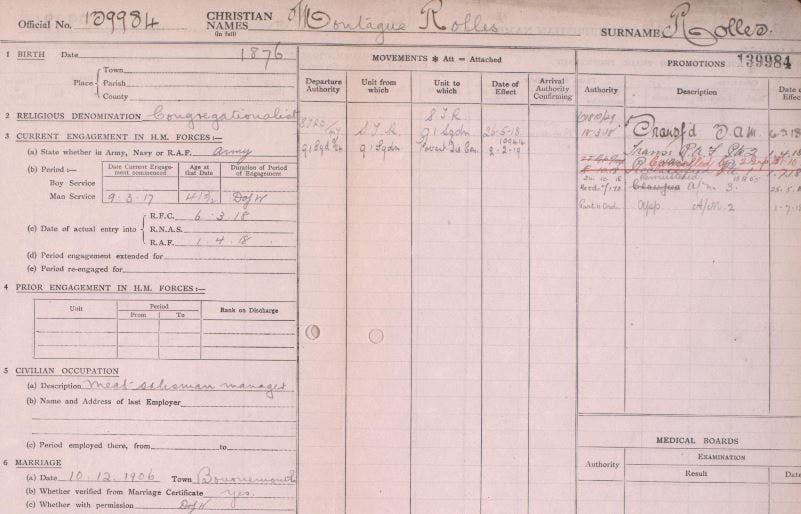 What was the Derby Scheme in the First World War?
The Derby Scheme was introduced in the autumn of 1915 by Lord Kitchener's new Director General of Recruiting, Edward Stanley, 17th Earl of Derby. It aimed to increase recruitment and avoid the need for conscription by allowing men to voluntarily attest for service at a later date. Volunteers were then placed in the army reserves and released to civilian life until needed by the military. The scheme proved immensely popular and many recruitment offices were so overwhelmed that medical examinations had to be dispensed with.
Sadly, it appears that Montague's First World War army service records were part of the 60% that were destroyed in a fire in 1940. However, there are still other resources we can use to find out more about him. Our collection of British Army Medal Index Cards reveals that Montague first served with the Hampshire Regiment (under the service number 35516) and latterly with the Royal Inniskilling Fusiliers (under the number 41319).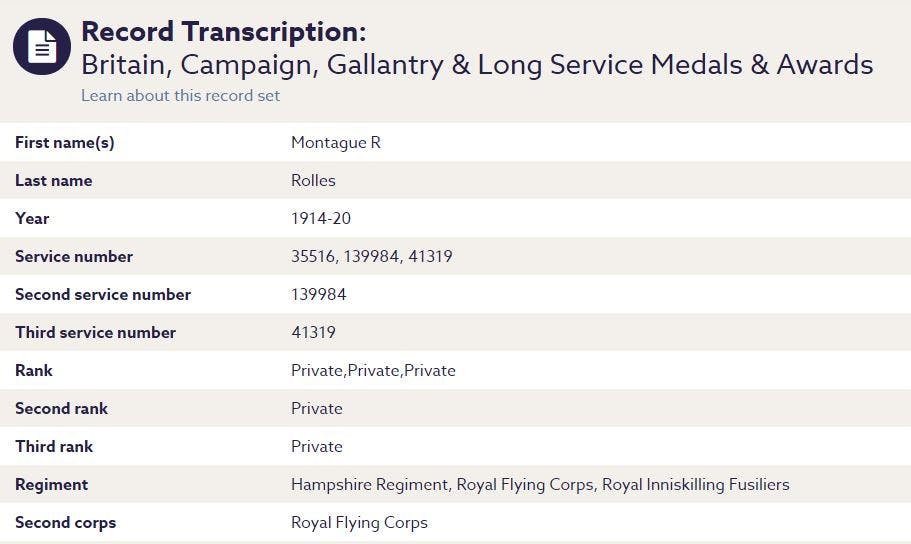 Ironically, Montague's service number suggests that he joined the army in February 1917, just months before the events depicted in movie blockbuster 1917.
Montague obviously saw his fair share of action on the Western Front. More details on his RAF papers show that he was admitted to the 3rd Canadian General Hospital at Boulogne on July 29, 1917, suffering from dermatitis, likely contracted during his time in the trenches with the Royal Inniskilling Fusiliers. He was sent back to the UK and subsequently admitted to hospital in Manchester on August 3, 1917. There is no evidence from medal records that he went back to France as a soldier and so most likely left the army while recovering back in England.
From there, Montague was transferred to the Royal Flying Corps on March 6, 1918. The Royal Air Force was officially formed only a few weeks later on 1 April. Montague served with 91 Squadron from 26 May that year as Air Mechanic, 3rd Class and was later promoted to Air Mechanic, 2nd Class.
The following year, Montague was transferred to the RAF Reserve and discharged on April 30, 1920. He returned to his native Dorset but didn't enjoy peace for long. It appears the rigors of trench warfare took their toll on Montague's health as he died in Bournemouth aged 52, just eight years after returning to civilian life.
Trace your family's First World War heroes
Did your ancestor go to war like Colin Firth's great grandfather? You could find out all about their harrowing, brave and extraordinary exploits in millions of First World War records online at Findmypast. Then, preserve their legacy forever on our free family tree builder.
More on this topic:
Share this article
About the author